News
Better Lives. ONE story at a time.
No paid actors or body doubles in these commercials! When creating our recent ad campaign, we spent 3 days following our physicians, staff and patients to share the stories that set us apart.
We are so excited to introduce; Better Lives. ONE story at a time.
Continue...
---
Thomas Ellis, MD, talks to Becker's Orthopedic Review
Dr. Thomas Ellis with Orthopedic ONE recently participated in an interview with Becker's Orthopedic Review on direct anterior approach and the future of total hip arthroplasty.

Read the article in full here.
---
Dr. Robert Durbin Announces Retirement
A Letter from Robert A. Durbin, M.D.
It is with mixed emotions that I officially announce my retirement from active patient care as of May 4, 2017. Orthopedic Medicine has been one of my life's greatest devotions, and my passion for the practice of medicine is unchanged from my very first day as an orthopedic resident. It is simply time for me to focus on other devotions – my wife, children and eight beautiful grandchildren.
After 36 years of serving patients in our central Ohio Community, I am both saddened and excited about my retirement. It has been an honor to have cared for so many wonderful patients throughout the years.
Continue...
---
Matthew Price, MS, RN, CNP, ONP-C®, RNFA Chosen as Director of ONCB
by Orthopaedic Nurses Certification Board

The Orthopaedic Nurses Certification Board (ONCB) is pleased to announce Matthew Price, MS, RN, CNP, ONP-C, RNFA, was selected to serve as a Director beginning July 1, 2017. Mr. Price is past member and chair of the ONCB's Recertification Committee, a representative group involved in recertification regulation for certificants holding ONCB's three credentials. Mr. Price is Orthopaedic Nurse Practitioner at Orthopedic ONE in Columbus, Ohio.
"We are happy to welcome Matthew Price to our board," commented ONCB President Kathy Bolme, RN, ONC. "Matt has already been a supporter of certification through his work with the board serving as chair of the Recertification Committee. As an ONC-P, Matt is able to show our value of excellence is recognized in all work areas, both in and outside hospital settings. With this commitment to excellence, Matt will help ONCB achieve its vision: Orthopaedic nursing certification is the standard of knowledge and excellence in musculoskeletal health care.
Congratulations, Matt!
---
Dr. Ty Fowler now seeing patients at Taylor Station Location
Dr. T. Ty Fowler is now seeing patients at Orthopedic ONE's Gahanna/Reynoldsburg area office, located at 170 Taylor Station Road, Columbus, Ohio. This is in addition to his existing office hours at the practice's Hilliard and Grove City locations.
Ty Fowler MD, Orthopedic ONE Joint and Trauma Surgeon
Dr. Fowler is a board certified, fellowship-trained orthopedic surgeon. He received his medical degree from Wayne State University School of Medicine in Detroit and performed his orthopedic residency at Mount Carmel Health System, followed by an extensive fellowship within the Department of Orthopaedic Trauma Surgery at Stanford University in Palo Alto, California.
Dr. Fowler maintains a special interest in hip and pelvis preservation and reconstruction as well as orthopedic trauma. His specific interests include pelvic and acetabular fractures; periacetabular osteotomies; surgical hip dislocation; total hip arthroplasty (direct anterior approach); complex periarticular and long bone fractures; and malunions and nonunions.
Request an appointment with Dr. Fowler.
---
Is Outpatient Total Joint Replacement Right for You?
Imagine undergoing a total joint replacement of the knee, hip or shoulder without the hospital stay. A traditional joint replacement requires a 1-3 night stay in the hospital, but if you are in overall good health and have the right home support system an outpatient approach may be right for you.
Continue...
---
Orthopedic ONE named a Bronze winner of the Healthy Ohio Healthy Worksite Awards
Orthopedic ONE has been recognized as a Bronze winner of the Healthy Ohio Healthy Worksite Awards. This distinction is given to Ohio employers who demonstrate a commitment to employee health through comprehensive worksite health promotion and wellness programs. Recipients are judged on efforts to facilitate and encourage employee health, enhance productivity and ensure a healthy work environment.

Continue...
---
Foot and ankle surgeon, Dr. Gorsline, now seeing patients in Grove City
Dr. Robert Gorsline is now seeing patients at Orthopedic ONE's Grove City office at 5530 North Meadow Drive. This is in addition to his existing office hours at the practice's Westerville and Hilliard locations.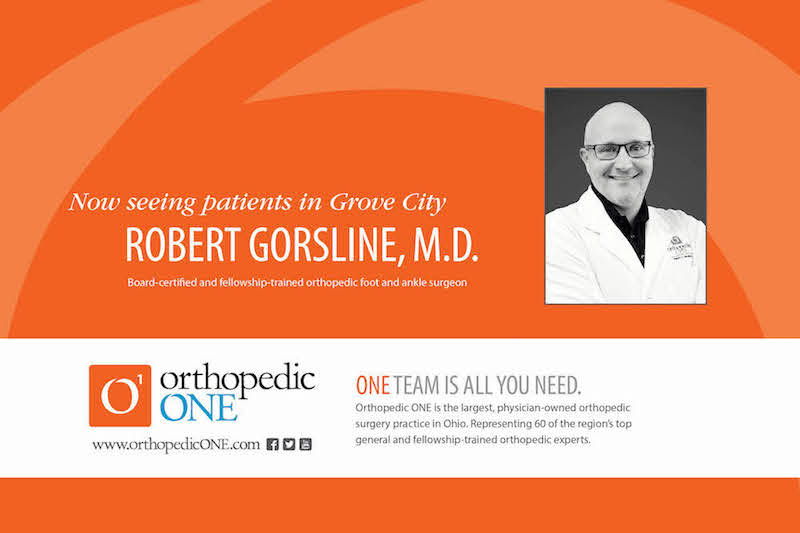 Continue...
---
Orthopedic ONE voted #1 as The Columbus Dispatch Cbus Top Pick for Sports Medicine
With more than 185,000 total votes cast, Orthopedic ONE takes the top spot as the central Ohio choice for Sports Medicine. This fall, The Columbus Dispatch launched the "CBUS TOP PICKS" program as a way for the community to recognize their favorite area businesses.
Continue...
---
Orthopedic ONE voted Best of Business in CEO Magazine
It's official. Our patients are the best. Thanks for naming us number ONE in Columbus CEO magazine's 2016 Best of Business Awards in both the Orthopedic Practice and Sports Medicine category and Physical Therapy Practice category!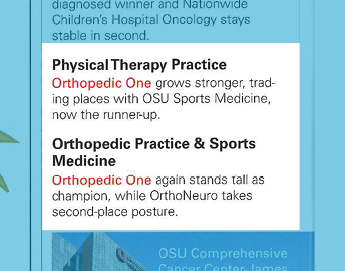 Continue...