Orthopedic ONE is the leading provider of sports medicine orthopedic care in the Columbus Ohio area
We offer sport-specific training and reconditioning for athletes of all ages and skill levels. Our Physicians, Physical Therapists and Certified Athletic Trainers will work towards a goal of returning athletes to pre-injury condition through prevention, evaluation, treatment and education. Our goal is to keep athletes out of our office and on the field.
What Sets Us Apart?
Beyond the expertise and quality of our services, much of our success is in how we deliver them. We assure a one-on-one approach and strive to understand specific challenges and work with each individual to set and reach common goals. Our team creates a program tailored to the individual to ensure swift recovery so that athletes can get back to focusing on their goals. That is why organizations like the Columbus Blue Jackets and Columbus Crew SC trust Orthopedic ONE physicians and sports medicine specialists to care for their athletes.
Sports Medicine Hotline
The Hotline is a FREE resource to Coaches, Families and Athletes with any of our affiliated clubs or organizations.
Have a sports medicine related question or need? Connect with an Orthopedic ONE certified athletic trainer through our Hotline to assist with the following:
Address injuries that do not require emergency medical attention
Connect directly with an Orthopedic ONE certified athletic trainer
Get answers regarding general sports medicine care
Please note: If an appointment with a physician is needed, the Athletic Trainer can schedule you directly. Traditional physician appointment costs will apply.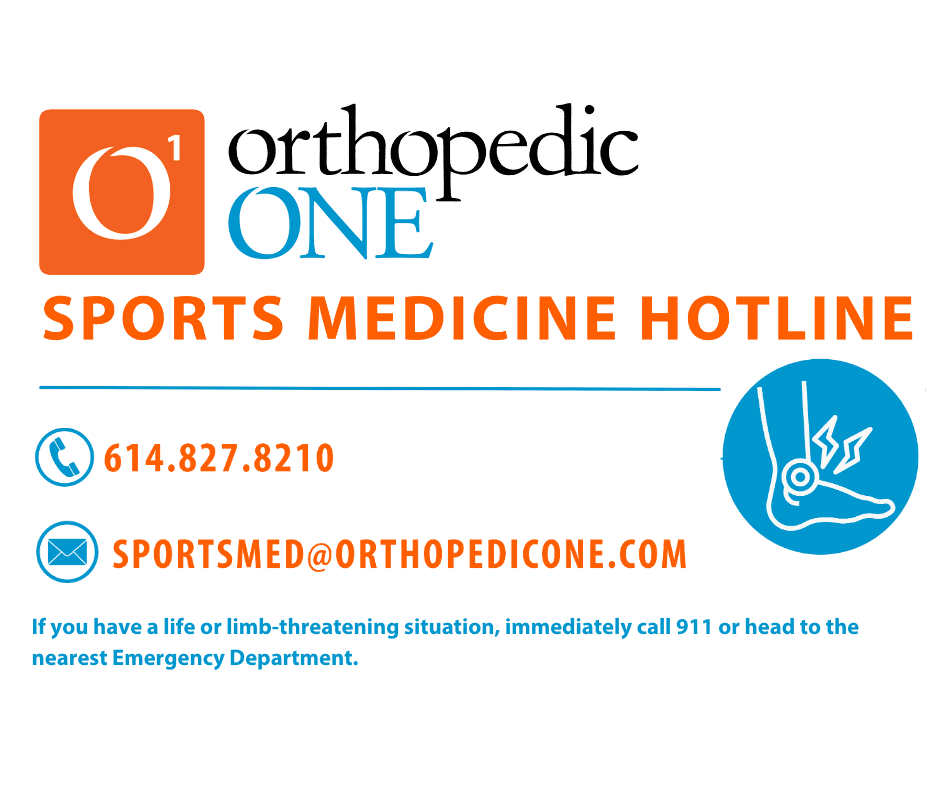 WATCH or DOWNLOAD our Quick Guide to the Sports Medicine Hotline.
Looking for a Sports Medicine Physician? Click here to view a list of common sports related conditions and treatments, and to find the right physician for you.
Concussion Care & Resources
Partners in your care…Orthopedic ONE works closely with a network of physicians across central Ohio who specialize in the treatment and management of concussions. If you experience a concussion which requires further evaluation, we can help you find the right specialist.
Click here to download a PDF of our Concussion Resource card.
According to Ohio's Return-to-Play law (Ohio Revised Code (ORC) 3313.539 and Ohio Revised Code (ORC) 3314.03), Ohio youth athletes suspected of sustaining a concussion must be removed from practice or play. 
Ohio laws prohibit youth athletes from returning to practice or competition the same day the athlete is initially suspected of sustaining a concussion. The athlete may return the following day if cleared by a physician (MD or DO) or other authorized healthcare providers in writing that they did not sustain a concussion.
Visit the Ohio Department of Health's website to learn more! 
Sports Medicine Injury Prevention and Education Tools
We place a strong emphasis on education and prevention. We understand the importance of educating athletes, coaches and parents on the importance of injury prevention, treatment, and long-term consequences of overuse and traumatic injuries. We offer set programming on a variety of topics, and customize educational and training offerings based on the needs of your team.