LIGHTEN YOUR LOAD: TIPS TO PREVENT LUGGAGE-RELATED NECK, BACK, AND SHOULDER INJURIES
When packing for a trip, protecting your bones, muscles, and joints may not be top of mind, but it should be!
Over a twelve-month period, the U.S. Consumer Product Safety Commission reported more than 85,000 travel plans that encountered a detour to emergency rooms, doctor's offices, or clinics due to injuries related to mishandling overpacked luggage.
 With many airlines charging fees to check baggage, it may be tempting to save a few bucks by overstuffing carry-on bags, but hauling over-packed suitcases through the airport and lifting them to squeeze into the overhead compartment on the plane could cost you in the long run. Traveling can, quite literally, be a pain in the neck.
Consider these recommendations from the American Academy of Orthopaedic Surgeons (AAOS) to prevent luggage-related neck, back, and shoulder injuries.
Divide items between a few smaller bags instead of one large luggage piece and carry bags in each hand.
If using a duffel or shoulder bag, alternate sides often to prevent stress on your shoulders.
When choosing a backpack, consider the following:

Select a backpack with multiple compartments and pack heavier items low and towards the center.
The backpack should feature two padded, adjustable shoulder straps that allow you to balance the weight equally in order to prevent muscle strain.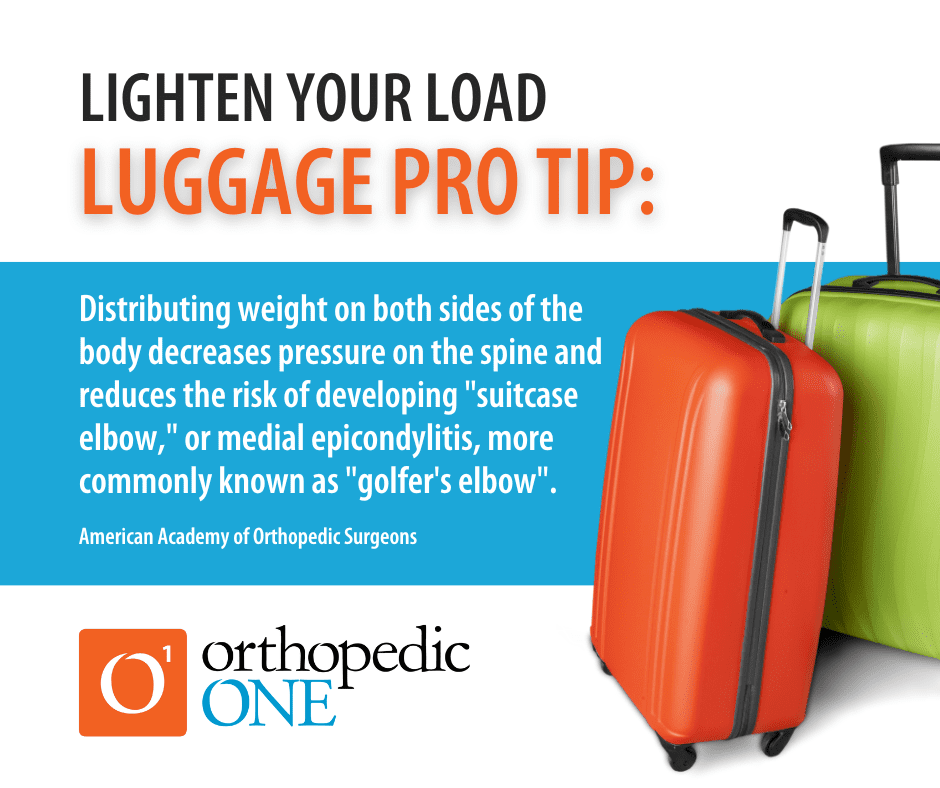 Check out the AAOS website for more luggage safety suggestions! 
Back