ORTHOPEDIC ONE NAMES COO AND CFO TO ROUND OUT C-SUITE 
Both join the practice with extensive experience at regional health systems
Orthopedic ONE is pleased to welcome both a new chief operating officer and chief financial officer to the organization's leadership team. Brooke Burns, MHA, MBA, formerly executive vice president of Adena Medical Group steps in as COO, while Stephanie Heffron, MBA, CPA, previously a controller at OhioHealth joins as CFO.
Both will work directly with incoming chief executive officer Mark D'Aloisio who will replace Tim Smith following his retirement January 1, 2023. D'Aloisio has been serving as the COO since 2020.
"We have been fortunate to attract some of the very best talent from throughout the region which is a testament to the organizations' reputation – and the incredible work of our physicians and associates," says D'Aloisio.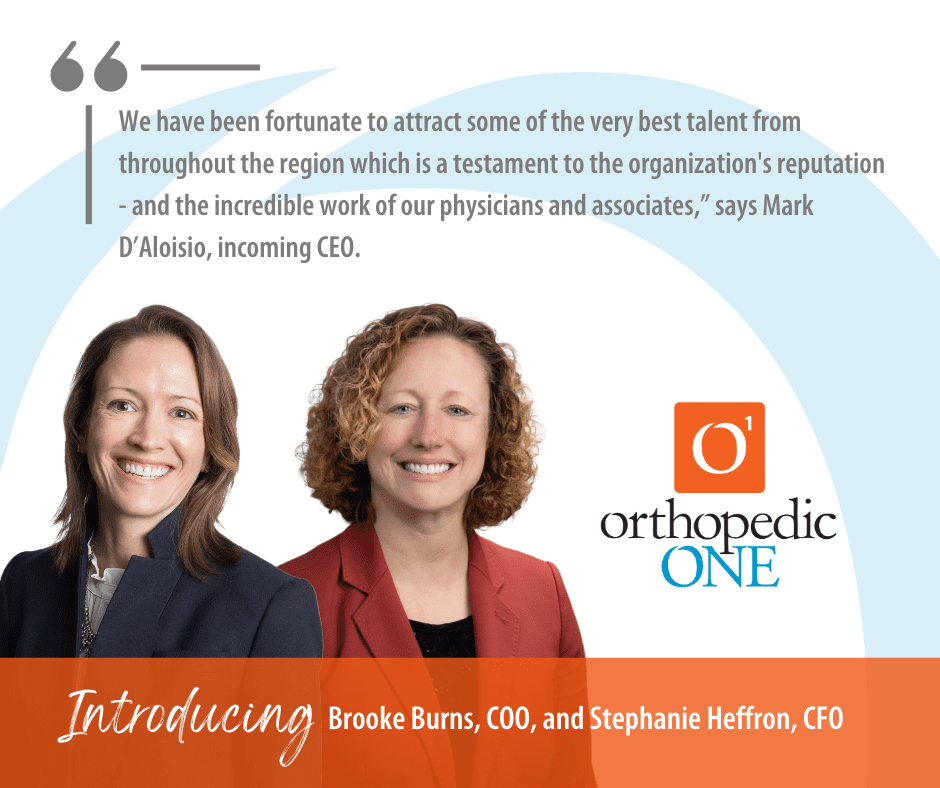 CHIEF OPERATING OFFICER: Brooke Burns, MHA, MBA
Brooke joins the group from Adena Health System, where she recently held the position of executive vice president of Adena Medical Group. She joined Adena Health System in 2011 as a regional operations manager where she oversaw daily operations and performance for the Medical Group's North and West Primary Care Network. She quickly rose to the role of service line director for the entire Primary Care Network and successfully expanded the group's size, scope and market share. In her next position as service line director for the System's Oncology Care Group, she led the program in regaining full accreditation, expanding its footprint and creating new programs.
"Known for building and mentoring high-performance teams, Brooke has demonstrated an ability to positively shape organizational culture and drive strong and sustainable improvements in market share, patient access, recruitment and patient satisfaction," says D'Aloisio. "We look forward to her insights."
CHIEF FINANCIAL OFFICER: Stephanie Heffron, MBA, CPA
Stephanie has held several finance leadership positions at organizations including OhioHealth, the Economic and Community Development Institute, The Ohio State University Wexner Medical Center, Battelle National Biodefense Institute, and Battelle Memorial Institute, among others.
She was most recently controller at OhioHealth, where she oversaw several key business units including OhioHealth parent and special purpose entities, as well as joint ventures.
"Her experiences in strategic planning, productivity improvement, and financial projections will be an asset to Orthopedic ONE as we pursue smart growth opportunities to meet the needs of our communities, and continue to unify our administrative activity across the organization," shares D'Aloisio.
###
Orthopedic ONE is the largest physician-owned orthopedic practice in Ohio. With 63 of the region's top general and fellowship trained orthopedic experts, patients have access to the most diverse range of orthopedic specialties and experience in Columbus. Orthopedic ONE's panel of experts include general orthopedic surgeons, physical medicine and rehabilitation physicians, and surgeons with advanced fellowship training in areas of foot and ankle, sports medicine, spine, hand and wrist, shoulder and upper extremity, joint preservation, and total joint replacement surgery. In fact, more people trust Orthopedic ONE to provide musculoskeletal care than any other practice in the central Ohio area. To learn more, visit www.orthopedicONE.com.
Back