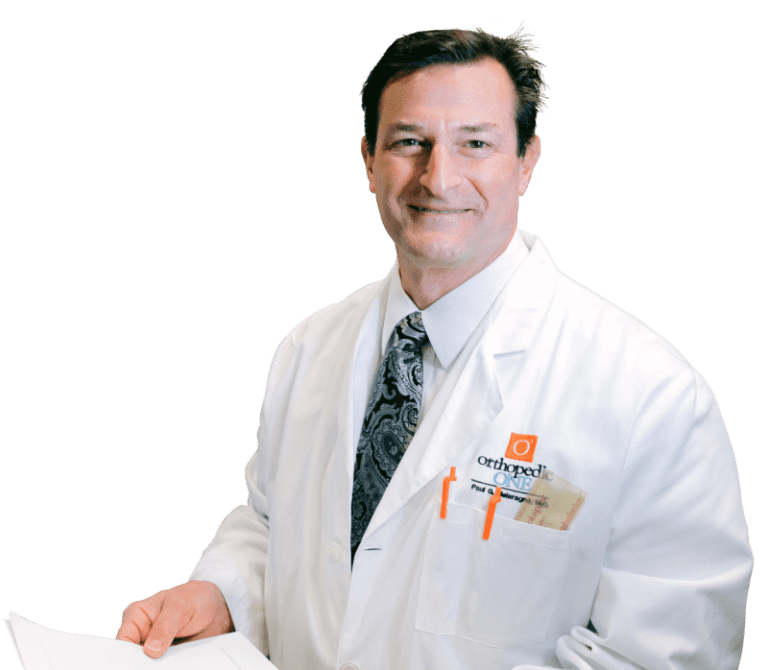 Expertise and experience are vital, and the physician team at Orthopedic ONE has both.
Whether you've experienced an acute injury, or have been struggling with a chronic condition, the most important decision you can make is finding the right doctor.
You'll have access to the most diverse range of orthopedic specialties. That means you'll receive expert care from some of the most highly skilled orthopedic surgeons and fellowship-trained physicians in Columbus. More people trust Orthopedic ONE to provide musculoskeletal care than any other group practice in the central Ohio area.
Experience
When appropriate, we begin with a conservative approach to treatment. These non-surgical treatments may include physical therapy and exercise, anti-inflammatory drugs, or steroid injections. When surgery is necessary, experience is an important consideration.
Each year, our physicians perform more than
4,500 Knee Replacement Surgeries
3,000 Hip Replacement Surgeries
3,500 Arthroscopic Knee Surgeries (ACL, MCL, PCL and Patella repair)
3,000 Planter Fasciitis Treatments
2,500 Carpal Tunnel Repair and Treatments
2,000 Rotator Cuff Repair Surgeries
700 Hip Arthroscopy Procedures
1,800 Spinal Decompression Surgeries
7,000 Spine Injections for treatment of back pain
This list includes only some of the most common orthopedic procedures. Your surgeon will evaluate your unique condition, present you with a range of considerations, and will recommend treatment options for a positive outcome and sustainable remedy to your condition or injury.
*According to Press Ganey Orthopedic Forum patient satisfaction benchmark data 2014-2017
We have ONE priority…You
We Are Teachers
In addition to the daily care provided to our patients, many of our physicians serve as teaching faculty at local hospital residency programs. In fact, several Orthopedic ONE physicians have been honored with prestigious teaching awards for the quality and dedication they provide to orthopedic residents throughout central Ohio.
We Are Authors and Researchers
In fact, our team of physicians regularly contribute to some of the leading medical and orthopedic journals and text books, around the world. A collection of these publications and studies have been recognized for their contributions to the medical and orthopedic industries.
We Are Business Owners
As the largest privately owned orthopedic practice in Ohio, we are physician partners. We are investing in our practice and our staff of more than 600 associates to meet the changing needs of our patients, and the changes in our industry.
We Are Innovators
Our physicians are developing and shaping orthopedic instruments, devices and systems that are improving the industry, and improving quality of care for you, our patients.
We Are Advocates
Serving on countless boards, committees and panels in support of our medical community, and the central Ohio community at-large. Organizations like the Columbus Medical Association, Arthritis Foundation, Ohio State Medical Association, Ohio Orthopaedic Society, Operation Walk, Medical Missions, and more.