Patient Resources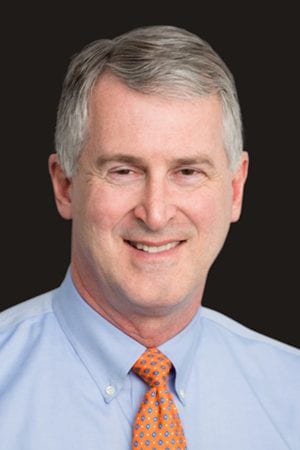 About Dr. Steensen
Named one of America's Top Doctors®, Dr. Robert Steensen specializes in all aspects of the knee, from sports injuries to knees worn out with arthritis. He is uniquely qualified as a result of his fellowship training with one of the pioneers of knee surgery that included cartilage transplantation and work with the NFL's Atlanta Falcons.
He is recognized internationally for the development of a surgical technique to prevent recurring dislocations of the patella. Through research efforts, Dr. Steensen helped define the anatomy of the Medial Patellafemoral Ligament (MPFL), and developed a procedure based on this information with results published in several orthopedic journals, including Orthopedics. The procedure takes a portion of the large quadriceps tendon and re-routes it to the same position as the MPFL to duplicate the function of the ligament. Respected surgeons throughout the world have adopted this new approach to treatment of ongoing patellar dislocation and instability.
His research on patellar dislocation, ACL surgery, meniscus transplantation and total knee replacement (including simultaneous bilateral total knee arthroplasty) has been featured in several, prominent orthopedic and medical journals, such as: Arthroscopy, Orthopaedic Review, Orthopedics, The American Journal of Sports Medicine, American Journal of Knee Surgery, Journal of Orthopaedic Research, and more.
His work has also earned him several awards from the American Academy of Orthopedic Surgeons, the Orthopedic Research Society, and Columbus Orthopaedic Society.
Former Associate Program Director of the Orthopedic Surgery Residency at Mount Carmel Health, Dr. Steensen was voted "Teacher of the Year." He has also consistently been included in the list of America's Top Doctors®, published by Columbus Monthly.
Active in the orthopedic community, Dr. Steensen is a member of the American Academy of Orthopaedic Surgeons, the Ohio Orthopaedic Society and the Columbus Orthopaedic Society. He is board certified by the American Board of Orthopaedic Surgery.
Dr. Steensen has practiced in Columbus since 1989 and was a founding member of Orthopedic ONE. He practices at Orthopedic ONE's Hilliard location, which has been recognized for its outstanding patient service and care with the APEX National Quality Award and Angie's List Super Service Award. He also recently opened office hours at our  Grove City location.
Clinic Locations
Surgery Locations
Education
Undergraduate :

The University of Akron

Medical School:

Northeastern Ohio University College of Medicine, Rootstown, Ohio

Orthopedic Residency:

Mount Carmel Medical Center, Columbus, Ohio

Fellowship:

Knee Surgery/ Sports Medicine, Resurgens Orthopaedics, Atlanta, Georgia

Board Certification:

American Board of Orthopaedic Surgery
Titles, Honors & Awards
Title

Former Associate Program Director, Orthopedic Surgery Residency at Mount Carmel

Awards

Castle Connolly Top Doctors 2015-2023
American Association of Orthopedic Surgery Award 2017
Mount Carmel Teacher of the Year Award 2011-2012
Associations
American Academy of Orthopedic Surgeons (AAOS)
Ohio Orthopedic Society (OOS)
Columbus Orthopedic Society (COS)
Ohio State Medical Association (OSMA)
Chairman, Orthopedic Research at Mount Carmel
Orthopedic Clinical Management Site Chair at Mount Carmel
Research & Teaching
Clinical Educator

Ohio University DO School

Research

Designed and Patented instruments for Knee Replacement Surgeries
Published writer and presenter in the medical community including The American Journal of Sports Medicine and Mid-America Orthopedic Association
Related Blog Articles
ALL WESTERVILLE APPOINTMENTS WILL TAKE PLACE AT 340 POLARIS PKWY Beginning Monday, May 1, all Westerville physician appointments will take place at our new clinic at 340 Polaris Parkway, at...