What Are Athletic Trainers And How Can They Help Keep You Healthy?
March is National Athletic Training Month! Let's take a few moments to shine a spotlight on the special role our Athletic Trainers play in helping our patients pursue better lives, one story at a time.
Athletic Trainers work with doctors, physical therapists and other healthcare professionals to provide quality care to patients, helping them restore function after an injury so they can return to doing the things they love, such as sports, school/work and their other daily activities. When you see someone running onto the field during a sporting event to help an athlete with an injury, it's likely an Athletic Trainer!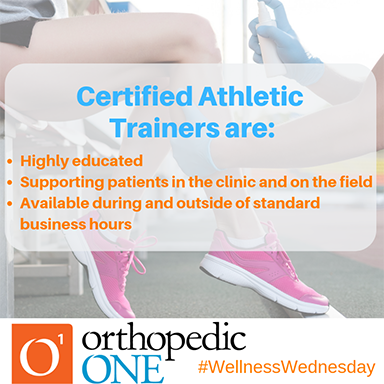 Athletic Trainers work in a variety of locations, including:

Physician Offices and Clinical Settings (like Orthopedic ONE!)
Athletic Facilities at high schools, colleges and professional sports arenas
Commercial Offices
Branches of the Military
Police and Fire Departments
Performing Arts
Before Athletic Trainers can be certified, they are required to obtain a Bachelor's degree from a CATTE accredited program. Once a student has completed their undergraduate program, they are required to sit for and pass the Board of Certification Exam. Starting in 2023, Athletic Training education will switch to a Professional Program, meaning ATs will be certified at the Master's level. As with many roles within the healthcare profession, continuing education coursework is also a requirement, and ensures that Athletic Trainers are constantly polishing their skills and staying on top of the latest developments in the field.
To learn more about how to become an Athletic Trainer, check out the National Athletic Trainers' Association and Commission on Accreditation of Athletic Training Education.
At Orthopedic ONE, our Athletic Trainers have several roles and duties to help our patients bounce back from injury. During normal business hours, our ATs can be found assisting physical therapists with rehabilitation programs and treatments, developing programs to help patients regain strength and conditioning, performing functional and strength assessments and assisting as needed in the clinic to help ensure our patients receive a quality level of care.
During the evenings and weekends, look for Orthopedic ONE tents and flags out in the community, as our AT team is hard at work providing on-site coverage to a variety of top-tier athletic clubs throughout central Ohio, to whom the practice serves as the Official Sports Medicine Partner.
Athletic Trainers are able to treat and address injuries in the following ways:
Provide emergency care for traumatic injuries or life-threatening conditions
Administer first aid
Assist with any pre-practice or game needs like stretching or taping
Evaluate/treat orthopedic and possible head injuries
Give recommendations for at home treatment and injury care
Refer and schedule physician appointments if further care is needed
If you've experienced a sport-related injury, you can reach an Orthopedic ONE Athletic Trainer by contacting our Sports Injury Hotline. Messages here are received 7 days a week and calls are returned between the hours of 8:00 a.m. and 7:00 p.m.