Tricks and Treats for Halloween Safety
Halloween can be one of the most exciting times of the year for kids and kids-at-heart! It's a time to dress up as a favorite movie character, sports idol or scary monster. And who can forget about the massive amounts of candy?!
However, ensuring that this holiday stays both safe and enjoyable can make it a stressful night for parents. Here are some "Tricks and Treats" brought to you by Orthopedic ONE, to make sure All Hallows Eve is a scary good time for everyone involved!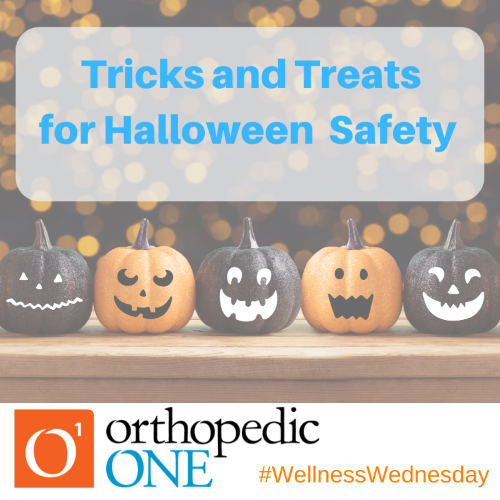 Know When to Go- In most central Ohio neighborhoods, trick-or-treat will take place on Thursday, October 31st from 6:00pm – 8:00pm. Click here to find exact details for your community!
Check the Forecast- It's fall in central Ohio, which means being prepared for anything from warm temperatures to snow! Get an updated forecast by clicking here! If the forecast calls for colder temperatures and precipitation, consider adding a layer of clothing under costumes to keep kids warm and happy whilst trick-or-treating!
In the case of inclimate weather, refer to this list, which will provide updated trick-or-treat times if applicable. You may also want to ask around your neighborhood to see if any alternate plans are being made.
Throw Away Open Candies- The FDA advises not to accept any candy or food items that aren't commercially wrapped. Also, be sure to check the ingredients label for any food allergens. Click here for additional FDA suggestions!
Teal Pumpkin Project- This initiative aims to increase food allergy awareness by adding non-food items, such as small toys, to your list of Halloween goodies, making the holiday more inclusive for those with special dietary needs and restrictions. Click here to learn more!
Costume Safety Recommendations- Follow these general guidelines below, and click here for even more tips!
Make sure costumes are sized appropriately and capes are short enough to avoid any tripping hazards.Read face paint labels and make sure they are FDA approved.
Masks should be snug fitting, have large enough eye holes that vision is not impaired and not be difficult to breath in.
Proper footwear can make or break the night! Costume footwear is not designed for outdoor use.
Child Supervision- Parents should take the utmost care and responsibility when it comes to the safety and well-being of their children on this night! Children under the ages of 12 should be under the direct supervision of an adult at all times!