Spirit Sprint 5k-Show Us Your Spirit and Your School Can Win Big!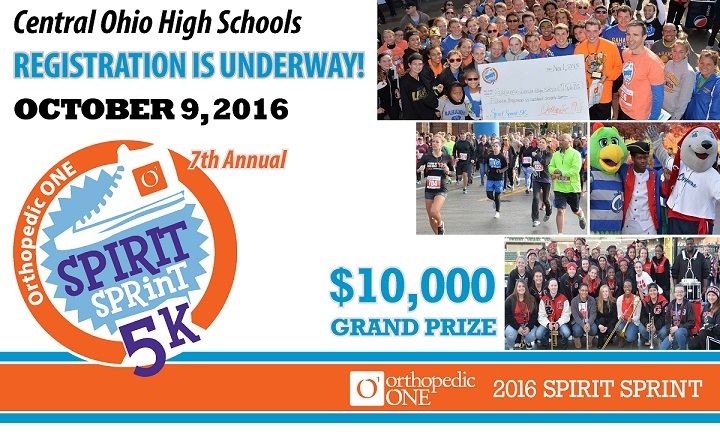 For the past 6 years, Orthopedic ONE has organized and hosted the Spirit Sprint 5k Run/Walk to support athletics and extracurricular activities at central Ohio high schools. We are happy to announce that we will be hosting the 7th annual Spirit Sprint 5k on October 9th at COSI-Genoa Park. The event is a fundraiser, with an enticing challenge component, to raise the funds needed to help schools offset costly expenses like pay to play fees, purchasing new equipment and uniforms, or funding the arts - such as band & theater programs.

RALLY YOUR HIGH SCHOOL AND TAKE HOME THE TOP PRIZE OF $10,000!
How: It's simple! The central Ohio high school with the most participation points takes top honors! Upon registration each participant will select the central Ohio high school they are running/walking for, and each participant earns that school points. So the more people who sign up in support of a school - the better chances that school has of taking home the grand prize of $10,000!

BUT every school is a winner! As a fundraiser, ALL schools will earn 100% of its race registration proceeds. This alone could mean big $$ for your school! In years past, schools have raised nearly $10,000 in registration proceeds alone.
This happens when the school and community come together and commit to showing up in numbers. We encourage students, teachers, coaches, parents, families, and community members to get involved and sign up to compete for your local high school - and show your support of athletics and other extracurricular activities!
Click here for more information and to register!