Severe Weather Safety
Spring has sprung, and with it, comes the likelihood that some days will be filled with more April showers than May flowers. In some cases, those spring showers can develop into thunderstorms, which can do more than put a damper on your outdoor plans and sporting events. Check out the following tips to stay safe when severe weather strikes!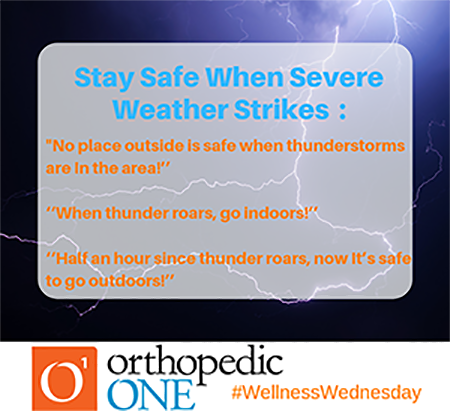 There are an average of 25 million lightning strikes that hit the ground each year in the United States, causing almost 300 injuries and 30 deaths. Lightning is hotter than the surface of the sun and can reach temperatures of 50,000 degrees. If you hear thunder, then lightning is in the area, and lightning may strike within 10 miles of rain.

If you are at an organized sporting event and lightening is spotted, the area needs to be cleared immediately and athletes, coaches and spectators need to find shelter. No one should be allowed outside again until at least 30 minutes after the lightning/thunder has cleared the area.

The safest place to be during a storm is inside a substantial building or vehicle. Places like gazebos, open garages, dugouts, and shelters, such as bus stops, picnic areas, and parks are NOT safe. Avoid being near tall objects like tress, towers, poles, elevated areas, along with large bodies of water like ponds and swimming pools.
If you are with someone who has been struck by lightning, call 9-1-1 right away. Get the person to a safe area (because lightning CAN strike twice) and begin first aid/CPR if needed.
It is important to pay attention to forecasts when planning outdoor events, and always monitor the weather. Also, think ahead. Having a plan in place to implement if severe weather develops can save lives!
Source: National Athletic Training Association