Setting SMART Goals
When it comes to making healthy lifestyle changes and goal setting, many people know what they could be doing better, but they aren't sure how to get started to achieve their goals. Oftentimes people will try to make too many changes at once or do too much, too soon, which can cause burnout and frequent setbacks. Whether it's recovering from an injury or changing part of your lifestyle, utilizing a SMART short and long-term goal setting process can be effective in keeping your goals manageable and achievable.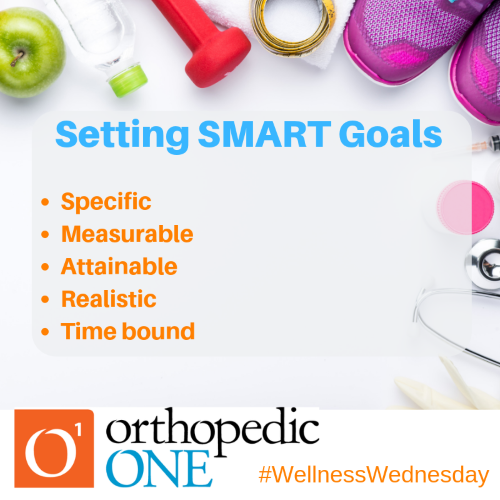 SMART stands for:
Specific: What would you like to do? Why is this important to you? How are you going to do it?
Measurable: Being able to measure and track your progress to see if you're moving toward the end goal.
Attainable: Goals should be within your reach, but still challenge you to make a change.
Realistic: Do you have the resources you need? Is this goal relevant to you? Will this goal help get you closer to your main objective/long term goals?
Time bound: Setting a time frame for your short and long-term goals helps keep you focused, but remember to allow yourself flexibility in timelines for potential minor setbacks.
Whether it's starting a new lifestyle endeavor on your own (training for your first 10k race, starting dance lessons) or working through a bout of physical therapy, setting small goals along the way that work toward the end-goal helps maintain motivation to keep going and working. If you happen to be working with an Orthopedic ONE physician, physical therapist, physical therapy assistant or athletic trainer, be honest with them about what activities you would like to get back to or what goals you want to achieve with your treatment. They will help you set your own personal SMART goals and give you the tools to help you get there!
Sometimes setbacks can happen along the way, both in physical therapy and when working toward a goal on your own. If one part of a goal isn't met in the time frame that was originally set, it's more helpful to look at it as a new challenge to overcome along the way. Any long-term change is a self- learning experience; you learn more about what actually motivates you, what kind of time frame you can work in, and you may even end up changing your own long-term goal along the way! Knowing from the beginning there is a possibility for challenges during the journey will make it easier to cope with if they do come along.
Any time you initiate exercise, it is important to do so safely in order to reduce the risk of injury. If you find yourself with pain or injured, consult a healthcare professional for further evaluation. Orthopedic ONE's Sports Medicine physicians and Sports Medicine Hotline are great resources should you need them!
Sources: University of California, Smart Goals: A How to Guide; Movement Systems Physical Therapy