Putting our patients and employees first in midst of a shutdown
Our CEO Tim Smith recently spoke to Reporter Carrie Ghose with Columbus Business First about the company's immediate response and recovery to the COVID-19 shutdown, including the ban on elective procedures.
In sharing this story, we want to acknowledge the following:
1. Our incredible team of associates who have remained flexible throughout these uncertain times and have helped us keep our fellow employees and patients healthy and safe.
2. Our physicians, leadership and especially our HR team who worked tirelessly to find programs and resources like those mentioned in the article to keep our workforce intact.
3. Our patients who understood when procedures had to placed on hold or rescheduled due to changing orders and guidelines outside of our control. Thank you for your continued trust in us.
Read the full article below or in Columbus Business First.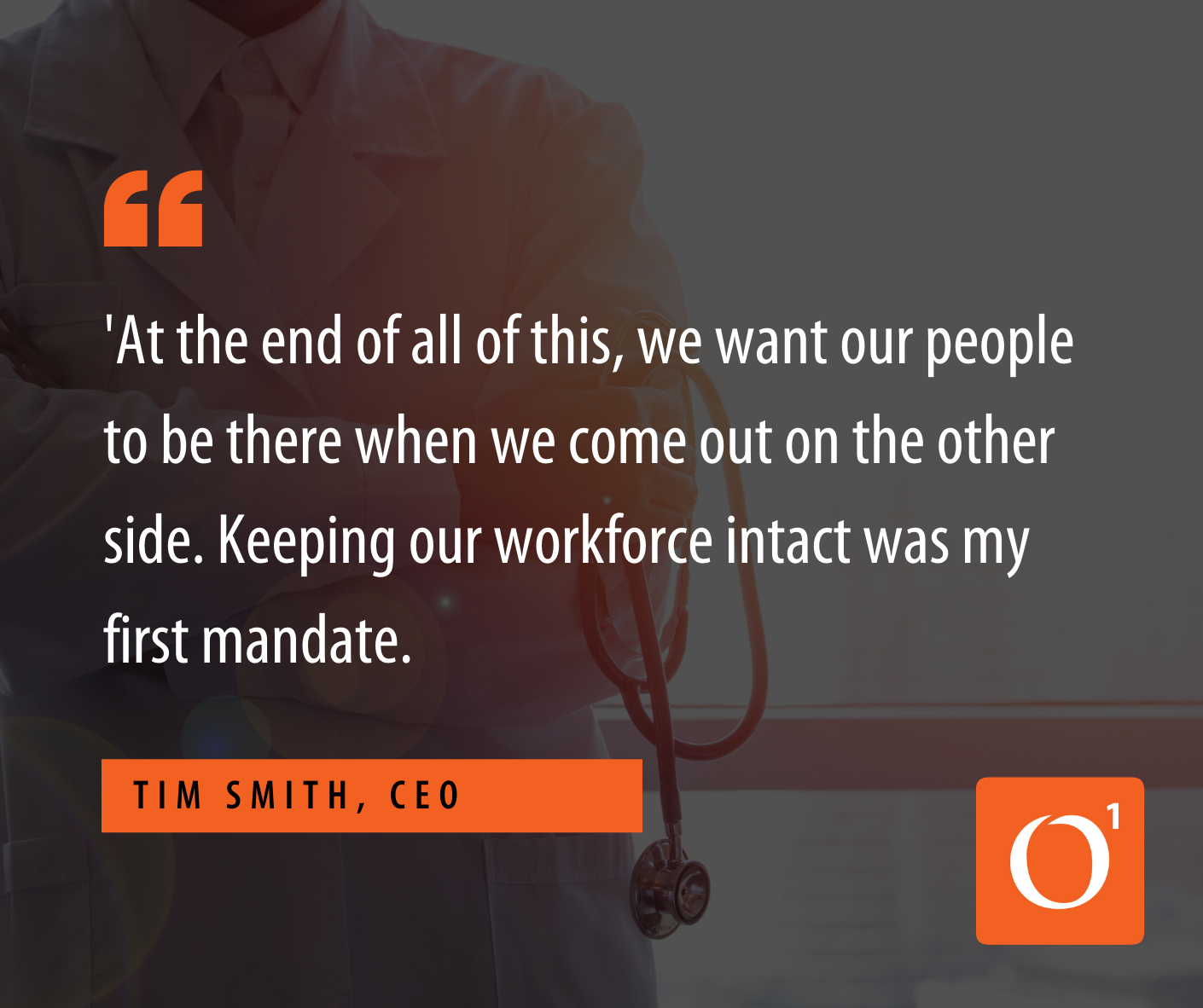 Ohio's Largest Orthopedic Practice Saved Jobs Using Federal, State Programs During Shutdown
By: Carrie Ghose
Despite 90% of revenue evaporating while elective surgeries were put on hold, Ohio's largest orthopedic practice kept 93% of its staff through a combination of the federal Paycheck Protection Program and a state program for partial unemployment pay.
Business is slowly picking back up for Orthopedic One, and it's resumed planning for a new headquarters and medical office in Westerville, said CEO Tim Smith .
The board of the physician-owned practice had paused the project in an emergency conference call in March, he said. Members also voted to stop paying all 60 doctors and surgeons, and reduce management pay.
"They said, 'At the end of all of this, we want our people to be there when we come out on the other side,' " Smith said. "Keeping our workforce intact was my first mandate."
The practice cut about 40 positions, and 10 others found new jobs – but in a competitive healthcare labor market, 650 have stayed part-time throughout the crisis.
"If things continue as they're going now, the owners of Orthopedic One will obviously have lower income in 2020 than we otherwise would have had, but the business is strong and will be fine," Smith said. "If there's not a second event, we'll be stronger on the other side."
And if the state halts procedures again?
"We would do exactly the same thing we just did," Smith said. "We feel pretty proud, to be honest, that we kept all these jobs in place.
"I don't think any business can survive 90% loss of business forever," he said. "(But) we know how to respond to the crisis now."
Construction could start within a month or two once there's a green light on the four-story, 80,000-square-foot medical office with MRI, physical and occupational therapy and a headquarters consolidating administrative workers from several locations. Cost estimates are not complete, Smith said, but it would be in the range of $20 million.
Columbus-based Daimler Group Inc. is the developer of the project, at Polaris Parkway and Africa Road in Westerville's "medical mile."
PPP, JFS combo
Orthopedic One was one of three Central Ohio healthcare businesses to qualify for a $5 million to $10 million PPP loan, the largest size range in data on loans of $150,000 or more the U.S. Small Business Administration released last week.
Smith wouldn't specify the loan amount, but said the practice hopes to qualify for loan forgiveness based on the number of jobs saved.
The practice also signed up for SharedWork Ohio, a partial-unemployment program that was signed into law in 2013 with the previous Great Recession in mind, according to the Ohio Department of Job and Family Services. Once a business is approved, if employees are kept at half their normal hours, the program pays a portion of the missing hours.
From the SharedWork launch in 2015 through February 2020, 160 employers with 11,500 employees participated, according to JFS. From March through July 2020, 909 employers have submitted a total of 1,680 partial work plans, affecting more than 46,000 workers. CARES Act funding, also behind PPP, is backing increased use of the program.
"It's really well-designed," Smith said. "It's a modest benefit, but helps everybody."
Employees won't have to register again if there were another disruption to services. An agreement lasts one year.
"Your hours drop suddenly, your benefit is there for you," Smith said.
Orthopedic One had been on track for a good year as doctors watched the pandemic advancing in January, Smith said. Then came the state order in March. It allowed procedures needed to stop disease progression or loss of function, but that was open to interpretation.
"We spent a lot of time furrowing our brow – what's elective and what's not elective?" Smith said.
"An orthopedic surgeon is generally relieving pain or restoring function," he said. "By definition, you've tried everything possible to avoid that major surgery. By time you are ready to do that, you have unendurable pain."
The specialty doesn't adapt to telehealth as well as others. The practice was able to conduct some remote visits, but a surgeon can't feel a limb that way.
Anyone coming to the office must wear a mask and report their temperature. Patients are tested for Covid-19 before a surgery.
"That's all we know to do, is keep our patient population as safe as we can," Smith said.
Procedures came back online in stages throughout May. Volume is back to more than 80% of pre-pandemic levels, Smith said.
"The recovery is slower than what we would like," he said. "There are patients who are still afraid to come out, and that's understandable."