Orthopedic ONE voted Best of Business 2017
It's official. Our patients are the best. For the third consecutive year, Orthopedic ONE has been voted Best Orthopedic & Sports Medicine Practice and Best Physical Therapy Practice in Columbus CEO magazine's 2017 Best of Business Awards. More than 53,000 unique votes were cast in the reader poll for 2017.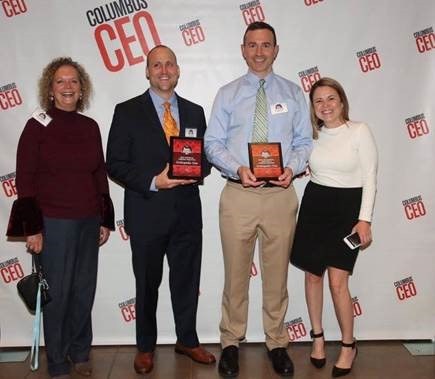 O1 staff L to R: Kathie Stanley, Geoff Omiatek, Dr. Politi and Karly Elliott at the event ceremony on 11/1 to accept our awards.

Thank you Columbus for choosing Orthopedic ONE. You are the reason we strive to provide the highest level of service and quality of care. We're proud to be number ONE, but we're more proud of the work our physicians, therapists and staff do each day to improve the lives of our patients.
Congratulations to all the honorees named in the November 2017 issue of Columbus CEO! The full "Best of Business 2017" list is out now in the current print Issue of Columbus CEO or click here to view online.