Orthopedic ONE physicians making a difference through education...
Orthopedic ONE was recently recognized by the American Academy of Family Physicians as an Active Teacher in Family Medicine, for our role in the education of the Riverside Family Medicine Residency Program.
These residents receive monthly lectures by Orthopedic ONE physicians, covering musculoskeletal anatomy, diagnosis, and treatment. Each resident is also given an opportunity to complete a 4-week rotation block within the Orthopedic ONE clinics, allowing them to experience many different patients and diagnoses. Orthopedic ONE is also active in the Mount Carmel Family Medicine Residency Program, providing the residents with monthly lectures, workshops, and clinical rotations, as well as the education of Ohio University College of Osteopathic Medicine, Ohio State University Orthopaedics, OhioHealth Orthopedics, and Mount Carmel Orthopedic Residency Programs.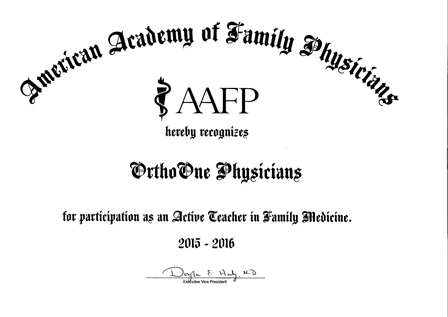 Award for Orthopedic Education
Recently, Orthopedic ONE joint replacement surgeon, Dr. Vivek Sahai, was recognized by the Ohio State University Wexner Medical Center and their Orthopaedic Residents as the 2016 Orthopaedic Educator of the Year. Dr. Sahai is very active within the education community, hosting residents within his clinic and OR, as well as providing lectures to residents of Orthopaedics, Family Medicine, and current providers within the community.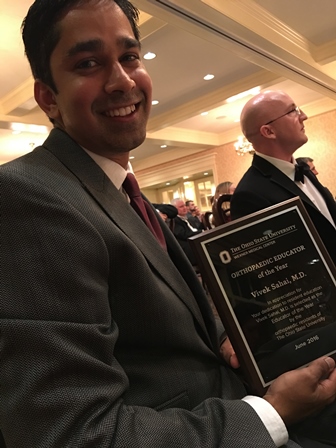 OSU Orthopedic Award