Orthopedic ONE Names Chief Operating Officer - Mark D'Aloisio
Ohio's largest physician-owned orthopedic practice, Orthopedic ONE, is pleased to welcome Mark D'Aloisio, MBA, MPT, as its Chief Operating Officer effective October 12. D'Aloisio brings with him an extensive and unique combination of clinical and healthcare leadership experience.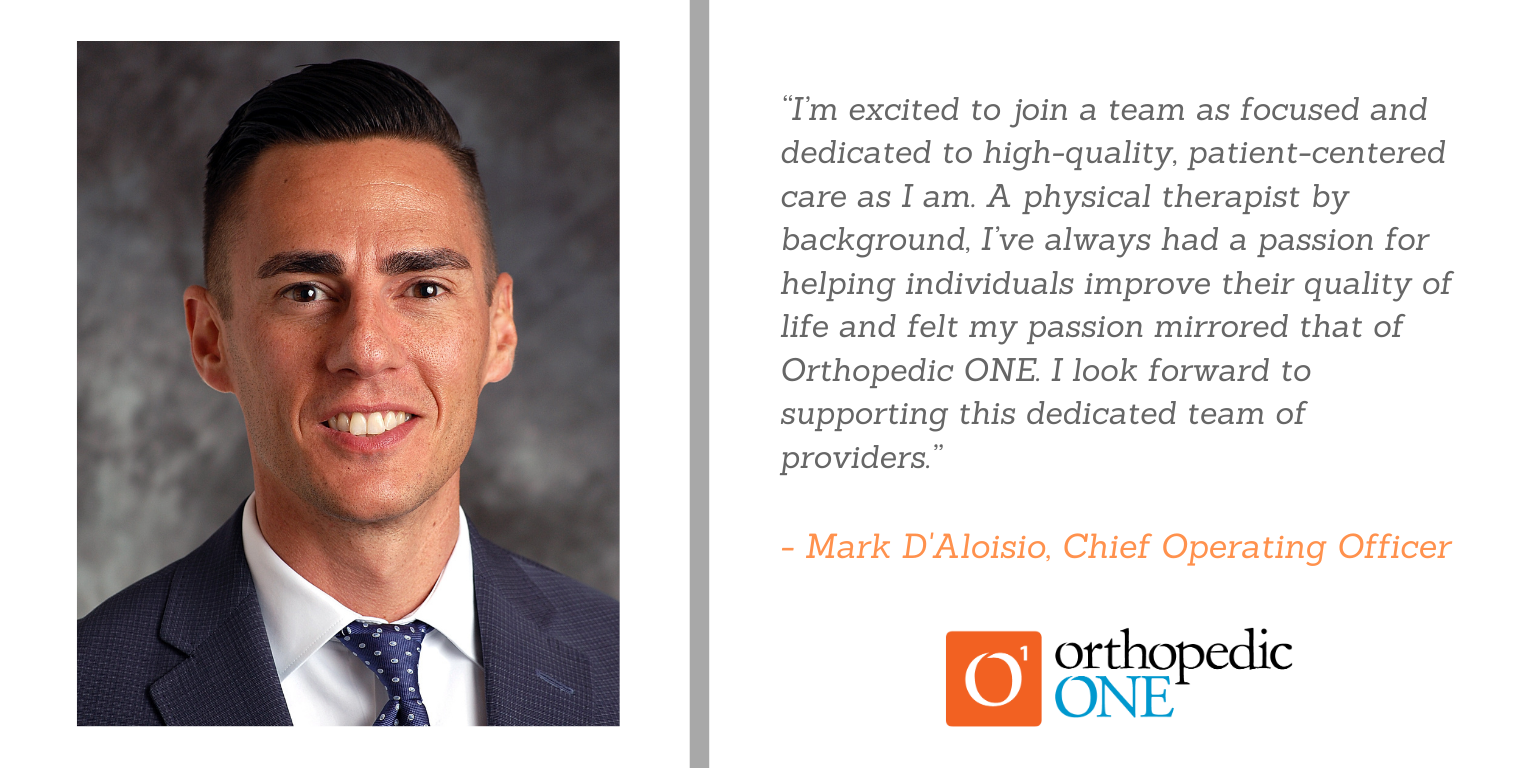 Before joining Orthopedic ONE, he served as Vice President of Operations at Mount Carmel East, the flagship hospital of central Ohio's Mount Carmel Health System. While there, he guided the hospital's strategic transformation initiative and led its $310 million expansion and modernization project.
D'Aloisio holds a bachelor's and master's degree in physical therapy from Wayne State University in Michigan and was a practicing therapist until 2011. He went on to complete his Master's of Business Administration at Arizona State University and later a post-graduate administrative residency and fellowship with Trinity Health.
"We look forward to Mark's contributions to the growth and continued improvement of our practice," says Orthopedic ONE CEO, Tim Smith. "His enthusiasm for clinical quality, patient experience and operational performance aligns perfectly with our mission and vision."
Having spent eight years as an executive in the central Ohio healthcare market, D'Aloisio also brings a solid understanding of the local and state healthcare landscape.
"I'm excited to join a team as focused and dedicated to high-quality, patient-centered care as I am," said D'Aloisio. "I'm a physical therapist by background so I've always had a passion for helping individuals improve their quality of life and felt my passion mirrored that of Orthopedic ONE. I look forward to supporting this dedicated team of providers."