Orthopedic ONE announces exclusive sports medicine partnership with Classics Eagles FC
COLUMBUS, OH (May 14, 2015) -- On May 14, 2015, Orthopedic ONE's team of sports medicine physicians, surgeons, therapists and athletic trainers was named the official sports medicine provider to one of Ohio's largest youth soccer clubs, Classics Eagles FC.
As part of an exclusive partnership agreement, Orthopedic ONE will offer onsite, game and tournament coverage and injury prevention and related health resources to Classics Eagles' more than 1,600 athletes, ages 8-18.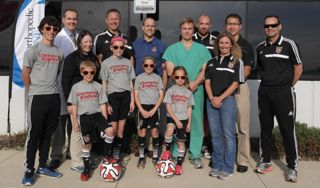 The club identified the following key priorities in selecting a sports medicine partner:
Injury prevention
Injury assessment and concussion management
Treatment and referral
Return to play
Player, parent and coach education
"We share Classics Eagles' philosophy and mission, and like them, we want to support each and every athlete's goal to be the best they can be," says Greg Bellisari, MD, a sports medicine physician with Orthopedic ONE. "To play your best, you need to be healthy so we're excited to work with both parents and coaches to keep players injury-free, and provide the best orthopedic and rehabilitative care possible if and when they need it."
Mike Lentz, Classics Eagles FC Executive Director, shared the following about the partnership:
"As one of the largest, growing clubs in the region, our leadership team believed that to better serve our families, we needed to provide comprehensive sports medicine support services. Orthopedic ONE delivered an outstanding package of value added services and support that aligns with Classics Eagles' mission. We are very excited to work with Orthopedic ONE to deliver these important services to our Classics Eagles' communities."
This announcement furthers the practice's list of athletic affiliations and partnerships within the region, which also includes: Columbus Crew SC, Columbus Blue Jackets, Resolute Athletic Complex, Columbus Premier League, Ohio RTC (Regional Training Center), Sports Ohio, Mannino's Grand Slam USA, FC42, Ohio Premier, Team 614 Cycling, and more.
Orthopedic ONE, Ohio's largest, physician-owned orthopedic practice, offers a world-class roster of sports medicine experts with decades of experience treating professional, collegiate, high school, club and recreational athletes of all ages.
Our Physicians, Physical Therapists and Certified Athletic Trainers work together to achieve a unified goal: returning athletes to pre-injury condition.
With locations throughout central Ohio and nearly 60 orthopedic physicians, Orthopedic ONE represents a range of specialties from total joint replacement to hand, foot and spine surgery, to physical medicine and rehabilitation. To learn more or find a location near you, visit www.OrthopedicONE.com.