DON'T GET "BURNED" THIS HOLIDAY SEASON
Thanksgiving is a wonderful time of year full of family, friends and of course, food! Regardless of how you decide to prepare your turkey for the big feast, make sure to take the proper precautions to prevent any unnecessary emergencies.
According to the National Fire Protection Association, "Cooking fires are the number one cause of home fires and injuries." Specifically, leaving the kitchen unattended while cooking. In fact, fire departments respond to an average of 166,000 home fires per year involving cooking equipment.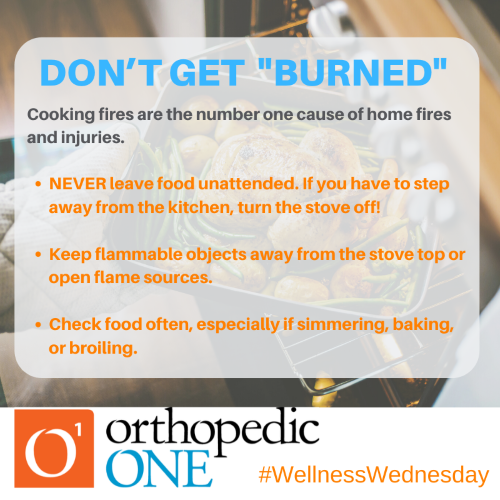 Follow these simple safety tips, to ensure that you and your family have a happy and safe holiday season!
Never leave food unattended. If you have to step away from the kitchen, turn the stove off!
Keep flammable objects away from the stove top or open flame sources
Check food often, especially if simmering, baking, or broiling
Deep frying your turkey this year? Here are a few extra precautions to keep in mind:
Do this activity outdoors
Do not over-fill your pot with oil
Make sure the turkey is completely thawed
Check the oil temperature often
Wear long cooking gloves/mitts to prevent any temperature or splatter burns
In the event of a fire, follow these instructions minimize the damage:
Leave the oven door closed! Do not try to open and extinguish the flames.
Turn the oven off and allow the fire to burn out.
If the fire DOES NOT go out on its own, leave the house and call 9-1-1
If the fire DOES go out, open your windows to allow ventilation of smoke
After you are certain the fire is extinguished, carefully open the oven door and remove the hot pan. CAUTION- It will be smoky. Turn on your oven hood for increased ventilation.
Allow the smoke to clear to determine the cause of the fire and the possibility of resuming cooking.
Sources: Advantage News, National Fire Protection Association, Service Master, U.S. Fire Administration