Can It Wait?
When a medical situation occurs, a decision must be made. Should you go to the emergency room, urgent care or schedule an appointment with a physician at their medical practice? Emergency rooms and urgent care centers are great resources to utilize for certain ailments. But when do you really need to visit them and for what types of conditions? For the majority of orthopedic conditions, a trip to an urgent care or emergency room can cost you more time and money than needed.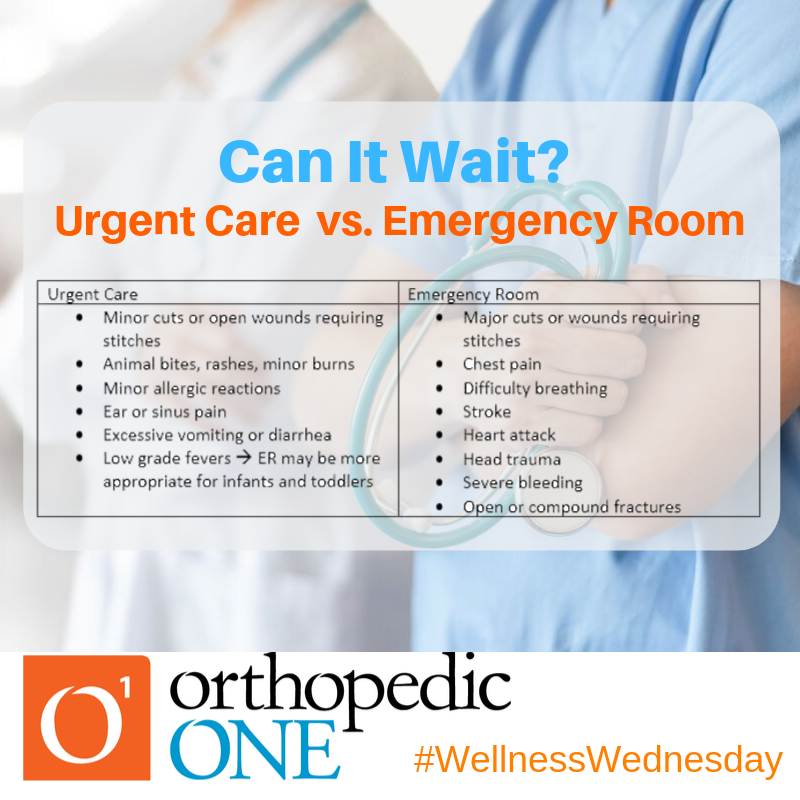 Urgent Care Centers: Ideal for non-emergency situations that occur outside of your primary care physician or specialists' normal business hours, as they typically have weekend or extended evening hours.
Emergency Rooms: Should only be used for EMERGENCY situations. If you have a life or limb threatening condition, go straight to your nearest ER!
Most orthopedic conditions such as strains, sprains and minor fractures can usuallywait 24-48 hours to be address by a Sports Medicine physician. At full scale orthopedic and sports medicine practices, such as Orthopedic ONE, additional resources can also be utilized through athletic trainers. These include, but are not limited to urgent access, priority scheduling and after hours care.
If you have experienced an injury that does not require immediate attention, the team at Orthopedic ONE can help! To learn more about our Sports Medicine specialty and for a list of our Sports Medicine physicians, click here. You can also discuss your ailment with one of our Certified Athletic Trainers through our Sports Medicine Hotline.