Online Bill Pay
Thank you for choosing Orthopedic ONE, where each and every patient is our number ONE priority. In effort to provide added convenience, Orthopedic ONE is pleased to offer this online bill pay option.
Pay Your Bill with Payment Portal
Securely view and pay your bill online
Enroll in paperless billing
View your billing and payment history
Manage auto payments and funding sources
E-Mail alerts when a new statement is ready
24/7 access to your account from any PC or mobile device
Pay Your Bill with EasyPay
Pay your bill online in minutes
No enrollment necessary
Same online security that banks use
Receive email confirmation of your online payment
Please note that if you have received services at more than one of our facilities, you may receive up to 2 different statements and different account numbers. This is simply reflective of our recent merger which joined two large orthopedic practices. We are continuing the work necessary to combine patient accounts into one statement, however for a time, you may receive 2 account numbers and statements. We appreciate your patience during our time of transition.
Bill Pay Code (B or O Code?)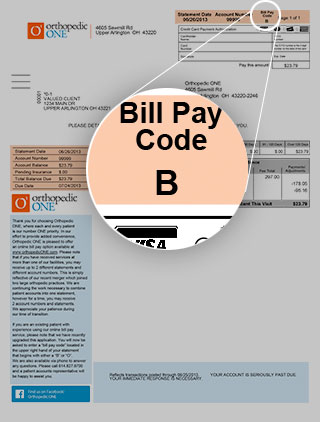 If you are an existing patient with experience using our online bill pay service, please note that we have recently upgraded this application. You will now notice a "bill pay code" located in the upper right hand of your statement that will either indicate "B" or "O" (please see graphic for location of this code). If your bill code is "B", please click the "B" tab below. If your bill code is "O", please click the "O" tab below. You will then be redirected to a secure page to pay your bill electronically.
If you have further questions or need to request a refund, please contact the phone number found on the statement in question.
Review Terms and Conditions of Service.