Patient Stories
I am 80 years old and was experiencing unbearable sciatica pain. I tried physical therapy, but it didn't work for me. The pain was excruciating, and I thought I was going to be bedridden. I could barely step with one of my legs, get into or out of bed, or sleep for any length of time. After x-rays and an MRI, Dr. Hannallah showed me the area affected and said he could help me get better.
I had a Lumbar Laminectomy and Fusion on 12/22/20. I woke up from surgery free of sciatica pain for the first time in a long time. Dr.
Hannallah and his staff provided after surgery instructions that were relatively simple.
Dr. Hannallah did exactly what he said he could do. I am so grateful and satisfied. He was straight forward about my issues and options. I'm so happy that I can do everyday things like walk and sleep without experiencing pain.
I would recommend Dr. Hannallah to everyone, especially if you are looking for a second opinion. I am so thankful to him for helping me get my life back!
I want everyone to know how wonderful everyone was at Orthopedic ONE on Sawmill Road. Dr. Sochacki and all the staff were very friendly and helpful. I would recommend Orthopedic ONE to anyone that was in need of their service. Thanks again!

I had seen two surgeons prior to Dr. Ellis. I hadn't felt comfortable with either one. My physical therapist recommended that I have a consult with Dr. Ellis, as he had seen his work through other patients.

The Dublin office was able to get me in right away. Dr. Ellis was so kind and explained everything and the procedure he described was less invasive. I had my first hip replacement (the worse hip) in April and upon waking in recovery, I noticed the difference. The second surgery was in June. Dr. Ellis saved my life. I had become so depressed from my pain. These surgeries took that pain away. God works in amazing ways. He led me to Dr. Ellis.

I recommend him to everyone, including my mother, who traveled three hours to see him. Before surgery I was miserable. I couldn't walk. I couldn't sleep. He saved me. Thank you Dr. Ellis for being amazing!
I just wanted to reach out to say thank you to Dr. Popp. He operated on my wrist many years ago and I am just so thankful for the work he did. I was recommending him to a friend and thought I'd send a note.
He performed an ulnar shortening on my right arm and it really improved my quality of life. There's not much I can't do. Thank you again, Dr. Popp!
My story started back in early February (pre-COVID-19). What was supposed to be a pre-dawn, wintery, six-mile hike at a local Metro Park, simply trying to stay in shape for Pelotonia, took a quick and traumatic turn for the worse. I got out of the car, took a few steps, and down I went--I never saw the "Black Ice" in the parking lot—resulting in a fractured Patella.

The injury was so bad that it was quickly determined surgery was needed immediately. I was in the emergency room and had no time nor was I capable of researching the best orthopedic doctors or what other options I may have. This is when my bad luck started to turn into good fortune. The next morning, just 30 minutes prior to my surgery, I met Orthopedic ONE's Dr. Adam Martin in the OR prep. I didn't know how blessed I was to have Dr. Martin as my surgeon until after surgery. Words cannot describe his extraordinary talents. It goes well beyond his skills in the operating room. Dr. Martin is a kind, compassionate person who genuinely cares about his patients. During all my follow up visits, he has made me feel like I am his only patient. He sits down and takes the time to answer all my questions and listens to my many concerns. During each visit, he goes through all my X-rays and explains the healing process to me, and reminds me of the long recovery process. It is important to note, Dr. Martin has a talented support team that starts with his Patient Care Coordinator, Katie R. She always answers my calls (and there are many!), usually within a couple of hours.

In addition, Orthopedic ONE has the finest Physical Therapists in their Westerville facility. From the time I hobbled in the door, locked in a full leg brace and on crutches, Emily, Sally, and Brianna greeted me by name and always asks how I'm doing. They made me feel important on day one and just as important now 10 months later. My physical therapist is Ryan Santangelo. I can't say enough about Ryan. Just like Dr. Martin, Ryan is incredibly kind and compassionate. He has gone above and beyond in my recovery. After the first four months of therapy, I hit a plateau. I was frustrated and couldn't see myself ever walking again without a brace, let alone getting back on my bike. Understanding my growing anxiety, Ryan collaborated with therapist Graham M. on a couple of occasions. Together they decided to add new exercises to my regimen. Throughout the rehab process, Ryan has been extremely caring and patient with me. He has put up with my tears and frustration during several sessions. What I am most grateful for is the fact that Ryan never "gave up" on me, even when I had given up on myself. I sincerely thank Ryan for getting me to where I am today in my recovery.

Both Dr. Martin and Ryan told me my recovery would be long (12-18 months) and said it would take "time and patience" - - two words that weren't in my repertoire. Now, 10 months into my physical therapy, I am beginning to believe…Dr. Martin still reminds me that I have several more months of recovery, and as he walked out of the exam room in a recent visit, he said, "Brenda, you're not in this alone. I'm here and together we will get you through this." I am truly blessed and thankful for Dr. Adam Martin and Ryan Santangelo and the entire team at Orthopedic ONE.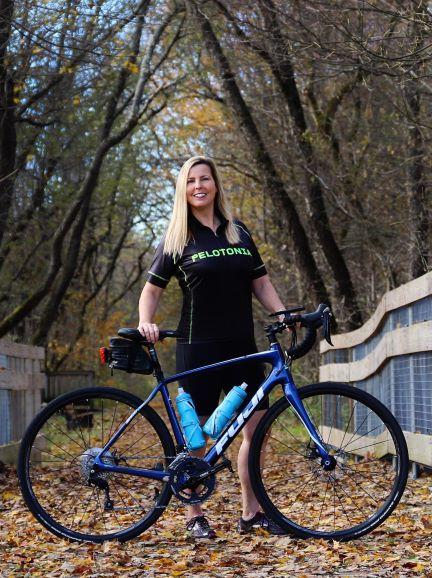 With much gratitude,
Brenda Ward