Patient Stories
Diana Brown is a Volleyball prodigy from Westerville, Ohio. Diana attends and plays volleyball for St. Francis DeSales High School, as well as competitive club volleyball at Mintonette Sports. After undergoing shoulder surgery at Orthopedic ONE for a torn labrum, Diana had ONE Goal, to get better and back to playing at the level she was pre-injury. Diana is stronger than ever and excited to play at the University of Illinois now that she is "full go".
I remember the pain so well...and my frustration after two visits to the emergency room and still no clear diagnosis. The pain that hit my arms suddenly and with such force that I ended up losing some control in my right arm, which was terrifying. When I was released from the hospital the second time, I was told to take it easy and follow up with my primary care physician if I didn't fell better. Approximately a week went by, and at this point I knew I needed to see an orthopedic specialist. I asked for a referral to see Dr. James Latshaw at Orthopedic ONE, since a few of my co-workers had been treated by him and shared positive feedback. That appointment changed everything for me... After being taken back to the exam room, Matt, Dr. Latshaw's Nurse Practitioner, listened to my concerns and asked questions about the events that led up to my sudden onset pain. After talking to Matt and Dr Latshaw, I was diagnosed with Parsonage Turner Syndrome. This was a turning point for me. I now had a name for the pain and an explanation! Dr. Latshaw wanted to see how my healing would progress, then a few weeks later, decided that physical therapy could be of help. Physical therapy ended up being another turning point in my healing! Parsonage Turner Syndrome caused me to lose a lot of everyday functions in my left arm. I could not lift a gallon of milk. I could not lift an imaging plate to take x-rays. I could not pour laundry detergent. When I met with my physical therapist, Chris, I told him my goals and we set out to accomplish them. While challenging, Chris made therapy an overall good experience for me. I did my exercises at home and worked with Chris in the clinic once a week to start, then every other week as I began improving. I completed physical therapy in 4 months and I am pleased to report that I met my goals! I am where I need to be and the function in my arms is at about 90% percent of where they were before I begin experiencing Parsonage Turner Syndrome symptoms. Due to the nature of Parsonage Turner Syndrome, I still have bad days, but they are fewer. It may take a year to completely heal, or I may never fully recover, but I would not be where I am today if it was not for the team at Orthopedic ONE. I can not express enough appreciation to them for getting me on the road to recovery! Thank you Dr Latshaw, Matt and Chris! ... Read More
Imagine you could hit the reset button on your life. 34 years ago, I broke my knee in about 40 places. Over time, my ability to do the things I love to do diminished and disappeared. Biking, hiking, even a simple walk. A block was too much after a certain point, and as a normally very active person, I realized I had become confined and was missing out on being alive. I delayed as long as I could, then knew it was time to change things.
Orthopedic ONE is clearly the ultimate destination for anyone in Columbus Ohio, or anywhere else for that matter. Amazing patient care, and I was fortunate enough to have a very involved and talented doctor, Michael McShane, M.D. Not 2 weeks after the surgery my daughter said, "Dad, you're taller!" when she saw me walk without a limp or the hunched over stance she had seen me in her entire life.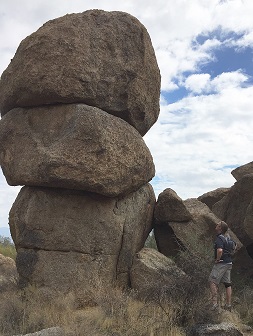 Recently, while on vacation, I did a 6 mile hike through the desert and realized how much I had been missing out on. So did my wife, who was doing these types of activities alone. I had forgotten how much I loved being out there, and I have my life and the joys of mobility back again. There are simply no words to describe it!
Thank you, Orthopedic ONE. Everything that was old is new again.
Jeff Pinkham, Ph.D.
I was referred to Dr. Feibel following a freak accident that caused a deep cut on my ankle that impacted the bone and severed my Achilles Tendon in the process. Dr. Feibel and his staff have given me the very best care for the last four months. I feel that with their help, I will get to keep my ankle! Everyone in the office has been so kind and understanding throughout this ordeal and I really appreciate all that has been done for me. I know I still have a long way to go with my treatment before I will walk again, but I feel I am in very capable hands working with Dr. Feibel. I highly recommend anyone that needs orthopedic foot and ankle surgery to contact Orthopedic ONE and set up an appointment with Dr. Feibel's office! ... Read More
I found myself hearing words that seemed very devastating to me. "I'm sorry the knee injury you have is very serious and a life changing event". That little sentence left me with fear to go along with the intense physical pain radiating through my body.
I felt numb to the idea that the little things I enjoyed may never happen again. I could give up my love for hiking; but how would I ever accept the fact that this inactive status would render me unable to care for twin grandbabies who were about to be born, and my little grandson who would join them the same week? Would I ever be able to play with my other three grandkids? Could I really accept the news that I may never walk around the zoo with my family? Would I be able to finish my teaching career, which involved me spending hours each day standing in front of students lecturing?
What may seem like simple questions drove me to explore other options and another orthopedic specialist's opinion. As I researched and checked references, I decided to call Orthopedic ONE. It seemed like it took me forever to explain my injuries and my new expected lifestyle. My first thought, "I want the doctor who does knee surgeries on young soccer players, Dr. Peter Edwards". It felt kind of silly in my heart that a 52 yr old patient would be valued the same as an athlete. However, I was pleasantly surprised that Dr. Peter Edwards and staff immediately encouraged me! Dr. Edwards was very honest, I was going to need to work on intensive therapy every day for the knee to reach full potential and therapy would not be easy.
Through the amazing care from my team at Orthopedic ONE and Dr. Edwards leading the way, I was determined to enjoy the little things in life. This determination was built through the motivation I received from my care team at Orthopedic ONE! My husband and family became my cheerleaders away from the office, as anyone who has been through it will tell you, everyone needs additional support to get through intense therapy like this!
The words "this injury will be life-changing" wasn't a false statement. The knee injury has changed my life for the better! I now recognize the importance of appreciating the little things in life. I can now enjoy hiking, playing with my grandkids, being active with my family. I am even more determined to continue enjoying the little things than I was before my injury!
Thank you Orthopedic ONE and Dr. Peter Edwards, your quality of care and concern gave me back the simple joys in my life!