Patient Stories
After more than 10 years of progressive knee pain that not only impacted my work life, but limited my recreational activity and fitness program, I am finally able to enjoy my life again!
At almost five months to the day following my total knee replacement surgery I was able to participate in and finish the Ohio State 4-Miler Race!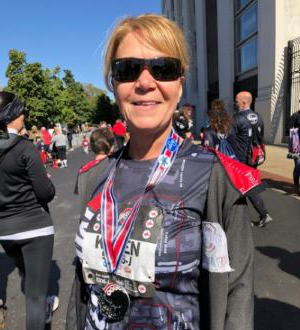 I'm so grateful to Dr. Biyani and the entire Orthopedic ONE team! Thanks for giving me my life back!
I had chronic pain due to sciatica for at least a year before seeing Dr. Ferrel. Walking had become very difficult and painful. Less than 2 months after my treatment by Dr. Ferrel the pain was gone!! I continue to improve every day. My thanks to the good doctor!
Dr. Sahai performed a total knee replacement on my left knee in May 2018. He called me the night before surgery to make sure that I didn't have any further questions. Really, how many doctors do this?
Not only is he an amazing doctor, but he makes his patients feel at ease. I have battled weight for the last few years and he did not make me feel the least bit embarrassed or upset about carrying extra weight. Too many times doctors state "you know if you lost some weight....." and make you feel worse than you already feel. I recommend him to everyone I know. I'm just thankful that he's my doctor for future medical needs!

I highly recommend Dr. Brent Bickel and Orthopedic ONE! Dr. Bickel is professional, caring and easy to communicate with. I'm one month post op and surgery was a complete success thanks to Dr. Bickel and his very impressive, cohesive surgical team at the Surgery Center at Easton.
The staff at Orthopedic ONE's Gahanna/Reynoldsburg location is also very impressive. From the front office to back office everyone is respectful, considerate, professional and efficient. Great team!
Lastly, but certainly not least, Erica Winton, my occupational therapist at the Gahanna/Reynoldsburg location is amazing! I spent four weeks with Erica working through my torn muscles. Erica is extremely competent, knowledgeable and professional. She knew immediately how to alleviate my shoulder pain through exercise and manipulation. Erica went the extra mile by giving me tips and aides to make home recovery more efficient.
Thank you Orthopedic ONE for making this situation less stressful!
In 2009 Dr Herceg fused 2 discs in my back. My pain was relieved and I have been pleased with the results.
Approximately 2 years ago I had been experiencing some numbness in my feet and lower legs. A neurology exam showed that I had some peripheral neuropathy and I was told by the neurologist there was nothing that could be done to relieve it. I was told by a sibling that I should try epidurals as that gave them some relief.
I was reluctant to try them however Dr. Herceg said he wouldn't guarantee it but that he was willing to try the injections to the sac around my 2 fused discs as they could be inflamed. I proceeded with three injections and have had positive results with each one. I now have approximately 80% of my feeling back in both feet and legs. Thank you Dr. Herceg!