Surgeon's Simple Invention Will Help Bring Safety and Efficiency to Extremity Wound Procedures
Orthopedic Surgeon Dr. Raymond Wurapa partners with Medline to introduce the Limb Basin
Mundelein, Ill., June 12, 2015 – Irrigating a wound is crucial for removing debris and promoting healthy healing. However, the traditional design of basins can create an unstable positioning of the limb, leading to leakage of fluids and an unsafe work environment.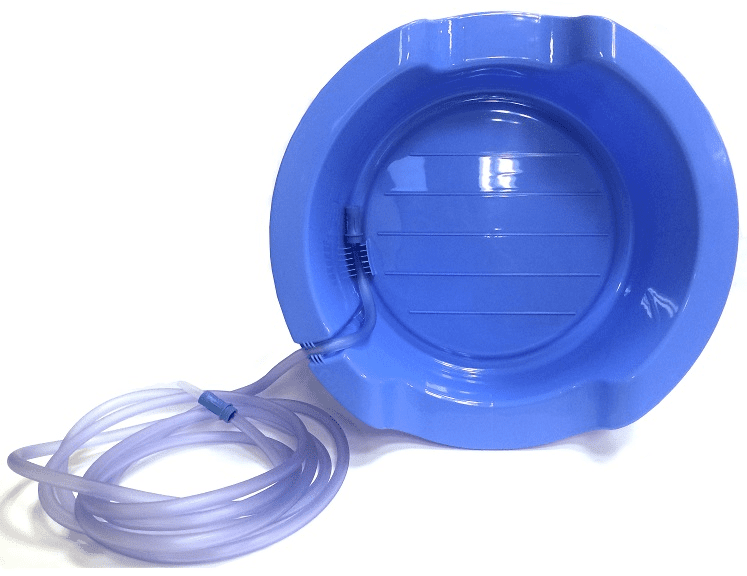 According to data from the National Electronic Injury Surveillance System, the National Hospital Ambulatory Medical Care Survey and the U.S. Department of Defense, an irrigation basin may be utilized in nearly seven million instances each year for the care of upper and lower extremity problems such as ulcerations, lacerations, burns, as well as extremity war injuries. The use of basins in the operating room for surgical wounds only adds to this overall number.
Wound irrigation has traditionally required the assistance of multiple team members to position the limb and hold the suction apparatus. Furthermore, because basin walls are not contoured, surgical teams are forced to cut the basin walls to create "windows" to accommodate the limb, leaving sharp edges that need to be padded with sterile towels.
Now, one orthopedic surgeon is creating a solution to these everyday obstacles by teaming up with leading medical products supplier, Medline, to bring a safer and more time-efficient option to market. The patented invention is called the Limb Basin.
"Basins have historically been less than user-friendly for surgeons. The Limb Basin is the first and only irrigation basin that is hands-free and ergonomically engineered to cradle upper and lower limbs," said Dr. Raymond Wurapa, a surgeon with Orthopedic ONE who has more than 15 years of experience operating at Columbus, Ohio-based Mount Carmel Health System. "Because the Limb Basin incorporates all relevant aspects of the traditional basin, it can be easily adapted into practice without changing a surgeon's typical protocol."
Dr. Wurapa and Medline coordinated a trial among surgeons in the Columbus area. One participating surgeon, Dr. Ty Fowler, orthopedic surgeon and trauma specialist, said "this innovation just makes sense. The Limb Basin helps decrease operating room time for surgical staff and provides a safer working environment. It is simply more convenient than the traditional process."
As Medline continuously seeks new products to complement its existing portfolio, the Limb Basin was an ideal opportunity to bring to market a clinician-inspired product to help improve the overall experience with wound management. For more information on the Limb Basin and a free trial, visit http://www.medline.com/products/perioperative-supp….
About Medline
Medline is a global manufacturer and distributor serving the healthcare industry with medical supplies and clinical solutions that help customers achieve both clinical and financial success. Headquartered in Mundelein, Ill., the company offers 350,000+ medical devices and support services through more than 1,200 direct sales representatives who are dedicated points of contact for customers across the continuum of care.For more information on Medline, go to www.medline.com or http://www.medline.com/social-media to connect with Medline on its social media channels.
About Mount Carmel Health System
A member of the Catholic Health Association and Trinity Health, Mount Carmel has been a leader in patient care for more than 125 years. Our team of more than 8,000 employees, 1,500 physicians and 1,000 volunteers provides an array of cutting-edge, patient-focused primary and specialty healthcare services at four central Ohio hospitals and a free standing emergency department – Mount Carmel East, Mount Carmel West, Mount Carmel St. Ann's, Mount Carmel New Albany and Mount Carmel Grove City. Mount Carmel also provides high-quality healthcare services at our surgery centers, multi-specialty physician group practices, ambulatory and urgent care centers, hospice, palliative care, home care services and through MediGold, a Medicare Advantage plan. Mount Carmel is dedicated to medical and nursing education and training as well, with six physician medical residency programs and the Mount Carmel College of Nursing – one of Ohio's largest baccalaureate nursing degree programs. For more information, visit www.mountcarmelhealth.com.
About Orthopedic ONE
Orthopedic ONE is the largest, physician-owned orthopedic surgery practice in Ohio. With locations throughout central Ohio and nearly 60 of the region's top orthopedic experts, Orthopedic ONE represents a range of specialties from total joint replacement and sports medicine, to hand, foot and spine surgery, to physical medicine and rehabilitation. To learn more or find a location near you, visit www.orthopedicone.com/.
# # #
Back