SPORTS MEDICINE UPDATE: MANDATORY USE OF NECK GUARDS IN HOCKEY
In response to the recent tragedy involving former NHL hockey player, Adam Johnson, many organizations within the hockey community are calling for mandatory equipment changes to help protect their athletes, specifically the use of neck guards.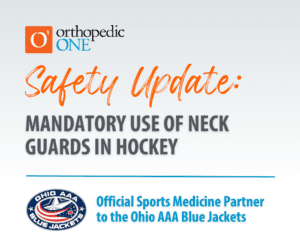 As a leader in the central Ohio hockey community, the Ohio AAA Blue Jackets have initiated a club-wide mandate for neck guards to be a required piece of equipment for players of all ages.
As the Official Sports Medicine Partner to the Ohio AAA Blue Jackets and other local hockey programs, Orthopedic ONE actively seeks to help athletes minimize the risk of injury, not just in hockey but in all sports. We commend Ohio AAA Blue Jackets for enacting this rule and are proud to help keep their athletes safe, healthy, and on the ice.
To learn more about our Sports Outreach program, visit https://www.orthopedicone.com/services/sports-medicine-outreach/.
Back