News and Events
Dr. Steven Gaines Recognized as Guardian Angels Recipient
Earlier this week, our own Dr. Steven Gaines was honored through the Mount Carmel Foundation's Guardian Angels program.
Continue...
---
Exercise…You Know You Should, Here is How (and Why) to Start!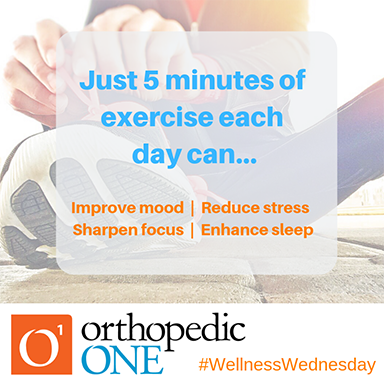 Maybe you vowed to begin exercising or amp up your workouts at the start of the new year or are planning to lace up your sneakers in anticipation of spring. Need a little motivation to get off the couch or to keep striving to reach your goals? There are immediate benefits to even 5 minutes of exercise, such as an improvement in mood, reduction in stress levels, enhanced sleep quality and sharpened mental focus.
Continue...
---
Orthopedic ONE voted #1 CBUS Top Pick for both Orthopedics and Sports Medicine 2018
Out of more than 30,000 area businesses, and tens of thousands of organizations, the Columbus community voted for their favorites to be named a 2018 CBUS Top Pick. That's a big deal. To be a CBUS Top Pick means people recognized Orthopedic ONE as the elite Orthopedic and Sports Medicine group in town — #1 in both categories for the third year in a row.

Continue...
---
Orthopedic ONE physicians named to both Top Doctors and Best Doctors®​ lists 2018
Once again, Orthopedic ONE physicians are named to both the America's Top Doctors and Best Doctors® lists.
Continue...
---
Spirit Sprint 5k featured on Mix 107.9
We had a great time sharing all the Spirit Sprint 5k details with our friend Andre Styles at Mix 107.9. He'll be joining us this Sunday, October 7, for the 2018 Spirit Sprint 5k at COSI/Genoa Park. Listen to the full segment here!
Continue...
---
Dr. Wroble covers the latest injury updates on 10TV's Wall to Wall Sports
Dr. Randall Wroble chats with 10TV's Dom Tiberi on the latest pro sport injuries and when we can expect our favorite players to return.
---
Dr. Westerheide talks Nick Bosa injury on 105.7 The Zone
Dr. Ken Westerheide joined the 105.7 The Zone radio team to offer some expert commentary on Nick Bosa's recent core muscle injury and prospects for his return to play following surgery. Listen to the full segment here.
Continue...
---
Columbus Monthly goes inside Dr. Politi's interactive OR
Thousands of students across the country have had the unique opportunity to share the operating room with Dr. Joel Politi as part of his innovative partnership with COSI and Mount Carmel Health System - called COSI: Surgical Suite. Recently Columbus Monthly Magazine reported on the program in its August issue. Read it here.
---
Welcome, Dr. Archana Chand and Dr. John Hwang!
Orthopedic ONE welcomes both physical medicine and rehabilitation physician and orthopedic trauma surgeon in August 2018

Orthopedic ONE is pleased to welcome two new physicians – Archana Chand, D.O. and John Hwang, M.D. – to Ohio's largest, physician owned orthopedic practice. Both will begin seeing patients in August 2018 at locations across the group's sprawling central Ohio footprint.

Continue...