News and Events
Dr. Raymond Wurapa develops innovative swivel blade retractor
Dr. Wurapa has developed several surgical instruments and holds patents for others. His latest development, the Wurapa Swivel Blade Forearm Retractor is designed for forearm and wrist fracture exposure, with blades that swivel for less stress on soft tissue. Learn more about his latest instrument developments.



---
Craig Dimitris, M.D. Awarded Teacher of the Year
Orthopedic ONE surgeon, Craig Dimitris, M.D., was named the most recent recipient of the Richard A. Fankhauser, M.D. Orthopedic Teacher of the Year Award. This distinction recognizes Dr. Dimitris' work with the Mount Carmel Orthopedic Residency Program and his excellence in teaching and mentorship.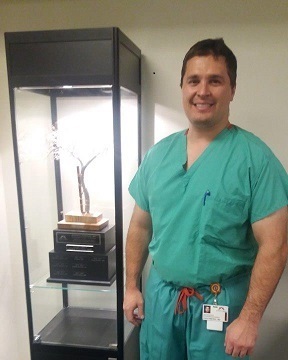 ---
Orthopedic ONE featured on Good Day Marketplace
We were so excited to partner with FOX 28's Good Day Marketplace to tell Orthopedic ONE patient Susie Scott's amazing story. In case you missed it...
---
Dayton Flyer Ryan Mikesell on road back to court after surgery with Dr. Tom Ellis
Dayton Daily News, July 9 2017
By: Tom Archdeacon
Ryan Mikesell, a 6-foot-7 junior forward from St. Henry — one of four Flyers who played in each of the team's 32 games last season — recently had a pair of surgeries to correct painful impingement problems in both hips.
His surgeries were done by Dr. Tom Ellis, a hip specialist with Orthopedic One in Columbus. The procedure on his right hip was done just over seven weeks ago and the left hip was done three weeks ago.

Continue...
---
Orthopedic ONE is pleased to welcome Jason R. Ferrel, M.D., fellowship-trained spine surgeon
Orthopedic ONE is pleased to welcome its newest physician, Jason R. Ferrel, M.D., to the practice. A fellowship-trained spine surgeon, Dr. Ferrel specializes in minimally invasive and motion preserving spine procedures. He will see patients at the practice's Gahanna/Reynoldsburg and Grove City locations, as well as a new satellite office in Canal Winchester slated to open this summer.
Continue...
---
On a Mission – James Popp, MD and Family Travel to Santo Domingo
Dr. Popp, accompanied by his daughter, Callista, son, Maximos and niece, Victoria, spent the week of June 5, 2017 on a Mission Trip in Santo Domingo, Dominican Republic.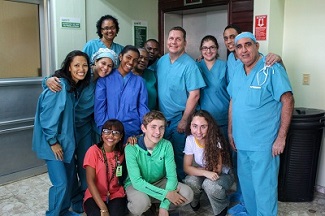 The trip was coordinated through CURE International, a faith based non-profit dedicated to healing and serving children with physical disabilities. CURE Dominican Republic was CURE's first presence in Latin America. Located in the capital city, the pediatric orthopedic hospital provides inpatient surgical and rehabilitative care to disabled children.
Continue...
---
Jeffrey Backes, MD - ONE of Columbus Business First 2017 40 Under 40 Honorees
Dr. Jeffrey Backes was recently named one of central Ohio's 40 Under 40 by Columbus Business First. This is the longest-running award program at Columbus Business First, and each year recognizes forty of the best and brightest young professionals in Central Ohio for their accomplishments in the area of business and community service. With a record 283 nominations in its 25th year running, the popular 40 Under 40 awards program proved to be the most-impressive yet.
Continue...
---
Orthopedic ONE now in-network with Humana Medicare Advantage Plans
We are pleased to share that effective June 1, Orthopedic ONE will be in-network with all Humana Medicare Advantage Plans. Both physician and therapy appointments for Humana Medicare Advantage subscribers can be scheduled now. Click here to request an appointment.


At this time, our in-network status does not apply to Humana commercial insurance subscribers.
---
Better Lives. ONE story at a time.
No paid actors or body doubles in these commercials! When creating our recent ad campaign, we spent 3 days following our physicians, staff and patients to share the stories that set us apart.
We are so excited to introduce; Better Lives. ONE story at a time.
Continue...
---
Thomas Ellis, MD, talks to Becker's Orthopedic Review
Dr. Thomas Ellis with Orthopedic ONE recently participated in an interview with Becker's Orthopedic Review on direct anterior approach and the future of total hip arthroplasty.

Read the article in full here.