News and Events
Foot and Ankle Care - Finding the Right Specialist
On average, Americans take 7,500 steps per day (or more if you're active). This places an enormous amount of stress on our feet and ankles. It's no surprise then that many of us experience some type of foot or ankle injury in our lifetime – ranging from bunions to heel pain to complex fractures.
According to the AOFAS, there are 26 bones and 33 joints in the human foot and ankle, and the height of arches and the shape of the toes vary from person to person. There are many things we can do to keep our feet healthy, but when foot and ankle conditions arise or injuries occur, it's helpful to understand your options and seek out a physician with the background and experience to provide you with the best care possible.

Continue...
---
Orthopedic ONE physicians voted 2017-18 Best Doctors in America®
Several Orthopedic ONE physicians were recently voted one of the
Best Doctors in America® for 2017-2018. Nominated and selected by a group of central Ohio physician peers, this list was featured in an October issue of Columbus Business First.
Congratulations to the following:
Continue...
---
Dr. Melaragno featured in Business First's Best Doctors issue
Get to know Dr. Paul Melaragno in this great Q&A featured in the 2017-2018 Best Doctors in America® special section published by Columbus Business First.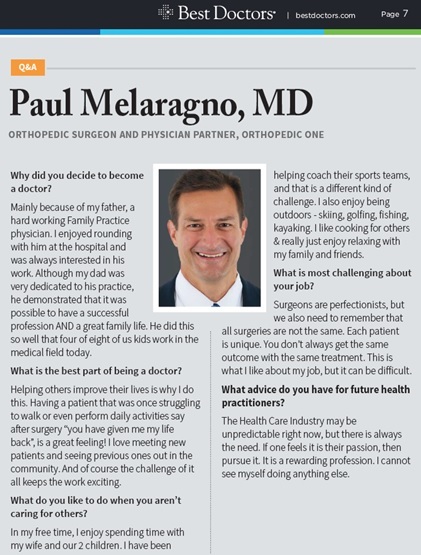 Continue...
---
Dr. Scott Van Aman discusses Celtics' Gordon Hayward's gruesome ankle injury on 105.7 The Zone
The NBA's Cavs and Celtics opener on Tuesday night brought a win for Cleveland, but the Celtics' Gordon Hayward suffered a terrible ankle injury. For many, it was hard to watch. Dr. Scott Van Aman was on air this morning with Spielman and Hooley at 105.7 The Zone to discuss what happened and what Hayward's recovery may look like. Listen here.
Continue...
---
Dr. Greg Bellisari talks NFL injuries with 105.7 The Zone
A former Buckeye and NFL linebacker, Dr. Greg Bellisari knows a thing or two about football. He spent a little time on air with Spielman and Hooley on 105.7 The Zone talking about Aaron Rodgers' collarbone injury. Listen here.


Continue...
---
The Role of a Physician Assistant
PA Week, which is celebrated October 6th -12th each year, celebrates the more than 115,500 physician assistants (PAs) and their contributions to healthcare. Many of our patients will interact with a Physician Assistant at some point during their care, and what better time to review the role these important providers play.
Continue...
---
Pumpkin Carving Safety Tips
Fall is right around the corner - and with falling temperatures and leaves comes the desire for all things autumn. If pumpkin carving is on your list of fall to-dos, follow these important safety tips from the American Society for Surgery of the Hand.


Continue...
---
Dr. Scott Van Aman and Patient Anthony Torres talk to Good Day Marketplace
In case you missed it, Fox 28's Cameron Fontana spent the afternoon with Dr. Scott Van Aman and Orthopedic ONE patient Anthony Torres. Check out the full clip here.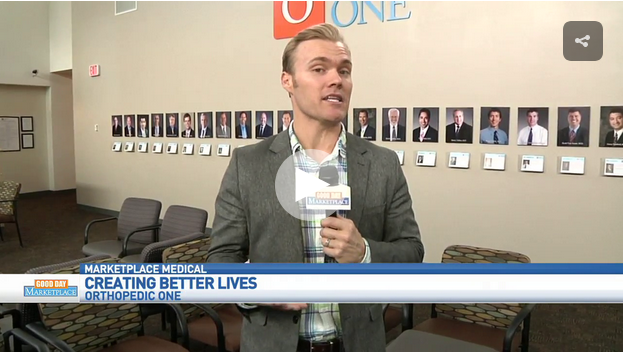 Continue...
---
Dr. Randall Wroble featured in HealthScene Ohio Magazine
Dr. Randall Wroble's passion for orthopedic sports medicine began when he experienced an ACL injury while playing football at Cornell University - and it continues today, even inspiring others to take up the profession. Read more in the August issue of HealthScene Ohio Magazine.

Continue...
---
Therapy Services Spotlight: Running Mechanics
Is poor running form slowing you down? We're here to help! Orthopedic ONE Therapy Services walks you through steps to improve your running mechanics by focusing on posturing, cadence manipulation and lessening your ground reaction force.