Orthopedic ONE welcomes new sports medicine surgeon to join growing Delaware office
Orthopedic ONE is pleased to announce the newest physician to join its growing roster of top orthopedic specialists. J. Jared Guth, M.D., will begin seeing patients in August 2021 at the group's Delaware location.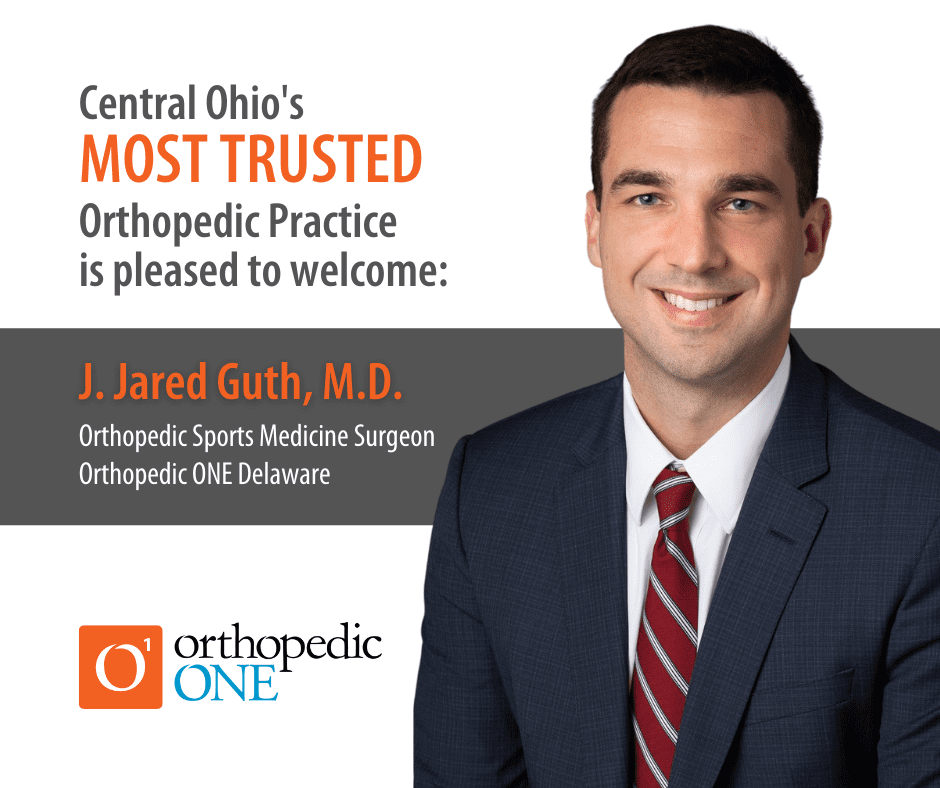 "We look forward to welcoming Dr. Guth to the practice," says Scott Van Aman, M.D., managing partner, Orthopedic ONE. "We believe his training, experience and hometown approach to care will be a great addition to our growing Delaware office. He will join Drs. David Hoang and Adam Martin, and a team of caring staff and therapists."
About Dr. Guth
A fellowship-trained orthopedic sports medicine surgeon, Dr. Guth has special interest in the use of biomechanics to prevent and treat common sports injuries, especially injuries to the anterior cruciate ligament (ACL).
He received his undergraduate degree from Miami University in Oxford, Ohio, and went on to earn a master's degree in Human Anatomy from The Ohio State University and medical degree from Drexel University College of Medicine in Philadelphia. Dr. Guth's post-graduate training includes an orthopedic residency at Allegheny Health Network in Pittsburgh, where he served as team physician to a number of area high schools, and an orthopedic sports medicine fellowship at Washington University Orthopedics in St. Louis, where he served as a member of the sports medicine team to the NHL's St. Louis Blues.
A central Ohio native, Dr. Guth is eager to establish a long-standing practice in Delaware County. He is passionate about caring for athletes of all ages, and looks forward to forming team physician partnerships with local clubs and organizations in the community where he grew up.
To learn more or to schedule an appointment with a new or existing physician, visit www.orthopedicONE.com.

###
At Orthopedic ONE, you'll find central Ohio's most trusted and experienced group of orthopedic experts – ready to listen to your concerns and work with you toward the best possible outcome. In fact, more people trust us with their orthopedic care than any other practice in central Ohio. From neck injuries to foot pain, and everything in between, we know we're only at our best when we're helping you get better. To learn more, visit orthopedicONE.com.
Back