5 REASONS TO SEE A FOOT & ANKLE SURGEON
When you first experience a lower extremity injury or are made aware of a foot and ankle condition, you may not immediately consider a visit to an Orthopedic Surgeon.
However, here are 5 reasons you should start with a trusted Orthopedic Foot & Ankle Surgeon when seeking treatment for foot & ankle issues.
An orthopedic foot and ankle surgeon is a MD (Medical Doctor) or DO (Doctor of Osteopathy). With expert training in whole body health, they understand how different parts of the body can affect one another. They understand how pain or injury in your lower extremity area can impact other parts of your body, such as your back and hips.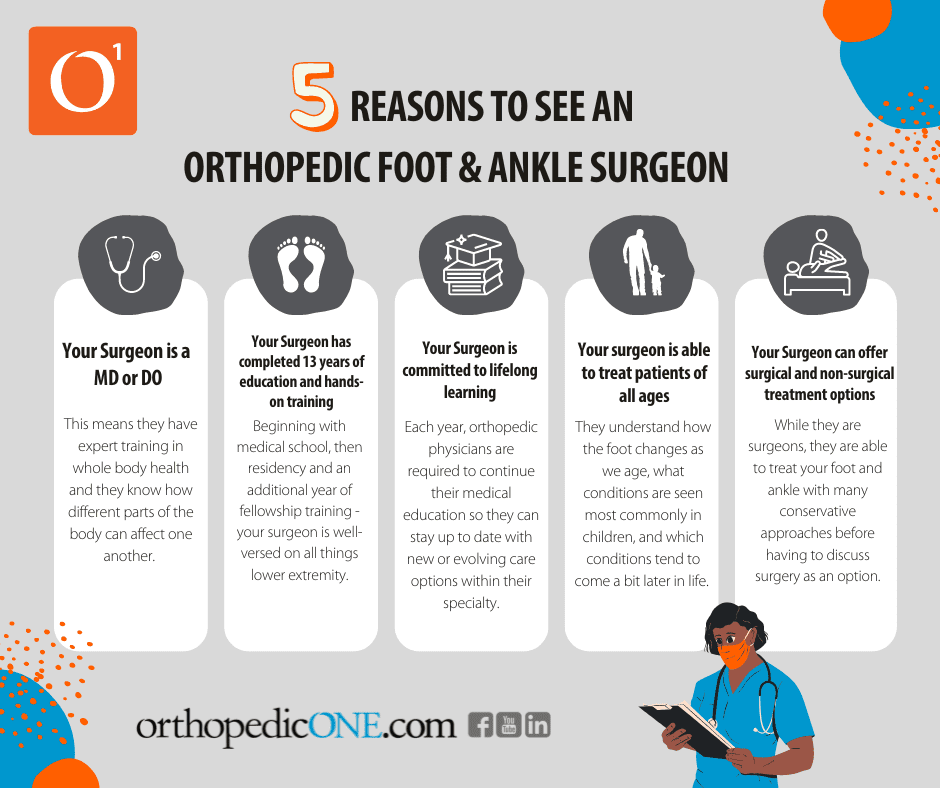 An orthopedic foot and ankle surgeon has completed a combined 13 years of education and hands-on training making them well-qualified to treat even the most complex lower extremity condition. This includes undergraduate training, medical school, and an orthopedic surgery residency. Following, your surgeon may have opted to complete a foot and ankle fellowship, an extra year of training to further their specialty within a particular field.
Orthopedic foot and ankle surgeons have dedicated themselves to lifelong learning and continued education. Each year, they are required to continue their medical education so they can stay up to date with new or evolving care options. This requirement ensures you're getting the most updated form of care from your surgeon.
Orthopedic foot and ankle surgeons are able to treat patients of all ages. They understand how the foot changes as we age, what conditions are seen most commonly in children, and which conditions tend to come a bit later in life.
Orthopedic foot and ankle surgeons are able to provide a wider range of care options for you to choose from. Your surgeon is able to treat your foot and ankle with conservative approaches before having to discuss surgery as an option. Non-surgical types of treatment options include orthotics, physical therapy and injections. By starting with a trusted orthopedic surgeon you are putting yourself up for success to have all treatment options available to you with the same physician.
Overall, it is important to seek out the right care for your condition or injury.
And, when experiencing pain in your foot and ankle consider a call to the area's most trusted orthopedic surgeons to get you back to doing what you love.
Find a list of physicians specializing in lower extremity care here.
Back