News and Events
Arthritis Support Network Meeting Featuring Orthopedic ONE Hip and Knee Surgeon, Dr. Michael McShane
Orthopedic ONE, along with community partners Arthritis Support Network and the Arthritis Foundation, will be hosting a free educational seminar on When to Consider Surgery and Surgical Options for Arthritis Patients, featuring Orthopedic ONE surgeon, Michael McShane, M.D., in conjunction with the group's June meeting.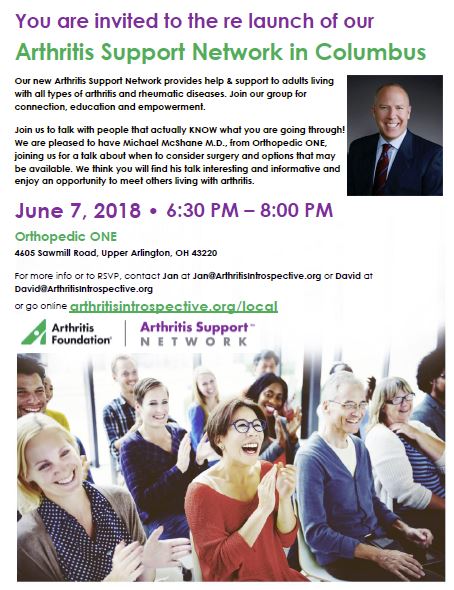 Continue...
---
Orthopedic ONE Lends a Hand to Habitat for Humanity
During the week of May 8th-12th, Orthopedic ONE's Therapy Services and Sports Medicine team expanded their desire to help others outside of the clinic, by donning boots and hard hats to volunteer as part of Habitat for Humanity's construction crew!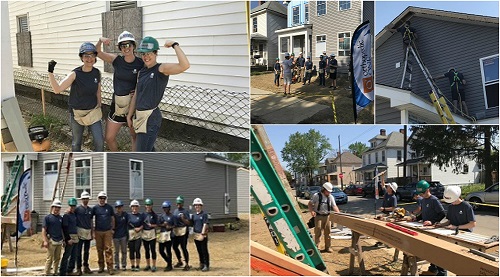 Habitat for Humanity-MidOhio has spent more than a quarter century helping to bring the dream of homeownership to families in need. Working in conjunction with Habitat for Humanity International, Habitat MidOhio partners, donors and volunteers have played a role in rekindling hope for over 400 families living in central Ohio through new home construction and critical home repairs.

To learn more about opportunities to get involved with this outstanding organization, visit www.habitatmidohio.org.
---
Orthopedic ONE names Chief Operating Officer
Orthopedic ONE recently named Sylvia Radziszewski its new chief operating officer. Radziszewski comes to the group with more than 10 years of healthcare leadership experience.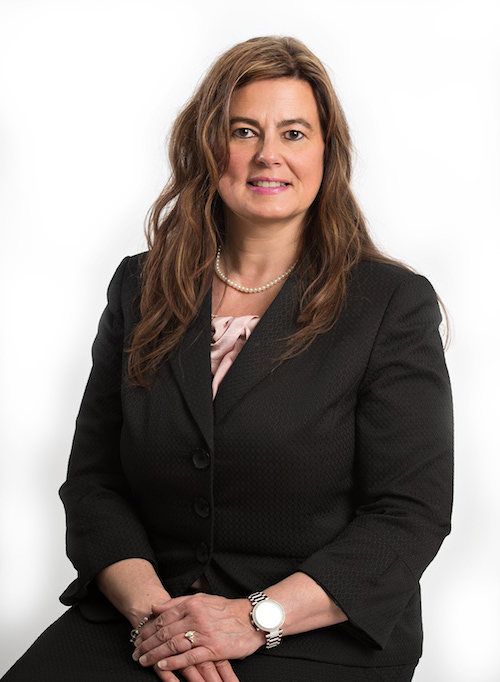 Continue...
---
2018 Orthopedic ONE Education Series for the Primary Care Physician and Mid-Level Provider
Caring for the Orthopedic Patient
Orthopedic exam techniques, imaging, conservative treatment, and surgery


Thursday, April 26 - Foot & Ankle and Hand & Wrist
Polaris Grill – 1835 Polaris Parkway

5:15 – 6:00 Cocktails
6:00 – 6:30 Hand and Wrist Injuries - Daniel Quinn, MD
6:30 – 7:00 Chronic Hand and Wrist Conditions - Michael Rerko, MD
7:00 – 7:30 Foot and Ankle Injuries - Robert Gorsline, MD
7:30 – 8:00 Chronic Foot and Ankle Conditions - Scott Van Aman, MD
Continue...
---
What does it mean to be "physician owned" - and why should you care?
At Orthopedic ONE, we often emphasize the fact that we are the largest physician-owned orthopedic practice in Ohio. But what does that really mean? And why should it matter to you?

A private or independent practice is one in which the physicians provide the care and own the business. Orthopedic ONE physicians collectively share ownership of our practice and make both medical and business decisions that directly affect your quality of care, cost of care and overall patient experience.
What are the advantages of choosing an independent or physician-owned practice or provider such as Orthopedic ONE?

Continue...
---
Is Outpatient Total Joint Replacement Right for You?
Imagine undergoing a total joint replacement of the knee, hip or shoulder without the hospital stay. A traditional joint replacement requires a 1-3 night stay in the hospital, but if you are in overall good health and have the right home support system an outpatient approach may be right for you.
Continue...
---
We are Westerville Strong.
We are ONE of many grieving the loss of Officers Eric Joering and Anthony Morelli. We stand with the City of Westerville and our fellow community members in collective gratitude for all these two officers contributed to our great city.
As a show of support and encouragement to their wives, families and fellow officers, we are joining other healthcare organizations in and around Westerville for a No Co-Pay Friday.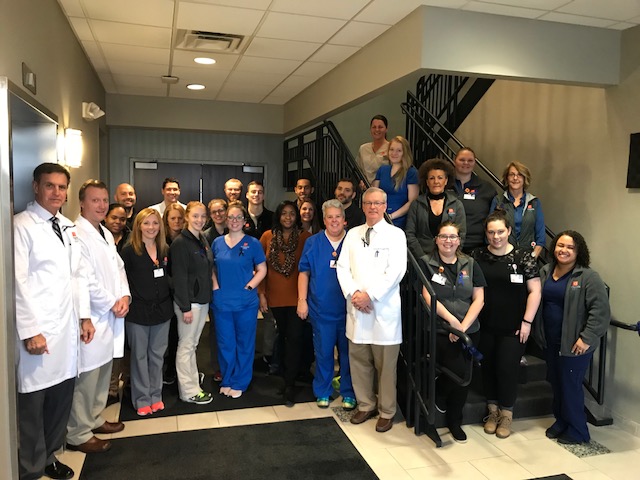 Continue...
---
Columbus Monthly features "Weekday Warrior" Tips from Orthopedic ONE
Orthopedic ONE physicians break down the most common work-related injuries from back pain to shoulder pain. Get the latest from Dr. Jason Ferrel, Dr. Brian Tscholl, Dr. Jeffrey Backes and Dr. Vivek Sahai in this special Health publication of Columbus Monthly Magazine.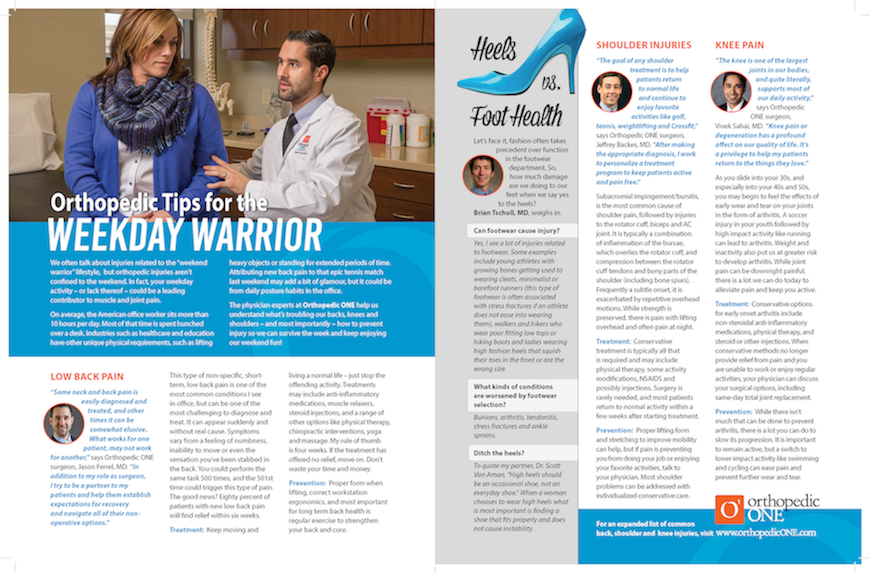 Continue...
---
Are high heels safe for our feet? Dr. Feibel talks footwear with Good Day Marketplace
Dr. Feibel talks with Good Day Marketplace's Alyssa Henry about proper footwear and the value of good orthotics, including a simple test to find out if your shoes are too tight for your feet.

Continue...
---
Voted #1 in the 2017 Columbus Dispatch "Cbus Top Picks" for both Orthopedics and Sports Medicine
The Columbus Dispatch asked Central Ohio to tell them who they count on for products, services and entertainment. To tell them which local companies are the best of the best. And Orthopedic ONE is thrilled to be voted the CBUS TOP PICK in both categories we were nominated in - ORTHOPEDICS and SPORTS MEDICINE!
Nearly 170,000 votes were cast as the Columbus community selected their favorites to be named a 2017 CBUS Top Pick. To be a CBUS Top Pick means people recognize Orthopedic ONE as the elite provider in Orthopedics and Sports Medicine.
Congratulations to our doctors and staff. Thank you for the exceptional care and service delivered day in and day out. This honor tells us we are achieving our number ONE goal - helping our patients live better lives.
And a big thanks central Ohio and to all of our wonderful patients who voted. We are proud to be your choice for sports medicine and orthopedic needs.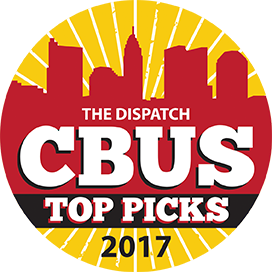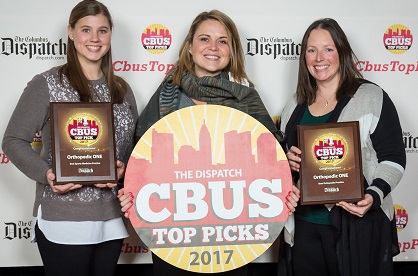 Winners were announced at the inaugural The Columbus Dispatch's Cbus Top Picks celebration on Wednesday, December 7th.