Spirit Sprint
WHEN: SUNDAY, OCTOBER 8, 2017
WHERE: Genoa Park-Columbus, Ohio
What is the Spirit Sprint 5k?
For the past 7 years, Orthopedic ONE has organized and hosted the Spirit Sprint 5k Run/Walk to support athletics and extracurricular activities at central Ohio high schools. We are happy to announce that we will be hosting the 8thannual Spirit Sprint 5k on October 8th at Genoa Park. The event is a fundraiser, with an enticing challenge component, to raise the funds needed to help schools offset costly expenses like pay to play fees, purchasing new equipment and uniforms, or funding the arts - such as band & theater programs.
The event goal is simple. We value the positive impact athletics and extracurricular programming has on students and we want to do our part to support and sustain these important activities into the future.
The school with the highest participation takes top honors and will walk away with a $10,000 GRAND PRIZE! BUT every school is a winner, because ALL schools will earn 100% of their race registration proceeds!
Check out our 2017 Spirit Sprint 5k hype video!
2016 Spirit Sprint Winners!

Bexley High School $17,025

Gahanna Lincoln High School $8,825


Village Academy $5,475
Congratulations to ALL participating schools for helping us make this our BIGGEST Spirit Sprint yet!!!
Got Spirit??? Show us and your school could win $10,000!
The central Ohio high school with the most participation points takes top honors! Upon registration each participant will select the central Ohio high school they are running/walking for, and each participant earns that school points. So the more people who sign up in support of a school - the better chances that school has of taking home the grand prize of $10,000!
As a fundraiser, ALL schools will earn 100% of its race registration proceeds. This alone could mean big $$ for your school! In years past, schools have raised nearly $10,000 in registration proceeds alone.
Want to see your school on stage taking home the big check? Contact spiritsprint5k@orthopedicone.com to confirm your school's participation.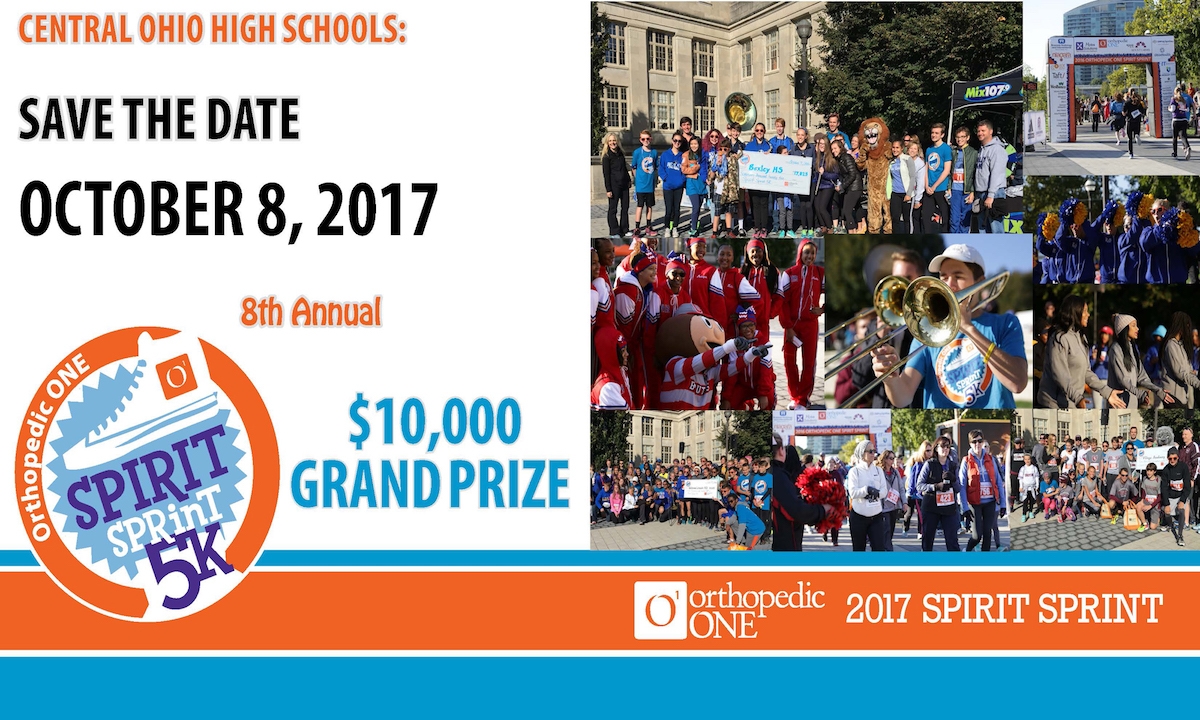 Family Friendly Activities!
Whether you are running, walking, or joining us as a spectator, there will be lots of fun happening at this event! Mix 107.9 DJ, Andre Styles, will serve as MC and will be playing all the top hits. We will also have lots of food and treats from local restaurants, as well as an array of activities for the whole family to enjoy!
FAQ
Are strollers permitted? Yes. We encourage walkers and joggers with your children to bring the family and participate! We just ask that those with strollers line up in to the back of the pack, so not to interfere with our competitive runners.
Are pets allowed? Unfortunately, pets are not allowed at this event.

What are the categories for racers to medal in?
Top 3 male and female age 18 & under
Top 3 male and female age 19-39

Top 3 male and female age 40 & over
Parking: Last fall, the City of Columbus broke ground on a 620-space two-story underground parking garage behind the COSI property. While crews are working on the project, follow the arrows on the map below to get to COSI.
Parking is available in the Northwest Parking Lot as well as in several nearby Parking Garages for a fee. However, metered parking around the Downtown area is free on Sunday.
*Please note that the Spirit Sprint 5k takes place outside of COSI's hours of operation, therefore the Courtesy Shuttle will not be in use.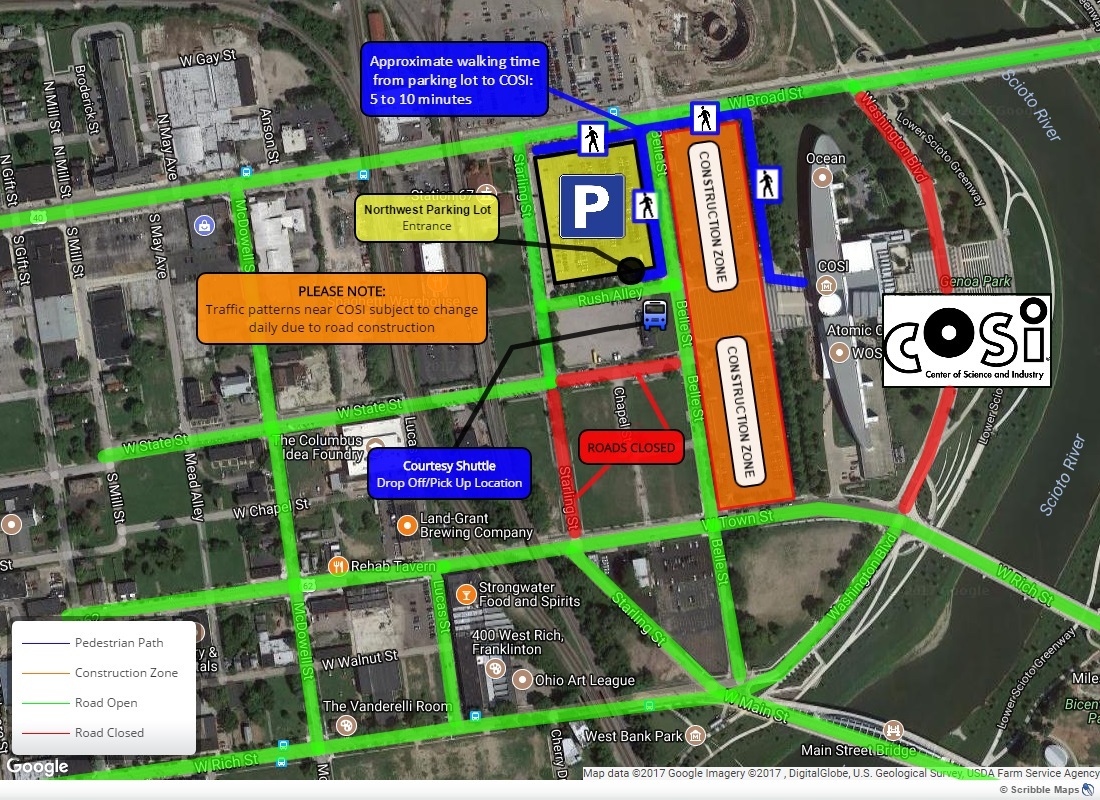 Map courtesy of www.cosi.org
Spirit Sprint History
The first annual Spirit Sprint 5k was held in 2010. Since then the event has grown to include up to 1,200 walkers/runners and has raised more than $125,000 in support of athletic and extracurricular programming at nine participating school districts in the central Ohio region.
Congratulations to our past winners:
2016: 1st Place Bexley Lions ($17,025), 2nd Place Gahanna Lincoln Lions ($8,825)
2015: 1st Place Gahanna Lincoln Lions ($15,675), 2nd Place Village Academy ($6,375)
2014: 1st Place Reynoldsburg Raiders ($6,000), 2nd Place Gahanna Lincoln Lions ($3,200)
2013: 1st Place Groveport Madison Cruisers ($10,000), 2nd Place Gahanna Lincoln Lions
2012: 1st Place Groveport Madison Cruisers ($7,000), 2nd Place Gahanna Lincoln Lions ($5,000)
2011: 1st Place Gahanna Lincoln Lions ($4,680), 2nd Place Reynoldsburg Raiders ($1,560)
2010: 1st Place Reynoldsburg Raiders ($2,000), 2nd Place Gahanna Lincoln Lions ($665)