Spirit Sprint
WHEN: Sunday, October 6, 2019
WHERE: COSI & Genoa Park-Columbus, Ohio
What is the Spirit Sprint 5k?
Since 2010, Orthopedic ONE has organized and hosted the Spirit Sprint 5k Run/Walk to support athletics and extracurricular activities at central Ohio high schools. The event is a fundraiser, with an enticing challenge component, to raise the funds needed to help schools offset costly expenses like pay to play fees, purchasing new equipment and uniforms, or funding the arts - such as band & theater programs.
The event goal is simple. We value the positive impact athletics and extracurricular programming has on students and we want to do our part to support and sustain these important activities into the future.
2018 Spirit Sprint Winners!

Gahanna Lincoln High School ($16,000)

Bexley High School ($9,300)

Village Academy ($5,725)
Got Spirit??? Show us and your school could win $10,000!
The Spirit Sprint offers two ways to raise big money for your programs.

FUNDRAISER
1. As a fundraiser, 100% of race registration proceeds from Runners, Walkers and School Supporters will go directly back to participating schools and their designated programs. Upon registration, each participant will select the central Ohio high school they are running/walking for. All of these funds go directly back to the school regardless of race day attendance.
PRIZE MONEY
2. The central Ohio high school with the most participation points will take top honors AND prize money. We will be awarding a grand prize check in the amount of $10,000 to the school with the most participation points. Participation points are based on the numbers of Runners, Walkers and School Supporters who are ONSITE the day of the event. Participation points are also given for Spirit Squads that attend and help bring school spirit to the event. "Spirit Points" are outlined below. Many times, we are also able to offer 2nd and 3rd place monetary prizes, and those will be based on participation and attendance as well.
Spirit Points
The Spirit Sprint 5k isn't just a race, it's also a fun-filled festival-like atmosphere for the whole family! We have mascots, inflatables, games, and lots of food, but one of the things participants always look forward to are the Spirit Group performances! In the past we have had band and choir performances, cheer-offs and impromptu mascot dance parties! Not only does this add an element of fun to the event, but each school that brings Spirit Groups with them earns Spirit Points:

Mascots= 5 Spirit Points!
Cheerleaders, dance teams and choirs= 10 Spirit Points!!
Pep bands= 15 Spirit Points!!!
*Please note, Spirit Points do not equate to actual dollars.
Want to see your school on stage taking home the big check? Contact spiritsprint5k@orthopedicone.com to confirm your school's participation.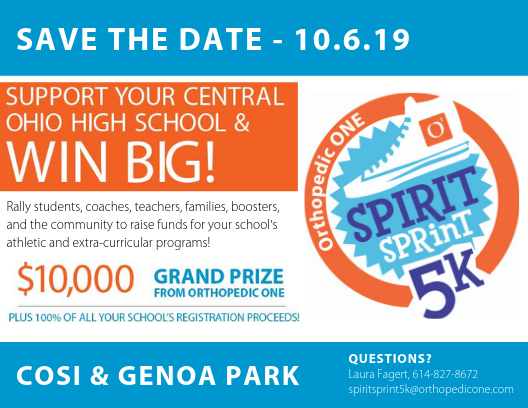 Download Promotional Materials
Family Friendly Activities!
Whether you are running, walking, or joining us as a spectator, there will be lots of fun happening at this event! We will have an awesome MC who will be playing top hits. We will also have lots of food and treats from local restaurants, as well as kid-friendly activities, and MORE! Not to mention performances from some of our school bands, mascots, choirs and cheerleaders!!

2019 Spirit Sprint Sponsors
This event would not be possible without the generous support of sponsors who help us offset event costs so we can guarantee that all registration proceeds go to the participating schools!
For more information about current sponsorship opportunities, check out our Sponsorship Proposal or contact us at spiritsprint5k@orthopedicone.com or 614-827-8672.
Sponsorships must be confirmed by August 1, 2019 in order to guarantee all sponsor amenities will be executed.
FAQ
Are strollers permitted? Yes. We encourage walkers and joggers with your children to bring the family and participate! We just ask that those with strollers line up in to the back of the pack, so not to interfere with our competitive runners.
Are pets allowed? Unfortunately, pets are not allowed at this event.

What are the categories for racers to medal in?
Top 3 male and female age 18 & under
Top 3 male and female age 19-39

Top 3 male and female age 40 & over
Parking: Parking is available in the Northwest Parking Lot as well as in several nearby Parking Garages for a fee. However, metered parking around the Downtown area is free on Sunday.
Spirit Sprint History
The first annual Spirit Sprint 5k was held in 2010. Since then the event has grown to include up to 1,500 walkers/runners and has raised more than $218,000 in support of athletic and extracurricular programming at over 40 participating school districts in the central Ohio region.
Congratulations to our past winners:
2018: 1st Place Gahanna Lincoln Lions ($16,000), 2nd Place Bexley Lions ($9,300)

2017: 1st Place Bexley Lions AND Gahanna Lincoln Lions (over $14,000 each), 3rd Place Village Academy ($8,300)
2016: 1st Place Bexley Lions ($17,025), 2nd Place Gahanna Lincoln Lions ($8,825)
2015: 1st Place Gahanna Lincoln Lions ($15,675), 2nd Place Village Academy ($6,375)
2014: 1st Place Reynoldsburg Raiders ($6,000), 2nd Place Gahanna Lincoln Lions ($3,200)
2013: 1st Place Groveport Madison Cruisers ($10,000), 2nd Place Gahanna Lincoln Lions
2012: 1st Place Groveport Madison Cruisers ($7,000), 2nd Place Gahanna Lincoln Lions ($5,000)
2011: 1st Place Gahanna Lincoln Lions ($4,680), 2nd Place Reynoldsburg Raiders ($1,560)
2010: 1st Place Reynoldsburg Raiders ($2,000), 2nd Place Gahanna Lincoln Lions ($665)