Will Sheils
03.14.19
I was training for a marathon in the fall of 2017, with the hopes of qualifying for the Boston Marathon, when suddenly I couldn't bear to run for more than ten minutes. I visited local doctors and they ruled out FAI without doing any physical tests. I had an x-ray, a cortisone shot, and two MRIs, but still nothing. It had been almost six months of trial and error and gradually worsening pain when we decided to have a different doctor take a look at the tests, and they found a spur on the ball of my right femur.
I heard about Orthopedic ONE through word of mouth and decided to come up to Dublin from Huntington, WV. I got instructions for pre-surgery PT from Dave Kohlrieser and met the team of people who would help me get back on track. We scheduled a surgery date for May 14th, and it's been exactly ten months since I had my procedure done by Dr. Ellis.
It's hard to express how grateful I am for the things I'm able to do now. Recovery was relatively pain-free, and while PT was tough at times, I feel like I am back to full strength. I am currently playing on intramural soccer and basketball teams at my school while also running about fifteen miles a week without any problems. This past weekend, I participated in a small triathlon in the community and ended up placing in first out of about 75 people. I say this not to brag, but to reflect on how far I've come.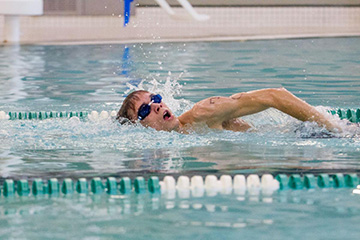 This time last year, I had no answers and was in more pain with each passing day. Walking to class became a struggle at times, and I had no physical outlet to release stress. At 21 years old, I am enjoying my able body now more than ever, and I know I wouldn't be in such a great position without the work of everyone at Orthopedic ONE. Any time someone asks me about the procedure and the care I received there, I have nothing but good things to say. Thank you to everyone who helped me get back to full strength!
---