Patient Stories
I had been suffering with pain in my right knee for about eight months and was being treated by Dr. Kennedy and Nicole at the Westerville office. When Dr. Kennedy advised that he would be retiring at the end of 2018, he recommended that I continue my care with one of his partners, Dr. Bryan Chambers.
As soon as I met Dr. Chambers, I felt very comfortable and confident that he would be able to help me. He explained that my knee was not going to get any better without surgery, as I had not responded favorably to previous treatment methods. Dr. Chambers explained the procedure he would like to do, and I made the decision to schedule the surgery for February 4, 2019.
At this point, I hadn't been walking well for almost a year. When I did attempt to walk, I was having so much pain that I was overcompensating in other areas and beginning to feel pain there as well.
Dr. Chambers had a fresh approach, a great bedside manner and always had a smile to share. After my surgery, I had a complication that was addressed and I now am able to walk normally without pain!

My shoulder was injured at work due to constantly performing repetitive movements. Dr. Backes was great. He explained the treatment options throughout the process. The injury ended up requiring surgery, after initial treatments did not improve my pain levels. Dr. Backes never wavered in his determination to make sure my shoulder was pain free. The surgery was successfully completed, with minimal surgical pain.
After a great physical therapy program, through Orthopedic ONE in Hilliard, I have a fully functioning shoulder again. It turns out that my fears of never playing catch with my kids, was just a bad dream!
I started experiencing pain back in October 2018. After numerous visits to the emergency room, my physician finally referred me to Dr. Jason Ferrel. I had an MRI in late January, which confirmed that my sciatic nerve was pinched at the L3-L4 section of my spine. It caused so much awful pain I could hardly walk.
I had a procedure called microdiscectomy in mid-March. After the surgery, Dr. Ferrel ordered a prescription for pain medication, but I only used 2 tablets, finding that Advil effectively managed my pain.
I now am walking normally and am pretty much pain free. During my next visit, I hope to get the OK to start stretching and increase my walking distances.
Thanks to Dr. Jason Ferrel and his wonderful, helpful staff!

I was training for a marathon in the fall of 2017, with the hopes of qualifying for the Boston Marathon, when suddenly I couldn't bear to run for more than ten minutes. I visited local doctors and they ruled out FAI without doing any physical tests. I had an x-ray, a cortisone shot, and two MRIs, but still nothing. It had been almost six months of trial and error and gradually worsening pain when we decided to have a different doctor take a look at the tests, and they found a spur on the ball of my right femur.
I heard about Orthopedic ONE through word of mouth and decided to come up to Dublin from Huntington, WV. I got instructions for pre-surgery PT from Dave Kohlrieser and met the team of people who would help me get back on track. We scheduled a surgery date for May 14th, and it's been exactly ten months since I had my procedure done by Dr. Ellis.
It's hard to express how grateful I am for the things I'm able to do now. Recovery was relatively pain-free, and while PT was tough at times, I feel like I am back to full strength. I am currently playing on intramural soccer and basketball teams at my school while also running about fifteen miles a week without any problems. This past weekend, I participated in a small triathlon in the community and ended up placing in first out of about 75 people. I say this not to brag, but to reflect on how far I've come.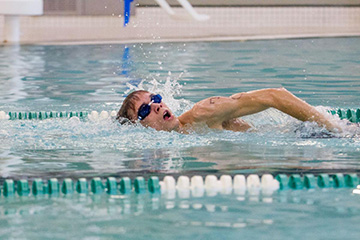 This time last year, I had no answers and was in more pain with each passing day. Walking to class became a struggle at times, and I had no physical outlet to release stress. At 21 years old, I am enjoying my able body now more than ever, and I know I wouldn't be in such a great position without the work of everyone at Orthopedic ONE. Any time someone asks me about the procedure and the care I received there, I have nothing but good things to say. Thank you to everyone who helped me get back to full strength!
I am 52 years old, I work and am going to school to become a nurse. 9 years ago, I injured my neck and over time, it was getting progressively worse. I am a pretty active person that doesn't like to sit still. I addressed this issue with my doctor and tried everything from massage to physical therapy to chiropractic adjustments to epidurals and radio frequency ablation. However, I was getting nowhere and the pain was actually getting worse.
One by one, I was forced to give up activities I enjoyed. In addition to this, I couldn't sleep well and I had to study laying flat and holding my book up (which makes it very hard to work on the computer or take notes). I was getting to the point where I honestly couldn't remember what it felt like to NOT hurt and was at the end of my rope. I would get up in the morning and have to take 4 ibuprofen and lay back down until it reduced the pain to the point that I could just function. I was miserable!
Then my neurologist referred me to Dr. Herceg. I went to see him and he thought I would be a good candidate for surgery and explained the procedure he thought I would benefit from. He was so nice and answered any questions I had. Then he sent me to Liz who explained the procedure in more detail, got everything scheduled and took care of my insurance and paperwork for my employer.
When my surgery day arrived, everyone was so great! They made me feel comfortable and not nervous at all. Just a few days after surgery, I honestly felt better than I had in at least two years!! I did take the prescribed pain medications for the first 5 days, but after that I only needed TWO ibuprofen occasionally. It was amazing to wake up feeling good and like myself again!!
Now, I'm back to doing the things I love and enjoying life pain free! Dr. Herceg gave me my life back and I am so grateful! I would highly recommend him and the wonderful people at Orthopedic ONE. Dr. Herceg's office will be my first call should ever need anything again!