Patient Stories
I was sent to see Dr. Fowler for treatment after I fell and broke my arm. I couldn't ask for a better doctor! After three months, I'm going back to work with the full use of my arm. I'm so grateful for Dr. Fowler and his team!
I suffered from osteoarthritis and knee pain for years. I knew having a knee replacement was inevitable, but needed to buy time to get my kids through high school and be able to participate in their events, graduations, etc.
I endured quarterly cortisone injections to stave off the pain as much as possible. I felt having a bilateral total knee replacement was the best option for me, but finding a doctor to do it was a challenge until I was referred to Dr. Sahai. Dr. Sahai believed in me and was even the one to suggest that I was a good candidate for a bilateral total knee replacement.
I can't say enough about Dr. Sahai! He is genuine, nice, and his skills are above all else. He did an amazing job and I truly believe that my success is due to his gifts as a surgeon. I won't say that this was an easy road, but for me having one surgery and a short hospital stay was superior to the normal route of one knee at a time. I will continue to fight through the rehab phase and physical therapy and thanks to Dr. Sahai, I will be as good as new in no time!
I had been suffering for almost a year. I couldn't stand for more than two minutes. I had been given injections, but they did not work. I was about to go crazy, the pain was so bad!
I swore I wouldn't have surgery, because I had heard so many bad stories. I didn't even want to have an MRI! But, Dr. Ferrel was so kind and explained every detail, so I had a good understanding of what would be done during surgery and how this procedure would help me.
I am now in the middle of recovery and doing great. I have no more pain! I am so glad I found Dr. Ferrel and the team at Orthopedic ONE!

I was deeply impressed with everyone I encountered at Orthopedic ONE!
The first people I came in contact with were the registration associate and Janelle, the Operations Manager. Both were kind, friendly and helpful. The associate who escorted me to the exam room and took my information and the tech who took my x-rays were as polite and caring as anyone I have ever encountered under similar circumstances.
Lucas, Dr. Backes' PA, was outstanding. He made me feel comfortable and was so very understanding of my situation. I wanted to applaud him as he left the room! Finally, I must mention Dr. Backes and his outstanding bedside manner.
Caring, intelligent, knowledgeable. What a crew!!! Thank you for such a wonderful, comfortable experience.
After more than 10 years of progressive knee pain that not only impacted my work life, but limited my recreational activity and fitness program, I am finally able to enjoy my life again!
At almost five months to the day following my total knee replacement surgery I was able to participate in and finish the Ohio State 4-Miler Race!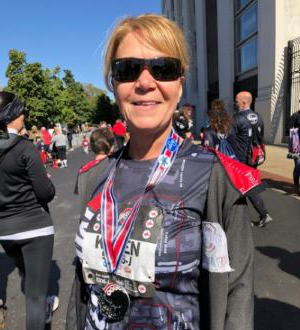 I'm so grateful to Dr. Biyani and the entire Orthopedic ONE team! Thanks for giving me my life back!