Patient Stories
I highly recommend Dr. Brent Bickel and Orthopedic ONE! Dr. Bickel is professional, caring and easy to communicate with. I'm one month post op and surgery was a complete success thanks to Dr. Bickel and his very impressive, cohesive surgical team at the Surgery Center at Easton.
The staff at Orthopedic ONE's Gahanna/Reynoldsburg location is also very impressive. From the front office to back office everyone is respectful, considerate, professional and efficient. Great team!
Lastly, but certainly not least, Erica Winton, my occupational therapist at the Gahanna/Reynoldsburg location is amazing! I spent four weeks with Erica working through my torn muscles. Erica is extremely competent, knowledgeable and professional. She knew immediately how to alleviate my shoulder pain through exercise and manipulation. Erica went the extra mile by giving me tips and aides to make home recovery more efficient.
Thank you Orthopedic ONE for making this situation less stressful!
In 2009 Dr Herceg fused 2 discs in my back. My pain was relieved and I have been pleased with the results.
Approximately 2 years ago I had been experiencing some numbness in my feet and lower legs. A neurology exam showed that I had some peripheral neuropathy and I was told by the neurologist there was nothing that could be done to relieve it. I was told by a sibling that I should try epidurals as that gave them some relief.
I was reluctant to try them however Dr. Herceg said he wouldn't guarantee it but that he was willing to try the injections to the sac around my 2 fused discs as they could be inflamed. I proceeded with three injections and have had positive results with each one. I now have approximately 80% of my feeling back in both feet and legs. Thank you Dr. Herceg!
For years, I had significant knee pain that limited my ability to live, play with my grandchildren, and even do basic activities. I knew I was ready for my life to change and have my knee replacement. At 62, I wanted to do so much more, but I never knew when my knees would give out on me. After several rounds of injections, I knew it was time.
I saw Dr. Sahai in October. I had my speech all prepared to convince him to do the surgery on both knees at one time. My left knee hurt the most, but my right knee was actually worse than the left knee. I knew that having one done would put so much stress on the other knee. Little did I know that Dr. Sahai would suggest doing both knees before I could even ask him.
I told him that I had a huge family trip to Scotland, England, Paris and Ireland planned for the coming summer. He said if I worked hard, I would have no trouble with the trip. My surgery was scheduled for April 2019 and my trip was in August 2019, so I had a total of 4 months to become mobile and strong! It was not an easy time having both knees replaced, but I had a goal and was not going to miss it or limit myself on this trip!
I competed my PT by the 8th week. I met all of my benchmarks, but knew I had to keep going. I walked and did my exercises faithfully. I am on my vacation right now and have been walking 10,000-18,000 steps daily. I climbed to the top of the cliffs of Kilkee in Ireland. It was the equivalent of 57 flights of stairs!! I made it!!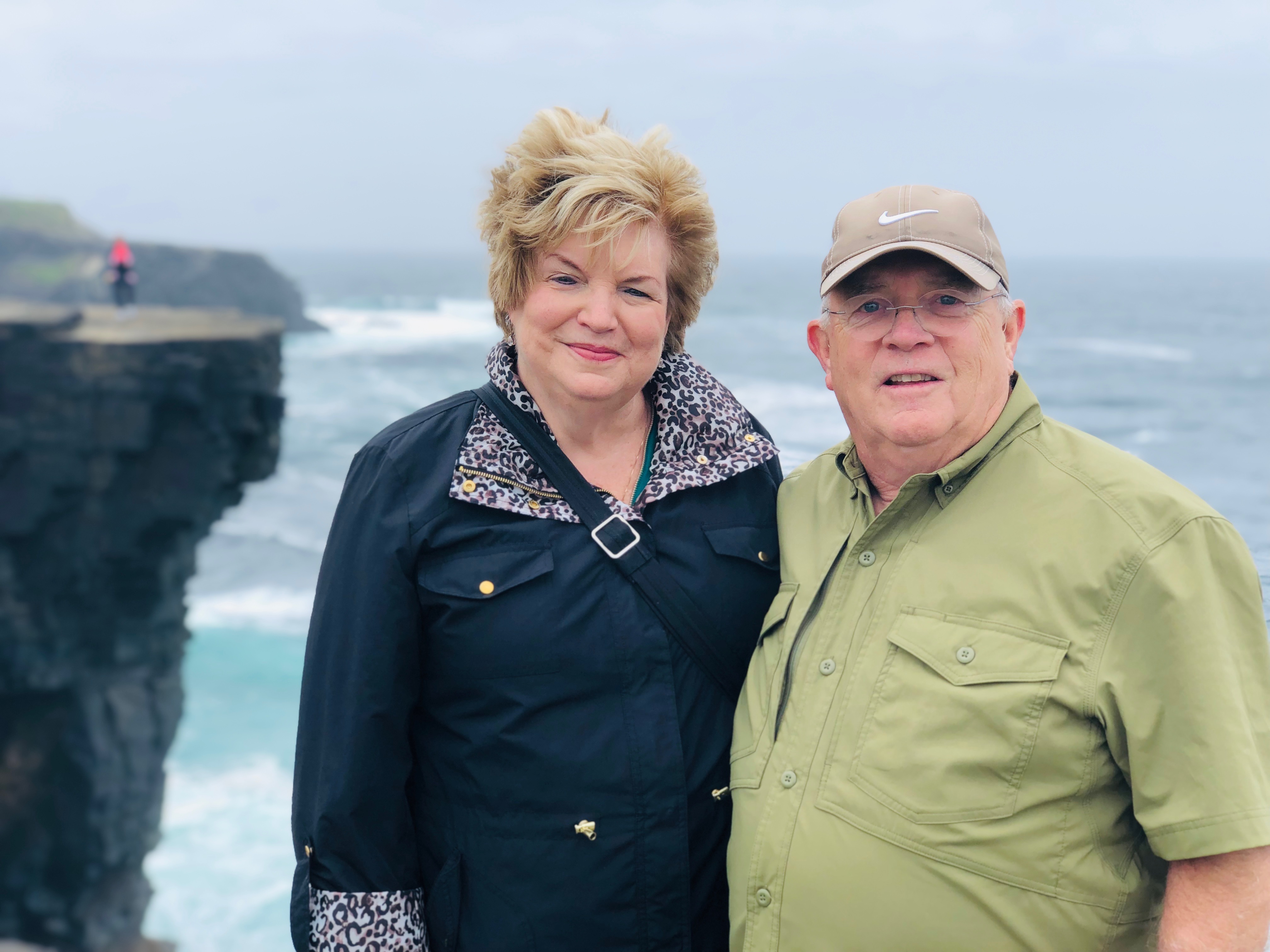 I thank everyone at Orthopedic ONE for their support and help. Dr. Sahai and his team are wonderful. He was so encouraging and kind to me! Thank you for giving my life back to me. I have no knee pain or problems. I love my new knees!

I would like to recognize and thank Dr. Backes, Lisa and Kate (my PT team) and the entire staff at the Grove City office and the Surgery Center at Easton, for providing outstanding care to help me get back to better than my old self!
Thank you, Dr. Joseph Mileti, for all you have done for me in the past and being able to count on you in the future! I truly believe that you and your staff have been a godsend to me.
In the early 1990's I sustained a significant shoulder injury through weightlifting and being as young as I was, paid very little attention to it. I have been a blue collar worker my whole life as well, spending the last 20+ years as a steelworker. As the 1990's proceeded, the injury continued to get worse and started interfering with my sleep. I eventually gave up and quit taking care of myself and started noticing the effects of that as well, such as weight gain and a decline in my overall health.
By 2011, I knew something had to be done. I had gained over a hundred pounds and was on the verge of being diabetic and needing to go on lifelong medication. Through research and help from my family doctor (Dr. Bradley Coleman) we came across Dr. Mileti and through his referral met and started to proceed with getting my health back on track.
My shoulder replacement surgery was done in June 2012 and then the healing process began. When I first went back to my job as a steelworker, I was very timid and cautious, but in time, I started feeling more and more comfortable with my shoulder. I never gave much thought about starting to take care of my overall health again until early 2017, when I experienced a life threatening encounter. I realized I had been in "sleep mode" for the past 20 years and saw how overweight and unhealthy I had become. I knew I had to start doing something about it and began making small changes until I started noticing improvements I could build from.
At one point prior to my surgery, I swore I would never run again or be under 200 lbs. However, through time and never wanting to give up, I saw certain obstacles were beatable and goals were achievable again. From that day in early January 2017 until now, I've lost 118.4 pounds, have rejoined a gym and even discovered cardio training again. I am in my mid 50's now and feel just as good as ever and rediscovered the energy I lost some 20 years prior. I'm hoping to run with this as long as life will let me, and I feel there is plenty more left. I know NONE of this would have been possible without the surgery Dr. Mileti performed on my shoulder back in 2012.
THANK YOU from the bottom of my heart to Dr. Mileti, his staff, my physical therapists and everybody else along the journey!