Patient Stories
Dr. Witter and his staff are great! My first epidural took my acute pain right away. I couldn't believe it, it was a miracle!
I'm grateful to Dr. Witter and have kept up with additional appointments as needed to manage the pain!

Joni 02.03.20
I've had pain in my hip and right knee area most of my life. After having my meniscus repaired, I decided to try physical therapy to see if it would help.
Although skeptical at first, I was asked what I wanted to achieve from therapy. I used to enjoy riding my bike, but just couldn't take the pain, so I stopped riding 20 some years ago. Within a week of starting physical therapy, I was riding a bike for 5 minutes and doing stretches. It was rough at first, but I stuck with it.
Within 2 weeks, I started feeling better. My physical therapist taught me what to do at home to keep improving. I began going to the gym and spent thirty minutes on the bike and an hour in the pool. I started to feel great and am doing more and more! I continue to have setbacks with my fibromyalgia, arthritis and bursitis from time to time. However, I'm in a better position to help myself deal with the pain.
This would not be possible without all the attention, help and understanding I received from my physical therapist, Courtney Altman. I highly recommend her to anyone going through pain and rehabilitation. She is a jewel to treasure for sure!
Thanks to Dr. Mileti's great skills, this 77 year old golfer who had a shoulder replacement in 2018, got a Hole-in-One last month in Florida!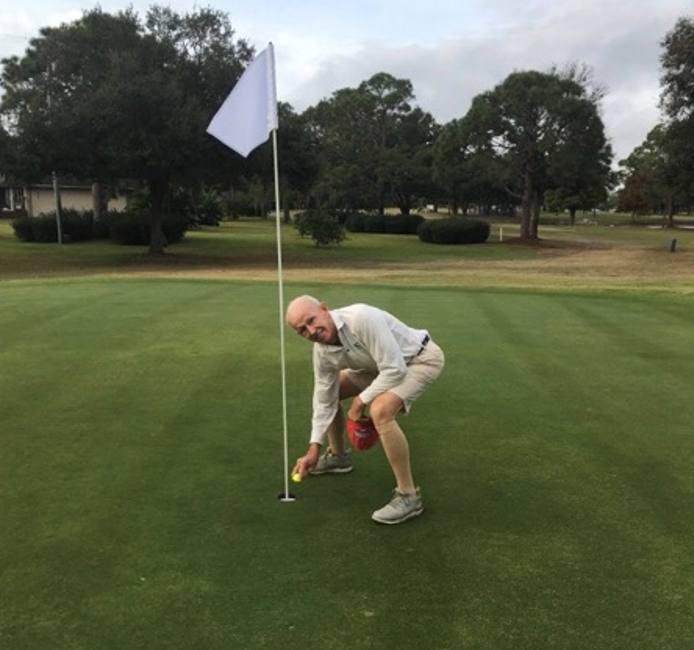 Many thanks for your help!
Gary L. Fivecoat
My story begins with a common hip replacement in Zanesville, performed by a well-known surgeon. The surgery was not successful, so my surgeon sent me to see a trauma specialist for a revision. Unfortunately, that surgery was unsuccessful as well, and afterward I actually had to manually pop my hip back in the socket because it would pop out. You could even see it on an x-ray!
After two failed hip replacements on same side, the second surgeon wanted to do a third surgery, without really being able to tell me why the first two procedures failed. I advised him that I wanted to go to Columbus to see a specialist. He had worked with Dr. Fowler in the past. They spoke and Dr. Fowler agreed to see me and discovered that I had an infection from my previous surgeries. I scheduled another operation, so Dr. Fowler could help me get better. He took everything out, put a spacer in and left me with a PICC line, a big incision and a wound vac.
At this point, I had been wheelchair bound and unable to put weight on my right hip for 8 months. Once the infection completely cleared up, Dr. Fowler ordered a custom hip and I prepared for another hip replacement surgery. At this point, I never thought I would be able to get around without a wheelchair. Much to my surprise, I was up and able to put weight on my hip the morning following surgery!
If it wasn't for Dr. Fowler, I would probably still be in a wheelchair. He was so caring and concerned that I put my life and leg in his hands! He also had a very positive attitude, but never kept the truth from me or my family. Dr. Fowler and his medical secretary, Heather, are #1 in my book! I actually feel like Heather and I are friends, as much as we have talked!
Thanks to Dr. Fowler and his team for giving me my life back!
In May of 2019 I was diagnosed for a hip replacement by my rheumatologist at OSU. A good friend of mine works at your office so I chatted with her and went ahead and made an Appt. with Dr. McShane. I put up with the chronic hip pain for a few months and was anxious to get a new hip. The surgery was on Nov. 25th and as I write this it is 5 weeks post-op and I couldn't be happier with the results. Everyone at Ortho One is wonderful and very professional. A very special thanks to Dr. McShane, Ron Hopkins, Jackie Russell, Nichole Centeno, and Jon Williams. You folks are fantastic! Thank you very much!