News and Events
Orthopedic ONE physicians named to both Top Doctors and Best Doctors®​ lists 2018
Once again, Orthopedic ONE physicians are named to both the America's Top Doctors and Best Doctors® lists.
Continue...
---
Spirit Sprint 5k featured on Mix 107.9
We had a great time sharing all the Spirit Sprint 5k details with our friend Andre Styles at Mix 107.9. He'll be joining us this Sunday, October 7, for the 2018 Spirit Sprint 5k at COSI/Genoa Park. Listen to the full segment here!
Continue...
---
Dr. Wroble covers the latest injury updates on 10TV's Wall to Wall Sports
Dr. Randall Wroble chats with 10TV's Dom Tiberi on the latest pro sport injuries and when we can expect our favorite players to return.
---
Dr. Westerheide talks Nick Bosa injury on 105.7 The Zone
Dr. Ken Westerheide joined the 105.7 The Zone radio team to offer some expert commentary on Nick Bosa's recent core muscle injury and prospects for his return to play following surgery. Listen to the full segment here.
Continue...
---
Columbus Monthly goes inside Dr. Politi's interactive OR
Thousands of students across the country have had the unique opportunity to share the operating room with Dr. Joel Politi as part of his innovative partnership with COSI and Mount Carmel Health System - called COSI: Surgical Suite. Recently Columbus Monthly Magazine reported on the program in its August issue. Read it here.
---
Welcome, Dr. Archana Chand and Dr. John Hwang!
Orthopedic ONE welcomes both physical medicine and rehabilitation physician and orthopedic trauma surgeon in August 2018

Orthopedic ONE is pleased to welcome two new physicians – Archana Chand, D.O. and John Hwang, M.D. – to Ohio's largest, physician owned orthopedic practice. Both will begin seeing patients in August 2018 at locations across the group's sprawling central Ohio footprint.

Continue...
---
Drs. Backes and Politi Receive Guardian Angels Awards
During the month of July, two Orthopedic ONE surgeons, Dr. Jeffrey Backes and Dr. Joel Politi were recognized through the Mount Carmel Foundation's Guardian Angels program.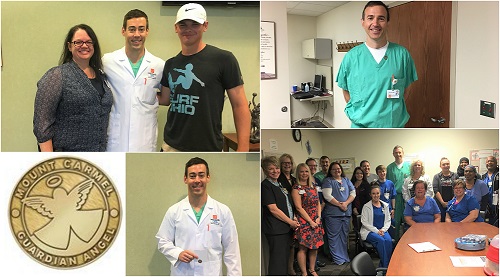 Continue...
---
Fireworks Safety Tips
Fireworks are a part of many families 4th of July traditions, but people often fail to realize just how dangerous they can be. Check out these safety tips from the American Society for Surgery of the Hand to ensure that your celebration remains safe!

Continue...
---
Arthritis Support Network Meeting Featuring Orthopedic ONE Hip and Knee Surgeon, Dr. Michael McShane
Orthopedic ONE, along with community partners Arthritis Support Network and the Arthritis Foundation, will be hosting a free educational seminar on When to Consider Surgery and Surgical Options for Arthritis Patients, featuring Orthopedic ONE surgeon, Michael McShane, M.D., in conjunction with the group's June meeting.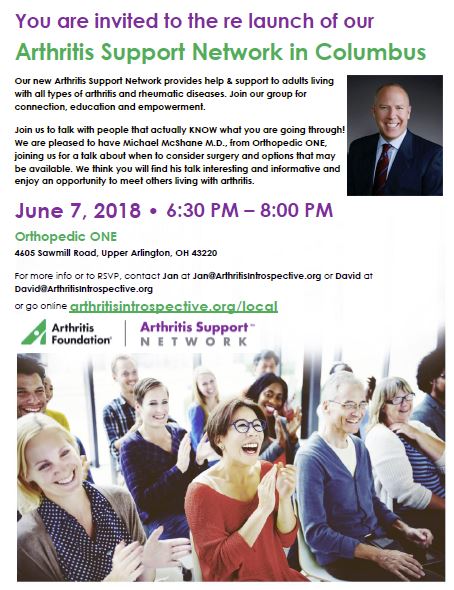 Continue...
---
Orthopedic ONE Lends a Hand to Habitat for Humanity
During the week of May 8th-12th, Orthopedic ONE's Therapy Services and Sports Medicine team expanded their desire to help others outside of the clinic, by donning boots and hard hats to volunteer as part of Habitat for Humanity's construction crew!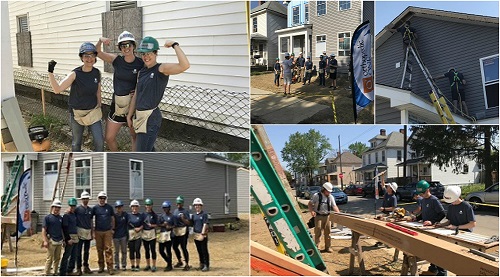 Habitat for Humanity-MidOhio has spent more than a quarter century helping to bring the dream of homeownership to families in need. Working in conjunction with Habitat for Humanity International, Habitat MidOhio partners, donors and volunteers have played a role in rekindling hope for over 400 families living in central Ohio through new home construction and critical home repairs.

To learn more about opportunities to get involved with this outstanding organization, visit www.habitatmidohio.org.