News and Events
Therapy Services Spotlight: Improving Core Strength
Orthopedic ONE Therapy Services demonstrates two versions of the plank, which will help strengthen the core muscles.
Working the muscles in the midsection can improve an athlete's stability and speed, as well as prevent injuries.
---
Therapy Services Spotlight: Strengthening the Gluteal Muscles
Orthopedic ONE Therapy Services guides you through a series of four exercises to help strengthen the gluteal muscles. These three muscles are the largest and strongest in the body and work to abduct, rotate and extend the hip. Developing this muscle group makes everyday tasks like sitting down, standing up, picking up heavy objects and climbing stairs easier. Overtime, performing these exercises will improve overall athletic performance and reduce the risk of injury.
---
Dr. Robert Steensen receives award from the American Academy of Orthopedic Surgeons
by Mount Carmel Health
A video by Mount Carmel Orthopedic resident Dr. Thai Trinh and Associate Program Director Dr. Robert Steensen titled "Medial Patellofemoral Ligament Reconstruction Using a Partial Thickness Quadriceps Tendon Graft" has received an award from the American Academy of Orthopedic Surgeons. The video was chosen "based on its educational merit, high production values, technical quality, clinical relevance and outcomes." In addition to being honored, the video will be featured in the Orthopedic Video Theater at the Academy's 84th Annual Meeting. Congratulations to Dr. Trinh and Dr. Steensen!
---
Therapy Services Spotlight: Dynamic Warm-Up and Static Cool Down Tutorial
No matter how you like to stay active, we can't stress the importance of a proper warm-up and cool down! Orthopedic ONE supports the use of the Dynamic Warm-Up and Static Cool Down methods to increase athletic performance and reduce the likelihood of injury.
Watch as two of our Physical Therapists demonstrate how to complete these moves that will make the beginning and end of your workout just as impactful as your training! Click here for step by step instructions to go along with our tutorial!
---
Orthopedic ONE named a Bronze winner of the Healthy Ohio Healthy Worksite Awards
Orthopedic ONE has been recognized as a Bronze winner of the Healthy Ohio Healthy Worksite Awards. This distinction is given to Ohio employers who demonstrate a commitment to employee health through comprehensive worksite health promotion and wellness programs. Recipients are judged on efforts to facilitate and encourage employee health, enhance productivity and ensure a healthy work environment.

Continue...
---
Knee Injury Prevention for Soccer Players
Anyone who has played the sport for any length of time, knows that knee injuries are a common plight for soccer players. To help combat this, many research studies have taken place over the years to develop ways to curtail and prevent these types of injuries. One of the most common issues soccer players' face are tears to the anterior cruciate ligament (ACL). Largely non-contact in nature, athletes are most likely to tear their ACL while turning, cutting or landing awkwardly.
The Osteoarthritis Action Alliance has elaborated on this topic and outlined injury prevention programs specifically designed for soccer players. One of the most popular, is the FIFA 11+ exercise program, which is supported by Orthopedic ONE and may of the soccer teams we serve.
If you are experiencing knee pain, Orthopedic ONE Athletic Trainers and Sports Physical Therapists can perform movement screenings and video analysis, as well as strength and flexibility testing to help determine your personal risk factors and provide individualized tips and strategies to keeping your knees healthy.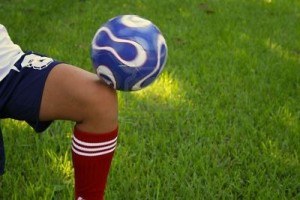 Click here for more information about Orthopedic ONE's Sports Medicine Services.
---
Foot and ankle surgeon, Dr. Gorsline, now seeing patients in Grove City
Dr. Robert Gorsline is now seeing patients at Orthopedic ONE's Grove City office at 5530 North Meadow Drive. This is in addition to his existing office hours at the practice's Westerville and Hilliard locations.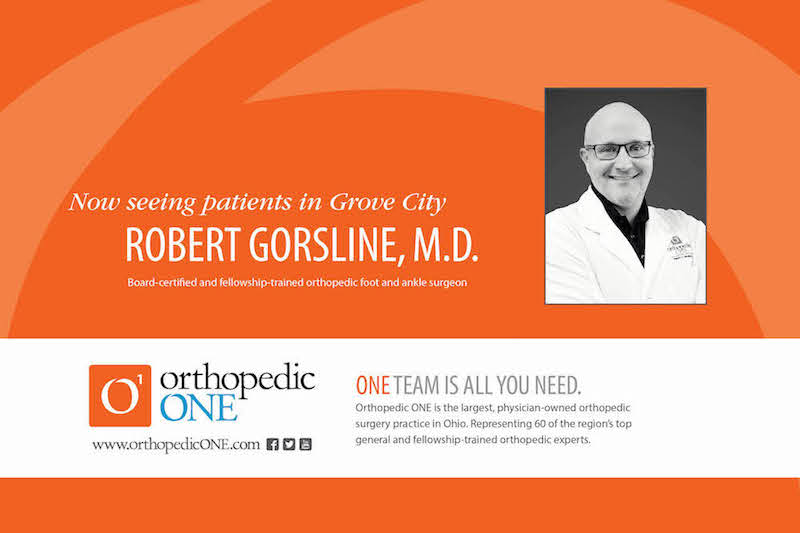 Continue...
---
Orthopedic ONE voted #1 as The Columbus Dispatch Cbus Top Pick for Sports Medicine 2016
With more than 185,000 total votes cast, Orthopedic ONE takes the top spot as the central Ohio choice for Sports Medicine. This fall, The Columbus Dispatch launched the "CBUS TOP PICKS" program as a way for the community to recognize their favorite area businesses.
Continue...
---
Orthopedic ONE voted Best of Business in CEO Magazine
It's official. Our patients are the best. Thanks for naming us number ONE in Columbus CEO magazine's 2016 Best of Business Awards in both the Orthopedic Practice and Sports Medicine category and Physical Therapy Practice category!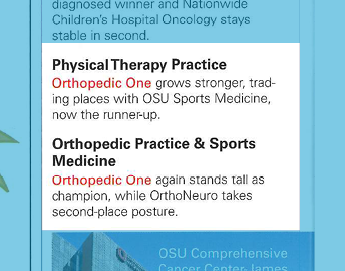 Continue...
---
Dr. Milan Herceg featured in Columbus Business First
Check out this great Q&A with Dr. Milan Herceg, in the October 14 issue of Columbus Business First featuring the Best Doctors® in central Ohio.

Continue...