News and Events
Tips to Stay Sane While Social Distancing and Self Quarantining
With the onset of the COVID-19 pandemic, the world is a different place than it was just a few weeks ago. For many, one of the most jarring changes is the switch from being constantly on the go to practicing social distancing and honoring the stay at home mandate set forth by the government. Here in Ohio, that means restricting time out of the home to only essential business and errands.
This sudden halt to our daily lives and increased time spent inside can have a significant impact on the mind, body and spirit. We are feeling the void of things we often take for granted, such as regular exposure to the sun, which impacts bone and muscle health, mood regulation and sleep quality. This combined with a lack of human interaction, the boredom of being cooped up and the anxiety of dealing with other various impacts of this pandemic, can create a frightening cocktail of emotions.
Here are a few suggestions for using your time in a way that can benefit you and those close to you (well, preferably 6 feet away)!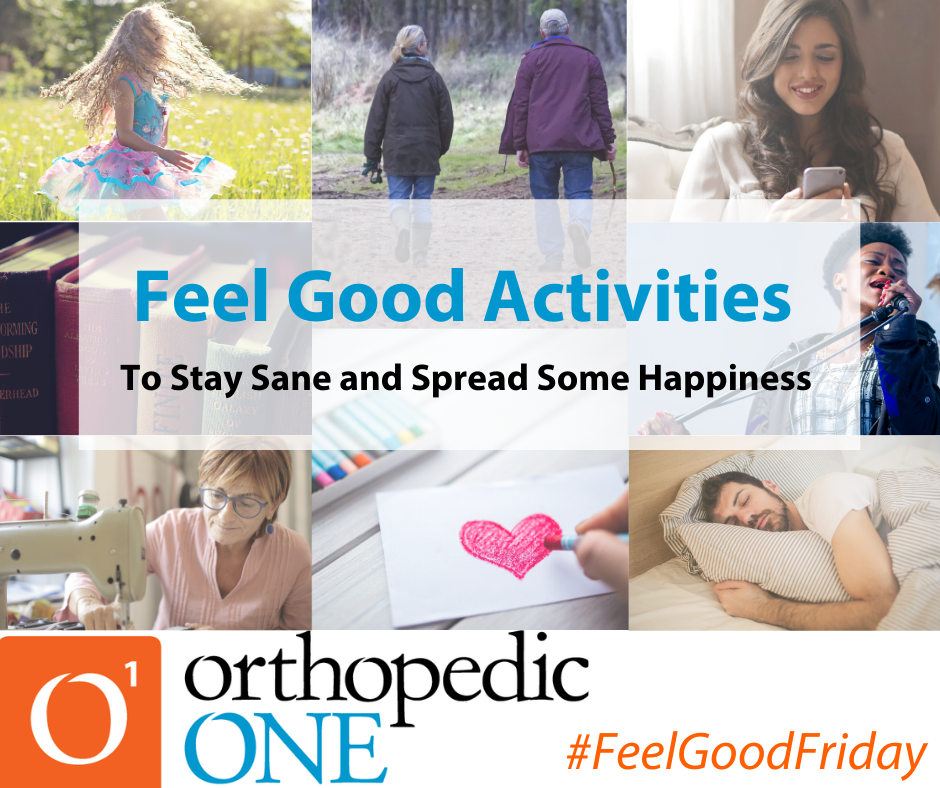 Continue...
---
The Sports Void is Real
As Sports Medicine providers, our physicians spend a great deal of time taking care of high school athletes, weekend warriors, and professional athletes. With the current state of sports, our physicians are feeling an emptiness that many of our athletes and sports enthusiasts are feeling as well.

Continue...
---
Orthopedic ONE Physicians recognized in Healthcare Achievement Awards 2020
Each year, Columbus CEO Magazine honors central Ohio healthcare organizations in its Healthcare Achievement Awards issue. We are honored to be named among this list of 2020 Healthcare Achievement Award recipients and finalists. Orthopedic ONE was named a Healthcare Trailblazer Award Finalist for the groups ongoing commitment to orthopedic education.

Continue...
---
Healthcare Expert Talk Featuring Dr. Adam Martin
Are you a SourcePoint member who is participating in the Here's to Your Health lecture series?
If so, come learn more about carpal tunnel symptoms, causes, and treatment options from our own Dr. Adam Martin!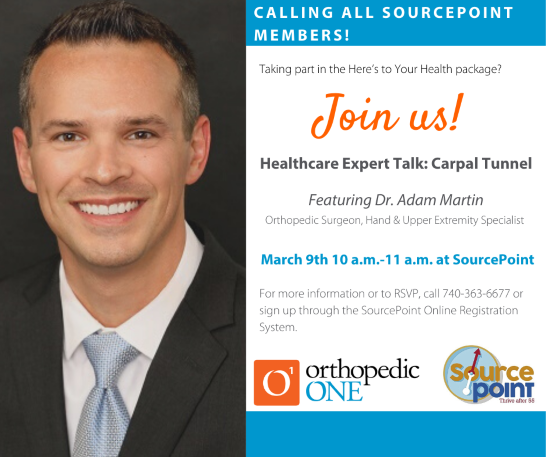 Continue...
---
ORTHOPEDIC ONE AND STORYPOINT TO HOST COMMUNITY TALK IN GROVE CITY
Join Orthopedic ONE physicians, Scott Shemory, M.D. and Neelay S. Thakkar, M.D. at StoryPoint in Grove City on March 10th for a community lecture focusing on back pain, fall prevention, shoulder pain, and arthritis.
Please RSVP to StoryPoint at 614-875-6200 by March 1st!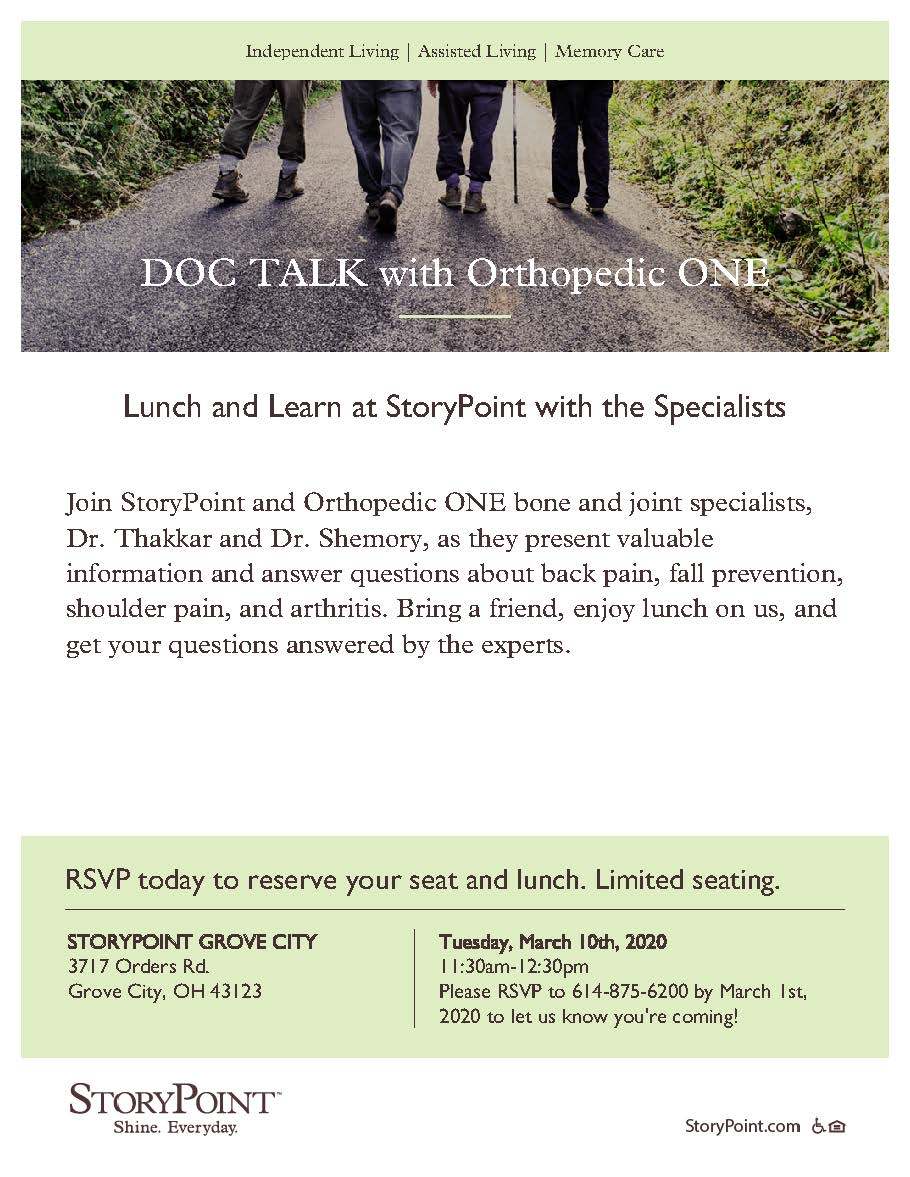 Continue...
---
The Heart of the Matter
February marks American Heart Month, and allows an opportunity to reflect on the heart healthy choices we are currently making and reevaluate some of the things we can do better, such as eating right, getting enough exercise and effectively managing stress.
Aside from these important habits, another aspect of heart health is familiarizing yourself with Sudden Cardiac Arrest, a condition that has gained more attention over the last few years, even among youth athletes and those who wouldn't normally consider themselves at risk for heart problems.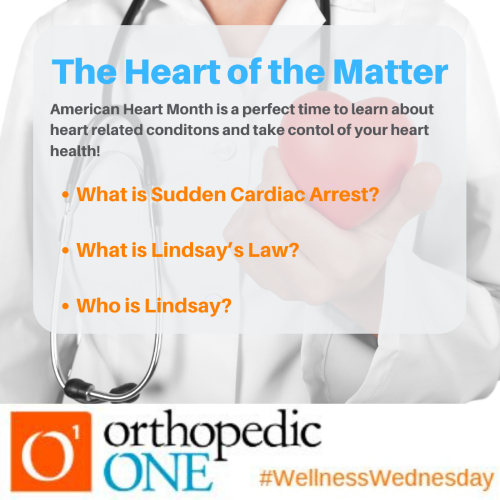 Continue...
---
Orthopedic ONE Welcome Scott Shemory, M.D.
We are pleased to welcome another new addition to the Orthopedic ONE team. Scott Shemory, M.D., Board Certified Orthopedic Surgeon with Fellowship training in Shoulder and Sports Medicine from The Ohio State University.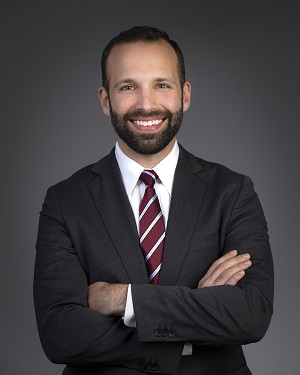 Continue...
---
Core Concepts: Part Two!
In our second feature focusing on Core Stability and Strength, we will showcase five simple exercises that can have a big impact in preventing injuries and allowing you to better perform the activities you enjoy!
Continue...
---
Orthopedic ONE's newest physicians featured in Columbus Monthly Health Magazine
Pick up a copy of Columbus Monthly's annual Health Magazine available this month at news stands throughout central Ohio. Read their tips for staying healthy, happy and injury-free in the new year!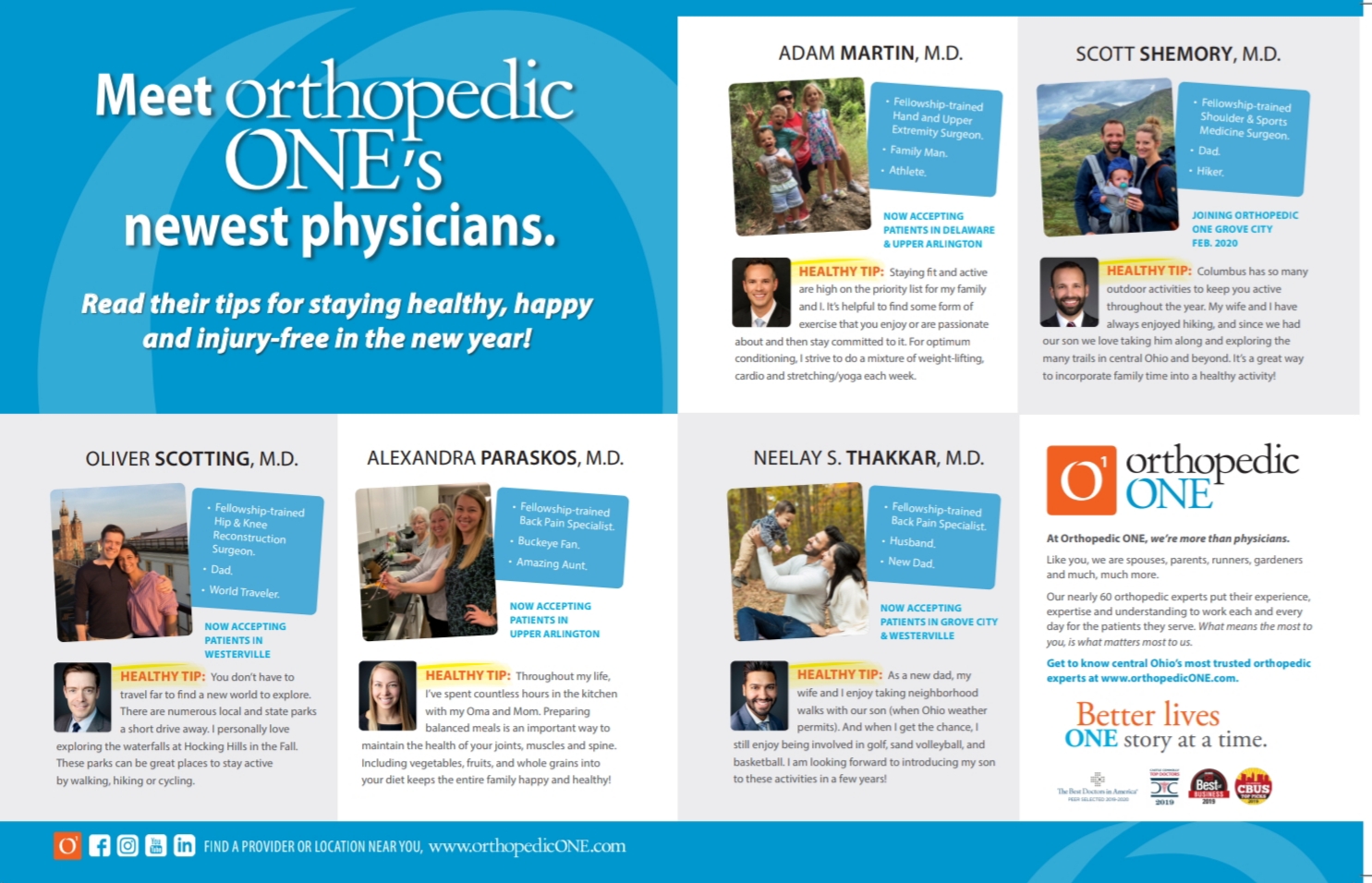 ---
We're more than physicians...Meet Dr. Alexandra Paraskos
At Orthopedic ONE, we're more than physicians. Like you, we are parents, runners, sports fans, foodies, and much, much more. Get to know central Ohio's most trusted team of orthopedic experts.
Meet Dr. Alex Paraskos Fellowship-trained Physical Medicine & Rehabilitation physician. Upper Arlington native, OSU Alumni, and family focused.
Continue...