News and Events
Jeffrey Backes, MD - ONE of Columbus Business First 2017 40 Under 40 Honorees
Dr. Jeffrey Backes was recently named one of central Ohio's 40 Under 40 by Columbus Business First. This is the longest-running award program at Columbus Business First, and each year recognizes forty of the best and brightest young professionals in Central Ohio for their accomplishments in the area of business and community service. With a record 283 nominations in its 25th year running, the popular 40 Under 40 awards program proved to be the most-impressive yet.
Continue...
---
Orthopedic ONE now in-network with Humana Medicare Advantage Plans
We are pleased to share that effective June 1, Orthopedic ONE will be in-network with all Humana Medicare Advantage Plans. Both physician and therapy appointments for Humana Medicare Advantage subscribers can be scheduled now. Click here to request an appointment.


At this time, our in-network status does not apply to Humana commercial insurance subscribers.
---
Better Lives. ONE story at a time.
No paid actors or body doubles in these commercials! When creating our recent ad campaign, we spent 3 days following our physicians, staff and patients to share the stories that set us apart.
We are so excited to introduce; Better Lives. ONE story at a time.
Continue...
---
Thomas Ellis, MD, talks to Becker's Orthopedic Review
Dr. Thomas Ellis with Orthopedic ONE recently participated in an interview with Becker's Orthopedic Review on direct anterior approach and the future of total hip arthroplasty.

Read the article in full here.
---
Dr. Robert Durbin Announces Retirement
A Letter from Robert A. Durbin, M.D.
It is with mixed emotions that I officially announce my retirement from active patient care as of May 4, 2017. Orthopedic Medicine has been one of my life's greatest devotions, and my passion for the practice of medicine is unchanged from my very first day as an orthopedic resident. It is simply time for me to focus on other devotions – my wife, children and eight beautiful grandchildren.
After 36 years of serving patients in our central Ohio Community, I am both saddened and excited about my retirement. It has been an honor to have cared for so many wonderful patients throughout the years.
Continue...
---
Recognize to Recover: What You Need to Know about Concussions
The United States Soccer Federation has rolled out a comprehensive player health and safety program called Recognize to Recover. This purpose of this program is to promote safe play and reduce injuries in soccer players of all ages. Recognize to Recover was developed with a goal of providing coaches, players, parents and referees with information, guidance and educational materials to aid in the prevention and management of injuries.
Always a hot topic in the soccer community, Recognize to Recover has created resources to help soccer players, coaches, parents and referees identify and seek treatment for concussions. Recognize to Recover realizes that concussions can be difficult to spot on the field, especially for those who are not trained medical professionals. U.S. Soccer created Recognize to Recover resources that will help coaches, players, parents and referees identify the signs and symptoms of concussion and immediately take action with the appropriate treatment.
Check out the video below and review these key points to ensure that if your athlete goes down with a head injury, you can RECOGNIZE the severity of the injury and seek medical attention so your player can RECOVER to their fullest potential.
Source: RecognizetoRecover.org
---
Matthew Price, MS, RN, CNP, ONP-C®, RNFA Chosen as Director of ONCB
by Orthopaedic Nurses Certification Board

The Orthopaedic Nurses Certification Board (ONCB) is pleased to announce Matthew Price, MS, RN, CNP, ONP-C, RNFA, was selected to serve as a Director beginning July 1, 2017. Mr. Price is past member and chair of the ONCB's Recertification Committee, a representative group involved in recertification regulation for certificants holding ONCB's three credentials. Mr. Price is Orthopaedic Nurse Practitioner at Orthopedic ONE in Columbus, Ohio.
"We are happy to welcome Matthew Price to our board," commented ONCB President Kathy Bolme, RN, ONC. "Matt has already been a supporter of certification through his work with the board serving as chair of the Recertification Committee. As an ONC-P, Matt is able to show our value of excellence is recognized in all work areas, both in and outside hospital settings. With this commitment to excellence, Matt will help ONCB achieve its vision: Orthopaedic nursing certification is the standard of knowledge and excellence in musculoskeletal health care.
Congratulations, Matt!
---
Therapy Services Spotlight: Gluteal Exercises Part II
Orthopedic ONE Therapy Services guides you through another set of exercises designed to strengthen your gluteal muscles. Overtime, performing these exercises will improve overall athletic performance and reduce the risk of injury.
---
Dr. Ty Fowler now seeing patients at Taylor Station Location
Dr. T. Ty Fowler is now seeing patients at Orthopedic ONE's Gahanna/Reynoldsburg area office, located at 170 Taylor Station Road, Columbus, Ohio. This is in addition to his existing office hours at the practice's Hilliard and Grove City locations.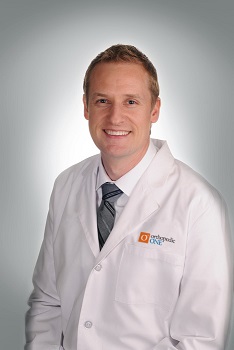 Ty Fowler MD, Orthopedic ONE Joint and Trauma Surgeon
Dr. Fowler is a board certified, fellowship-trained orthopedic surgeon. He received his medical degree from Wayne State University School of Medicine in Detroit and performed his orthopedic residency at Mount Carmel Health System, followed by an extensive fellowship within the Department of Orthopaedic Trauma Surgery at Stanford University in Palo Alto, California.
Dr. Fowler maintains a special interest in hip and pelvis preservation and reconstruction as well as orthopedic trauma. His specific interests include pelvic and acetabular fractures; periacetabular osteotomies; surgical hip dislocation; total hip arthroplasty (direct anterior approach); complex periarticular and long bone fractures; and malunions and nonunions.
Request an appointment with Dr. Fowler.
---
Therapy Services Spotlight: Improving Core Strength
Orthopedic ONE Therapy Services demonstrates two versions of the plank, which will help strengthen the core muscles.
Working the muscles in the midsection can improve an athlete's stability and speed, as well as prevent injuries.