News and Events
Take a Minute to Learn How to Save a Life
Many Americans think practicing heart health simply means evaluating habits such as eating right, getting enough exercise and effectively managing stress, and making changes as necessary.
While these practices are important, another vital aspect of heart health is learning about a condition that many young athletes who consider themselves to be active and healthy may mistakenly overlook as a vital component to evaluating their heart health, Sudden Cardiac Arrest.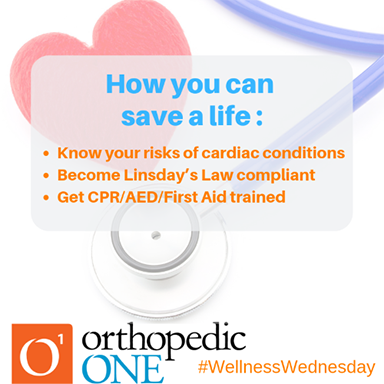 Continue...
---
Dr. Randall Wroble named 2019 Practitioner of the Year by Columbus CEO Magazine
Each year, Columbus CEO Magazine honors central Ohio healthcare providers and organizations in its Healthcare Achievement Awards issue. This year, Orthopedic ONE's Dr. Randall Wroble was named the 2019 Practitioner of the Year for his outstanding contributions to the student athletes in Ohio - and across the country.
Continue...
---
Dr. Steven Gaines Recognized as Guardian Angels Recipient
Earlier this week, our own Dr. Steven Gaines was honored through the Mount Carmel Foundation's Guardian Angels program.
Continue...
---
Exercise…You Know You Should, Here is How (and Why) to Start!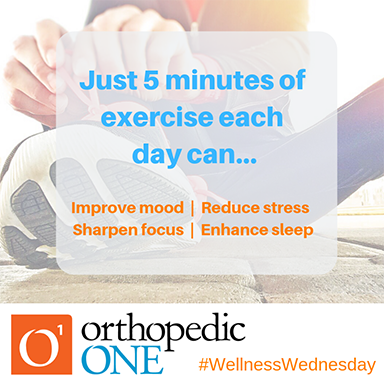 Maybe you vowed to begin exercising or amp up your workouts at the start of the new year or are planning to lace up your sneakers in anticipation of spring. Need a little motivation to get off the couch or to keep striving to reach your goals? There are immediate benefits to even 5 minutes of exercise, such as an improvement in mood, reduction in stress levels, enhanced sleep quality and sharpened mental focus.
Continue...
---
Orthopedic ONE voted #1 CBUS Top Pick for both Orthopedics and Sports Medicine 2018
Out of more than 30,000 area businesses, and tens of thousands of organizations, the Columbus community voted for their favorites to be named a 2018 CBUS Top Pick. That's a big deal. To be a CBUS Top Pick means people recognized Orthopedic ONE as the elite Orthopedic and Sports Medicine group in town — #1 in both categories for the third year in a row.

Continue...
---
Orthopedic ONE physicians named to both Top Doctors and Best Doctors®​ lists 2018
Once again, Orthopedic ONE physicians are named to both the America's Top Doctors and Best Doctors® lists.
Continue...
---
Spirit Sprint 5k featured on Mix 107.9
We had a great time sharing all the Spirit Sprint 5k details with our friend Andre Styles at Mix 107.9. He'll be joining us this Sunday, October 7, for the 2018 Spirit Sprint 5k at COSI/Genoa Park. Listen to the full segment here!
Continue...
---
Dr. Wroble covers the latest injury updates on 10TV's Wall to Wall Sports
Dr. Randall Wroble chats with 10TV's Dom Tiberi on the latest pro sport injuries and when we can expect our favorite players to return.
---
Dr. Westerheide talks Nick Bosa injury on 105.7 The Zone
Dr. Ken Westerheide joined the 105.7 The Zone radio team to offer some expert commentary on Nick Bosa's recent core muscle injury and prospects for his return to play following surgery. Listen to the full segment here.
Continue...