News and Events
We're more than physicians...get to know Dr. Brandon Thompson
At Orthopedic ONE, we're more than physicians. Like you, we are dads, runners, golfers, sports fans and much, much more. Get to know central Ohio's most trusted team of orthopedic experts.
Meet Dr. Brandon Thompson. Fellowship-trained physical medicine and rehabilitation physician. Outdoorsman. And Dad of 4.
You can find Dr. Thompson at our Gahanna/Reynoldsburg location.
---
Spirit Sprint 5k Featured on Mix 107.9 Workout Wednesday
Did you catch Mix 107.9's Workout Wednesday segment this morning?
We had a great time chatting with our friend and longtime Spirit Sprint MC, Andre Styles about this year's event, taking place on Sunday, October 6th at COSI and Genoa Park. Listen to the full segment here!
Continue...
---
Orthopedic ONE Physical Medicine & Rehabilitation Physician, Dr. Alexandra Paraskos, to Give Community Talk in Dublin
Orthopedic ONE along with community partner, Dublin Retirement Village, will be hosting a free educational seminar on back pain and treatment options featuring Orthopedic ONE physician, Alexandra M. Paraskos, M.D.
Continue...
---
Dr. Craig Dimitris named Outstanding Physician
Congratulations to our own Dr. Craig Dimitris who was honored yesterday as Mount Carmel Grove City's Outstanding Physician during the health system's 15th annual Excellence in Nursing Awards ceremony.
Continue...
---
Can It Wait?
When a medical situation occurs, a decision must be made. Should you go to the emergency room, urgent care or schedule an appointment with a physician at their medical practice? Emergency rooms and urgent care centers are great resources to utilize for certain ailments. But when do you really need to visit them and for what types of conditions? For the majority of orthopedic conditions, a trip to an urgent care or emergency room can cost you more time and money than needed.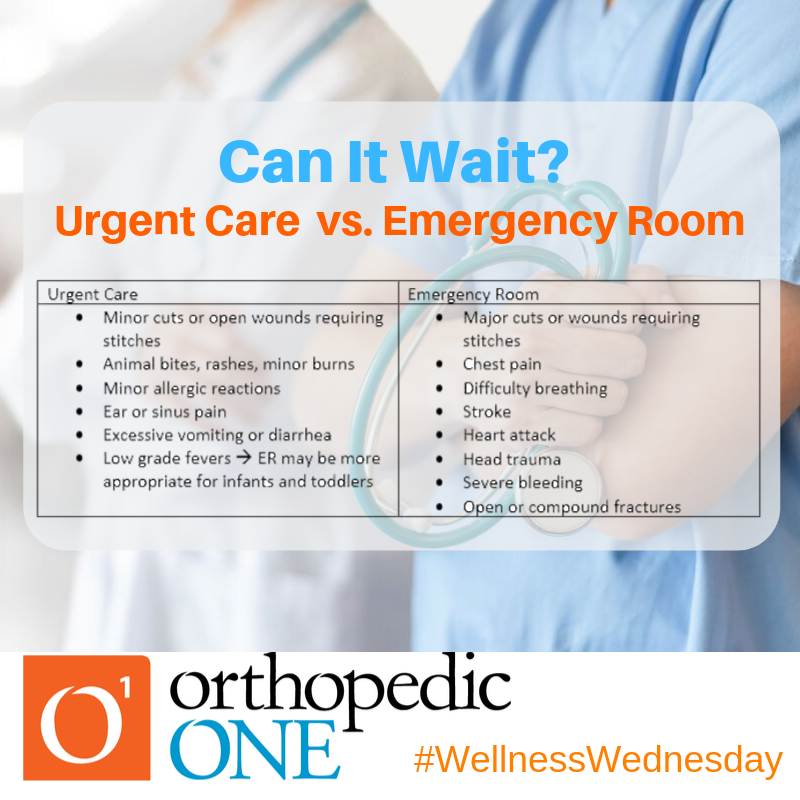 Continue...
---
Beat the Heat and Cool Your Core
Learn tips and tricks to beat the heat as you stay active this summer and how to cool your core should you begin experiencing signs of heat illness.
---
Drink Up:The Importance of Staying Hydrated During Activity and How to Hydrate Properly
Maintaining proper levels of hydration is important for people of all activity levels!
Avoiding dehydration ensures the sustained performance of vital bodily functions, such as temperature control, nutrient transportation and muscle/joint function during exercise, as well as keeping vital organs, like the heart and kidneys from being over worked during especially active periods.
Check out this video to learn the proper way to hydrate before, during and after your workout, and how to choose the best form of hydration for your needs!
Sources: National Athletic Trainers' Association, U. S. Anti-Doping Agency
---
Heat Illness:Signs, Symptoms and Treatment
With the high temperatures and increased humidity of summer still in full swing, now is the perfect time to familiarize yourself with the various types of heat illnesses, review the symptoms to watch for and learn how to treat a person suspected of having a heat illness.
Continue...
---
Four new physicians will join Orthopedic ONE in summer 2019 - all with roots in Ohio
Orthopedic ONE is pleased to announce four new physicians will be joining its roster of nearly 60 of central Ohio's top orthopedic and physical medicine specialists. All will begin seeing patients in August or September at locations across the group's sprawling central Ohio footprint.
"As the largest physician-owned orthopedic group in the region, we are always striving to provide the best care possible to our central Ohio patients," says Joel Politi, M.D., physician president, Orthopedic ONE. "Each and every physician that joins our practice must share in our mission to keep patients first in all we do, which is why we are so pleased to welcome this incredibly talented and compassionate new class of physicians."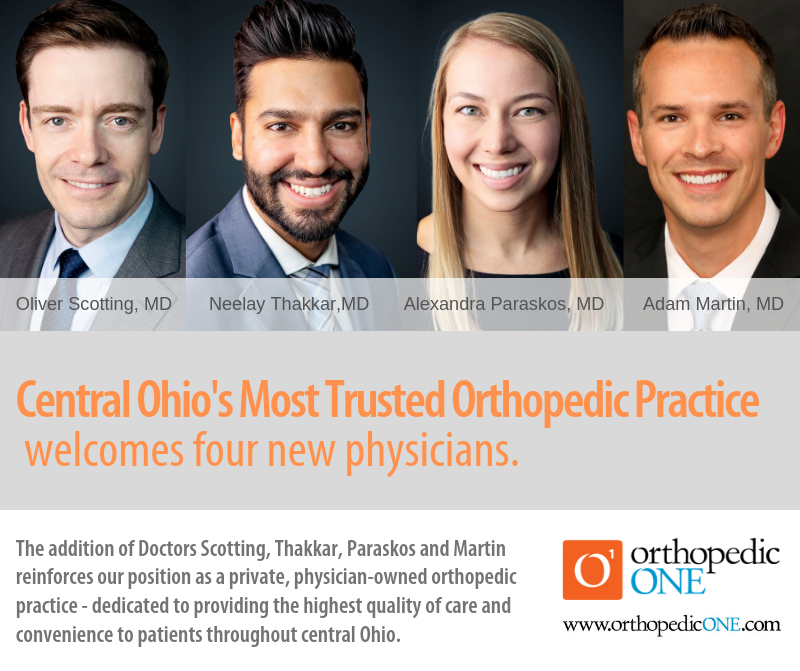 Continue...
---
Toe Yoga
The foot and ankle play a vital role in absorbing the weight of our bodies and providing the ability to walk, run and jump.
Try these Toe Yoga exercises to strengthen these muscles that help keep you active!