Orthopedic ONE Takes Part in Opioid Disposal Program
National Prescription Drug Take Back Day will be held on Saturday, April 24th, and provides an opportunity to take action against opioid misuse, which has become an increasingly important public health and safety issue over the last several years.
Orthopedic ONE is one of several local healthcare facilities taking part in an opioid disposal program lead by the Ohio Opioid Alliance, a group of more than 90 businesses that have come together to decrease opioid misuse. This program is supported by the Ohio Orthopaedic Society and has drawn interest from national orthopedic organizations.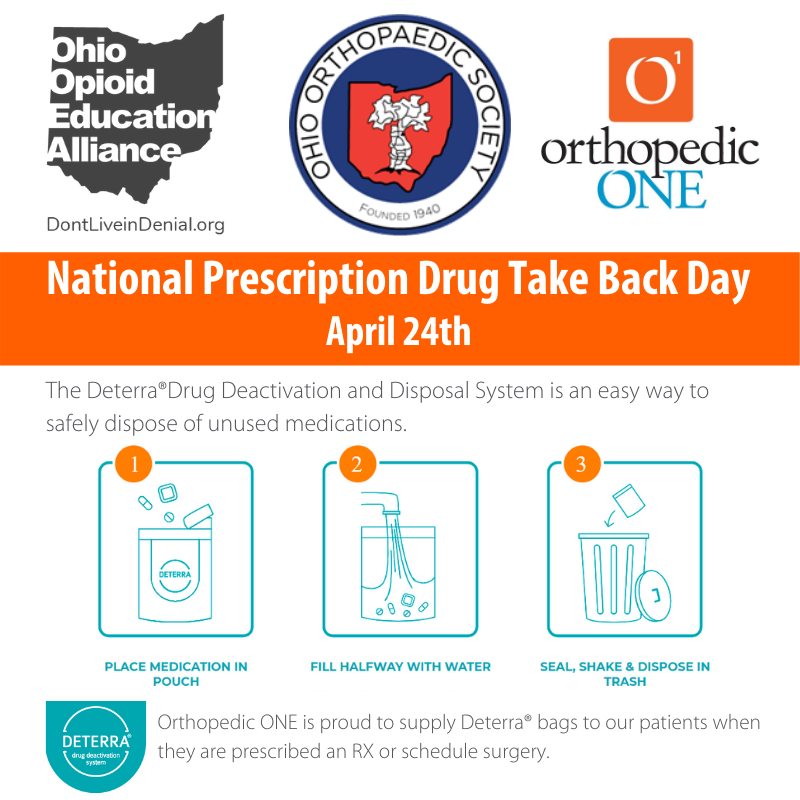 At the direction of their provider, Orthopedic ONE patients who have been prescribed opioids may receive a bag that contains a Deterra drug deactivating bag, instructions, and a link to take a brief survey to monitor ease of use and the number used.
Patients can place unused opioids in the Deterra bag, add water, and seal the bag. The bag's activated carbon renders the opioid permanently and irreversibly deactivated. Upon completing these steps, the bag can be placed in the trash.
For more information on the opioid crisis and additional resources, check out dontliveindenial.org.