Hand Safety Tips
With many of us spending more time at home, we've finally gotten around to some of the activities that get pushed to the back burner. While it's rewarding to check home improvement projects off our list or spend time preparing a home cooked meal with fresh ingredients, the increase in these activities has caused an uptick in household accidents and injuries.
Household accidents, such as kitchen knife cuts and lacerations, table saw accidents, lawn mower and tool mishaps are on the rise. While not all of these injuries are specific to the hands and fingers, hand injuries can be particularly impactful and take a long time to heal. Additionally, depending on the severity, some of these injuries may require a trip to the emergency department, which could increase your risk of being exposed to COVID-19. Practicing good safety measures at home can help reduce the likelihood of injury.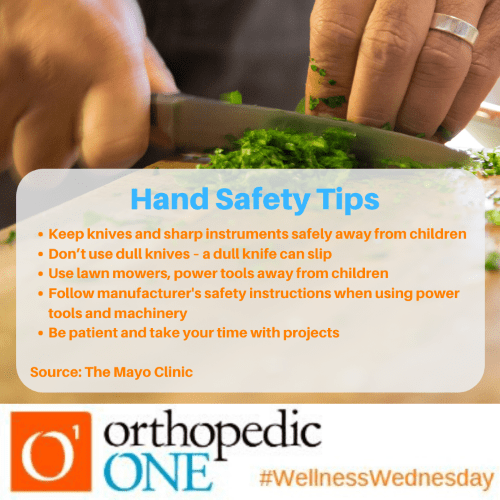 Should a minor cut occur, follow these first-aid tips:
Wash your hands
Stop the bleeding
Rinse the wound with water
Apply an antibiotic or petroleum jelly
Apply a bandage, rolled gauze or gauze held in place with paper tape
If you experience a hand injury, the team at Orthopedic ONE is here to help! Click here to learn more about common hand and wrist symptoms and sources of pain and to access a list of our hand and wrist physicians.
Source: The Mayo Clinic
Back