Therapy Services
Growing Pains: Detecting and Overcoming Sever's Disease
Typically occurring during the growth spurts of early puberty, this condition is most commonly seen in girls ages 8-13 and boys ages 10-15. During this time, the heel bone sometimes grows faster than the leg muscles and tendons, causing them to become tight and overstretched. This makes the heel less flexible and puts pressure on the growth plate. Over time, repeated stress on the already tight tendons damages the growth plate, causing the swelling, tenderness and pain associated with Sever's Disease.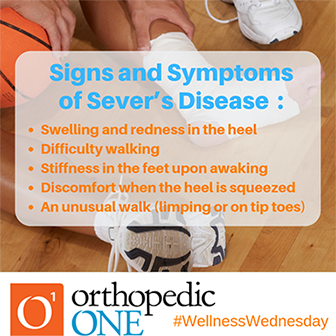 Continue...
---
What Are Athletic Trainers And How Can They Help Keep You Healthy?
March is National Athletic Training Month! Let's take a few moments to shine a spotlight on the special role our Athletic Trainers play in helping our patients pursue better lives, one story at a time.
Athletic Trainers work with doctors, physical therapists and other healthcare professionals to provide quality care to patients, helping them restore function after an injury so they can return to doing the things they love, such as sports, school/work and their other daily activities. When you see someone running onto the field during a sporting event to help an athlete with an injury, it's likely an Athletic Trainer!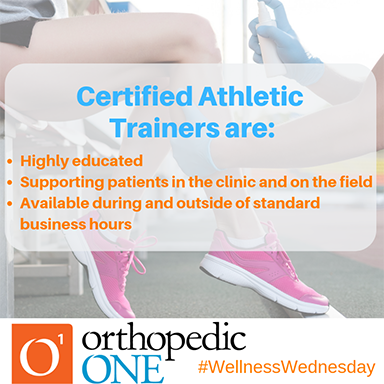 Continue...
---
Take a Minute to Learn How to Save a Life
Many Americans think practicing heart health simply means evaluating habits such as eating right, getting enough exercise and effectively managing stress, and making changes as necessary.
While these practices are important, another vital aspect of heart health is learning about a condition that many young athletes who consider themselves to be active and healthy may mistakenly overlook as a vital component to evaluating their heart health, Sudden Cardiac Arrest.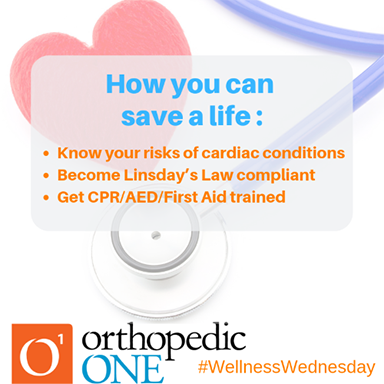 Continue...
---
Exercise…You Know You Should, Here is How (and Why) to Start!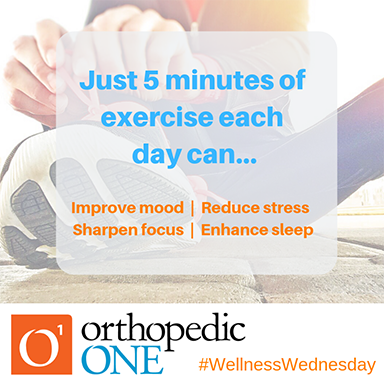 Maybe you vowed to begin exercising or amp up your workouts at the start of the new year or are planning to lace up your sneakers in anticipation of spring. Need a little motivation to get off the couch or to keep striving to reach your goals? There are immediate benefits to even 5 minutes of exercise, such as an improvement in mood, reduction in stress levels, enhanced sleep quality and sharpened mental focus.
Continue...
---
Is Outpatient Total Joint Replacement Right for You?
Imagine undergoing a total joint replacement of the knee, hip or shoulder without the hospital stay. A traditional joint replacement requires a 1-3 night stay in the hospital, but if you are in overall good health and have the right home support system an outpatient approach may be right for you.
Continue...
---
Voted #1 in the 2017 Columbus Dispatch "Cbus Top Picks" for both Orthopedics and Sports Medicine
The Columbus Dispatch asked Central Ohio to tell them who they count on for products, services and entertainment. To tell them which local companies are the best of the best. And Orthopedic ONE is thrilled to be voted the CBUS TOP PICK in both categories we were nominated in - ORTHOPEDICS and SPORTS MEDICINE!

Continue...
---
Orthopedic ONE voted Best of Business 2017
It's official. Our patients are the best. For the third consecutive year, Orthopedic ONE has been voted Best Orthopedic & Sports Medicine Practice and Best Physical Therapy Practice in Columbus CEO magazine's 2017 Best of Business Awards. More than 53,000 unique votes were cast in the reader poll for 2017.
Continue...
---
Therapy Services Spotlight: Running Mechanics
Is poor running form slowing you down? We're here to help! Orthopedic ONE Therapy Services walks you through steps to improve your running mechanics by focusing on posturing, cadence manipulation and lessening your ground reaction force.

---
Lights Out: How to Improve Sleep Hygiene and the Tie to Better Performance
Sleep hygiene is defined as a series of actions taken to ensure optimal sleep quality, therefore enhancing alertness and productivity during waking hours. Forming good sleep habits is beneficial for anyone looking to achieve a better overall quality of life. However, athletes who begin practicing good sleep hygiene can quickly notice a difference in their performance both physically and mentally, leading to an overall improvement in their game.
Continue...
---
Orthopedic ONE patient Abby Steiner featured on Good Day Marketplace
FOX 28's Good Day Marketplace tells Orthopedic ONE patient Abby Steiner's awesome story. The fastest girl in Ohio and 3rd fastest in the country. Did we mention she is faster AFTER ACL reconstruction surgery?
Continue...