Therapy Services
Is Outpatient Total Joint Replacement Right for You?
Imagine undergoing a total joint replacement of the knee, hip or shoulder without the hospital stay. A traditional joint replacement requires a 1-3 night stay in the hospital, but if you are in overall good health and have the right home support system an outpatient approach may be right for you.
Continue...
---
Voted #1 in the 2017 Columbus Dispatch "Cbus Top Picks" for both Orthopedics and Sports Medicine
The Columbus Dispatch asked Central Ohio to tell them who they count on for products, services and entertainment. To tell them which local companies are the best of the best. And Orthopedic ONE is thrilled to be voted the CBUS TOP PICK in both categories we were nominated in - ORTHOPEDICS and SPORTS MEDICINE!

Continue...
---
Orthopedic ONE voted Best of Business 2017
It's official. Our patients are the best. For the third consecutive year, Orthopedic ONE has been voted Best Orthopedic & Sports Medicine Practice and Best Physical Therapy Practice in Columbus CEO magazine's 2017 Best of Business Awards. More than 53,000 unique votes were cast in the reader poll for 2017.
Continue...
---
Therapy Services Spotlight: Running Mechanics
Is poor running form slowing you down? We're here to help! Orthopedic ONE Therapy Services walks you through steps to improve your running mechanics by focusing on posturing, cadence manipulation and lessening your ground reaction force.

---
Lights Out: How to Improve Sleep Hygiene and the Tie to Better Performance
Sleep hygiene is defined as a series of actions taken to ensure optimal sleep quality, therefore enhancing alertness and productivity during waking hours. Forming good sleep habits is beneficial for anyone looking to achieve a better overall quality of life. However, athletes who begin practicing good sleep hygiene can quickly notice a difference in their performance both physically and mentally, leading to an overall improvement in their game.
Continue...
---
Orthopedic ONE patient Abby Steiner featured on Good Day Marketplace
FOX 28's Good Day Marketplace tells Orthopedic ONE patient Abby Steiner's awesome story. The fastest girl in Ohio and 3rd fastest in the country. Did we mention she is faster AFTER ACL reconstruction surgery?
Continue...
---
Orthopedic ONE now in-network with Humana Medicare Advantage Plans
We are pleased to share that effective June 1, Orthopedic ONE will be in-network with all Humana Medicare Advantage Plans. Both physician and therapy appointments for Humana Medicare Advantage subscribers can be scheduled now. Click here to request an appointment.


At this time, our in-network status does not apply to Humana commercial insurance subscribers.
---
Therapy Services Spotlight: Gluteal Exercises Part II
Orthopedic ONE Therapy Services guides you through another set of exercises designed to strengthen your gluteal muscles. Overtime, performing these exercises will improve overall athletic performance and reduce the risk of injury.
---
That Nagging Shin Pain…The Good, The Bad and The Ugly
Spring has sprung and the warmer temperatures make outdoor running a much more enjoyable form of exercise! Whether you are a novice runner or are deep into training for one of the area's upcoming races, many runners begin to experience the effects of increasing their mileage and begin suffering from Shin Splints or other related aches and pains at some point during their training.
We lump these injuries into a category of "overuse injuries" and in the shins specifically, injury can evolve into Stress Reactions and Stress Fractures if not treated properly. Shin Splints is a term used by many to describe any type of pain experienced in the front or inside of the lower leg. You may also see Shin Splints referred to as Medial Tibial Stress Syndrome, or MTSS. Shin Splints occur as a result of inflammation to the muscles, tendons and periosteum of the tibia, the larger of the two lower leg bones. Symptoms include pain and tenderness along the inside or front of the tibia. Shin Splints can be diagnosed through a physical exam with a Sports Medicine Provider and are initially managed conservatively, without impacting an athlete's training goals.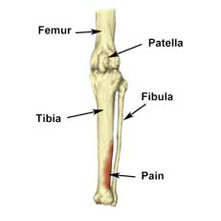 Continue...
---
Therapy Services Spotlight: Improving Core Strength
Orthopedic ONE Therapy Services demonstrates two versions of the plank, which will help strengthen the core muscles.
Working the muscles in the midsection can improve an athlete's stability and speed, as well as prevent injuries.